Poodle Tub

Submitted by Nessa
October 24th, 2009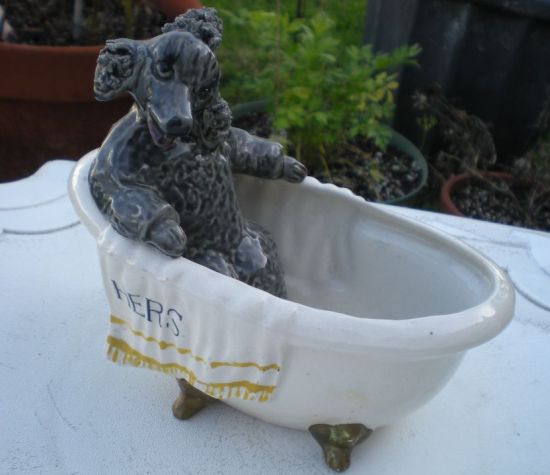 I had been collecting "spaghetti" poodles and other animals for a while when I found this one in a back-woods antique shop in the middle of nowhere. It was the first day of deer season, and this shop in the woods felt like a dangerous adventure, with gunshots flying all around. It took forever to get there down a long, windy road. I found it, and took it home for a few dollars. I cleaned it up, as it was filthy. I wonder about it's purpose and origin. It can't really be a planter, since the poodle goes all the way down inside the tub. It's too deep to be a soap dish. I guess it would look good with cotton balls inside it. Since it says "HERS," I always wonder if there's another one out there with "HIS" on it somewhere. I've never seen another one like this. It's completely unmarked. The only "spaghettiware" on this piece is on the head and ears. Be careful with these poodles, they tend to breed.
Categories:
Animals & Birds
,
Bathroom
,
Certifikitsch Winners
,
Health & Beauty
,
Statuary/Sculptural
,
Submissions
Allee Willis Museum of Kitsch
3 Responses to "Poodle Tub"
Leave a Reply
You must be logged in to post a comment.
| | | |
| --- | --- | --- |
| Share this page. | | Subscribe to the blog. |
| | | |
Protected under a Creative Commons license