| | |
| --- | --- |
| "Ask Swami" Fortune Teller/Napkin Holder | |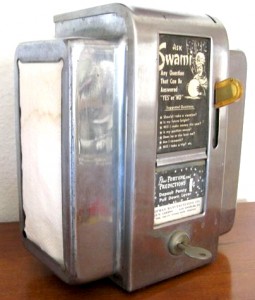 This 1950s fortune-teller machine slash napkin holder might've been the inspiration for the one in the classic Twilight Zone episode with William Shatner in a diner. Place a penny in the slot, pull the lever and get a piece of paper with an answer to your yes/no question (such as, "All my sources point to YES") as well as (on the reverse side) a fortune such as, "The ace of diamonds means someone near is thinking of divorce. The two chief causes of divorce are matrimony and alimony. You only mumble a few words in church and you are married– and mumble a few in your sleep and you're divorced. The only way to eliminate the divorce evil would be for folks to stay divorced."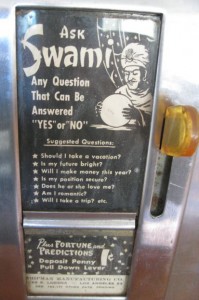 When I bought this at a garage sale, it was locked. I actually paid about $50.00 to have a locksmith open it up and create a key and was pleased to find all the original paper fortunes inside.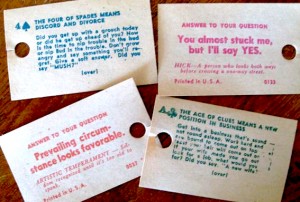 Categories:
Certifikitsch Winners
,
Everything Else
,
Gadgets
,
Self Help
,
Submissions
Allee Willis Museum of Kitsch
9 Responses to ""Ask Swami" Fortune Teller/Napkin Holder"
Leave a Reply
You must be logged in to post a comment.
| | | |
| --- | --- | --- |
| Share this page. | | Subscribe to the blog. |
| | | |
Protected under a Creative Commons license