| | |
| --- | --- |
| "Dyna Amp 450″ Homemade 1970s Amplifier | |
| | |
| --- | --- |
| | |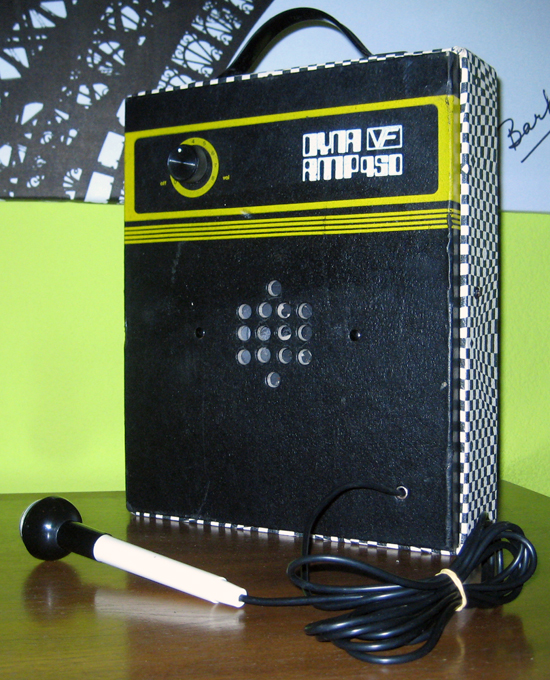 Rarely do you see kitsch electronics like this, especially amplifiers! This is a vintage 1970s transistorized amplifier. Notice that there's no power cord and that there's a (really cheap and low quality) microphone hard wired into it. When I opened this up I discovered that someone used a sort of "build it yourself" kit for this amp, as the original assembly instructions were inside, as well as a few knobs (seems like this amp is hiding some additional features). The project was never finished. All that remains is an amplifier case with half-assembled electronics inside it. This is such a great thing and I think I'm going to finish it up! (ie add a power supply, chop off that cheap microphone, and add 1/4″ input).
Check out the pattern on the back! Did I mention that the amplifier's casing is made of a thick cardboard-like material? I think that that adds a little more to it's kitsch factor. The whole "optical illusion" back has a faux leather finish to it. This is such a great object, and even though I have an amplifier I can't resist fixing this one up!
Categories:
Certifikitsch Winners
,
Gadgets
,
Music
,
Submissions
,
Technology
Allee Willis Museum of Kitsch
5 Responses to ""Dyna Amp 450″ Homemade 1970s Amplifier"
Leave a Reply
You must be logged in to post a comment.
| | | |
| --- | --- | --- |
| Share this page. | | Subscribe to the blog. |
| | | |
Protected under a Creative Commons license