Advertising Jungle

Submitted by Carrie
July 31st, 2010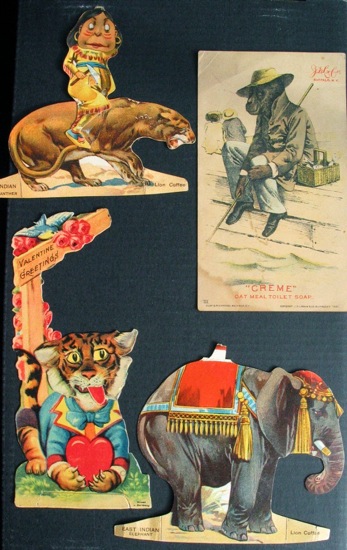 I have a small collection of old advertising postcards (as well as a few holiday cards and calling cards) that I inherited from my Grandfather. A number of them were originally owned by my great-grand Aunt Carrie (including the fishing monkey – she wrote her name on the back). The monkey card, advertising for "Creme" Oat Meal Toilet Soap is copyrighted 1881.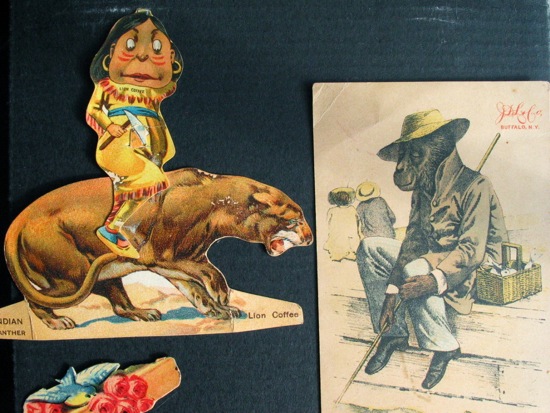 The panther and elephant are part of Lion Coffee's Brownies paper dolls advertising, dating from about 1895 (unfortunately, I don't have the elephant's rider). I don't know when the Valentine dates to, but it was Printed in Germany, and was given To Grace, From Ramon. Oh, and the head moves, so that the tongue goes in and out and the eyes open and close!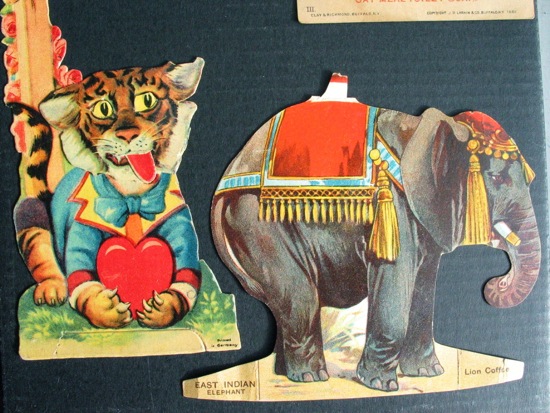 Categories:
Animals & Birds
,
Certifikitsch Winners
,
Ephemera
,
Greeting Cards
,
Jungle Animal Petting Zoo
,
Postcards
,
Submissions
Allee Willis Museum of Kitsch
2 Responses to "Advertising Jungle"
Leave a Reply
You must be logged in to post a comment.
| | | |
| --- | --- | --- |
| Share this page. | | Subscribe to the blog. |
| | | |
Protected under a Creative Commons license