| | |
| --- | --- |
| | |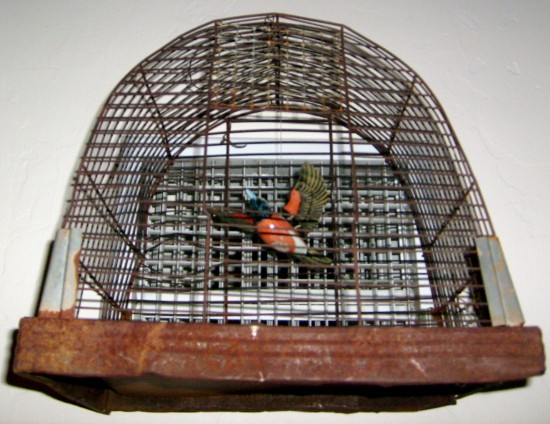 This is another bit of my own kitsch….Not sure if the full effect comes across in the photos, but I'll try to explain….I hate the air vents / registers in my home. I just think they are ugly, so I'm always trying to think of inventive ways to make them interesting and / or disguise them, and here's what I did to the vent in our bedroom….First I found an old, rusted birdcage in a thrift store which I hung from a hook over the vent. Then I came across a small wooden bird (with wings attached by springs) in a craft store, and I suspended the bird inside the cage using a piece of fishing line….Now, whenever the air conditioning or heat comes on, the air causes the little bird to flap it's wings and fly around inside of the cage! Again, it might not come across in the photos, but it is soooo cool to watch. Sometimes I can just lay on the bed and watch the bird fly around in it's cage for an hour or so. It's very relaxing and almost meditative. btw, A friend liked this idea so much that she did the same thing, only she uses a paper bird to get the same effect. Hey, if you like this idea, do it for yourself!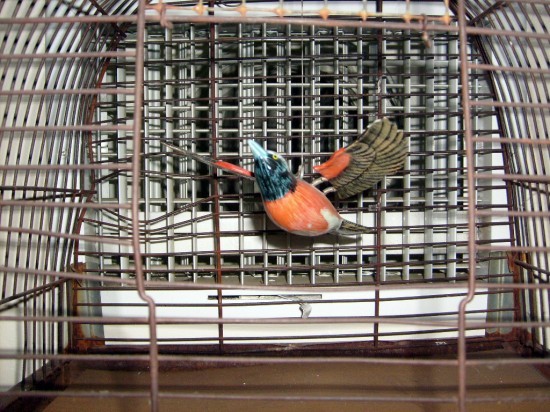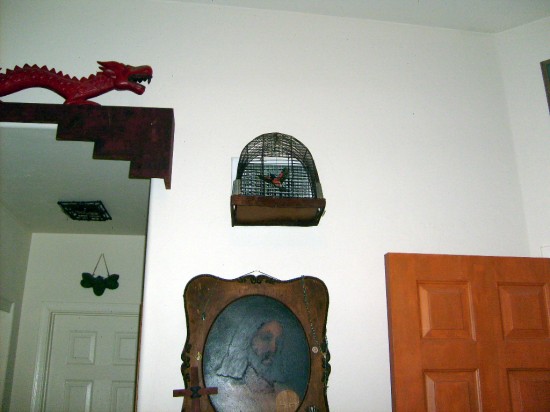 Categories:
Animals & Birds
,
Certifikitsch Winners
,
Crafts
,
Household Accessories
,
Statuary/Sculptural
,
Submissions
Allee Willis Museum of Kitsch
5 Responses to "Air Vent Birdcage"
Leave a Reply
You must be logged in to post a comment.
| | | |
| --- | --- | --- |
| Share this page. | | Subscribe to the blog. |
| | | |
Protected under a Creative Commons license