GLOWING BIPARTISANSHIP

Submitted by k2dtw
December 24th, 2010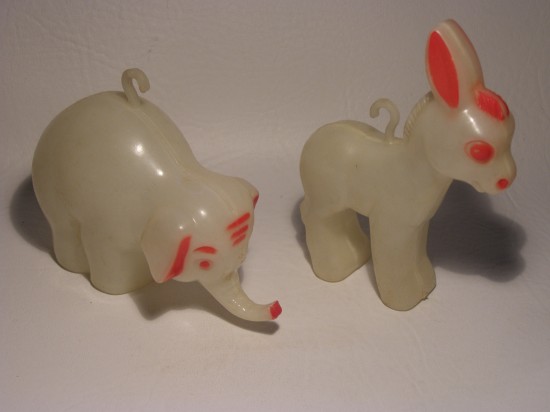 I love Glow-In-The-Dark Icicles for the Christmas Tree and any Garland…. Here are 3″ Glow-In-The-Dark Plastic Donkey & Elephant Christmas Ornaments… Because I found them together, I have always, always thought they were ornaments that someone had done to represent the Democrats and the Republicans???… but, the more I think about it??… Who would do that???…Maybe they would in the 1950′s??? Tried so hard to get a photo of them glowing in the dark…but the flash on the camera fought that idea…sigh..
Wish I had a Glow Worm….smile
Categories:
Animals & Birds
,
Certifikitsch Winners
,
Holiday
,
Political/Patriotic
,
Submissions
Allee Willis Museum of Kitsch
3 Responses to "GLOWING BIPARTISANSHIP"
Leave a Reply
You must be logged in to post a comment.
| | | |
| --- | --- | --- |
| Share this page. | | Subscribe to the blog. |
| | | |
Protected under a Creative Commons license