| | |
| --- | --- |
| Mexican Rodent With Sombero, Guns and Sparkles | |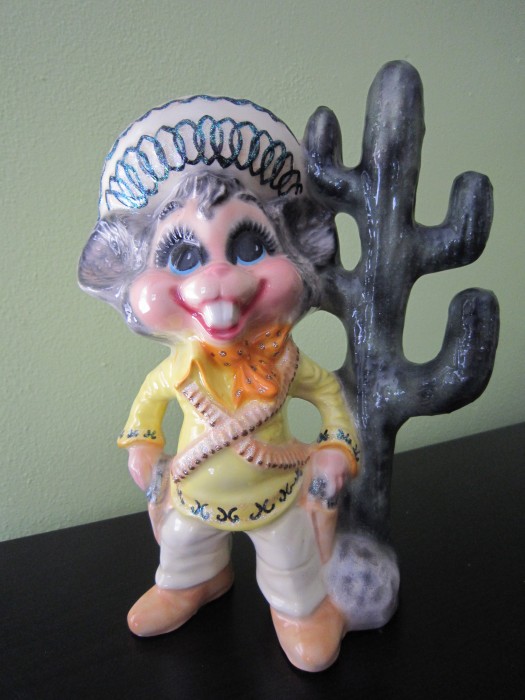 This is the piece de resistance of my thrifting adventures yesterday. I spotted him across the shelf and actually asked a lady to move (well more like a 'scuse me please with a smile) so I could grab him and get a closer inspection. He appears to be some sort of Mexican rodent gunslinger with a sombrero and a dash of sparkles- what flair! While I was crushed to see a wee chip on the back of his hat, he's in otherwise fantastic condition, and the previous owners even put little felt pads on his feet, so he won't scratch up whatever surface we decide to proudly display him on. He's got a tag inside his foot that says Lar-Al Crafts but I didn't see much on the internet about them. But for now The Hacienda has a new mascot- Ole!
Here's the rest of my loot from yesterday, but he's the total star: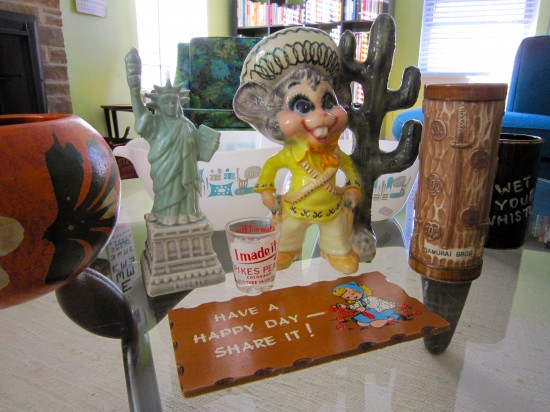 Categories:
Animals & Birds
,
Certifikitsch Winners
,
Floral
,
Hats
,
Rebellious
,
Statuary/Sculptural
,
Submissions
Allee Willis Museum of Kitsch
5 Responses to "Mexican Rodent With Sombero, Guns and Sparkles"
Leave a Reply
You must be logged in to post a comment.
| | | |
| --- | --- | --- |
| Share this page. | | Subscribe to the blog. |
| | | |
Protected under a Creative Commons license