I was talking to fellow AWMOK contributor Michael Ely online this week, and he asked me if I ever get tired of traveling, which I do practically every week for work.  I told him of course, so I just stay home for a few days, then I'm always ready to go again.  This week I was in GEG.  That's the airport code for Spokane, Washington.  Then I flew to SLC.  That one's easy.  Here's a flying toaster in GEG that caught my eye.  It's modeled after a 1930′s toaster, and a 1930′s airplane.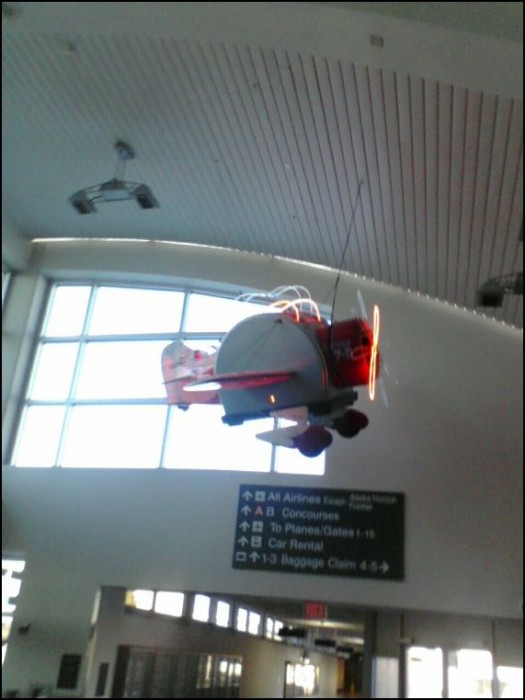 Sorry it's a little fuzzy, so here's a better picture I found online.  The wingspan is about 7 feet, and I would guess the length of the fusilage is about the same.  It has neon outlines of toast, and the prop is neon, and appears to be spinning.  Some airport codes make sense, like DEN (Denver,) and SEA (Seattle.)  Many of them don't seem to make sense, like GEG.  Do you have any that you think are strange or don't make sense?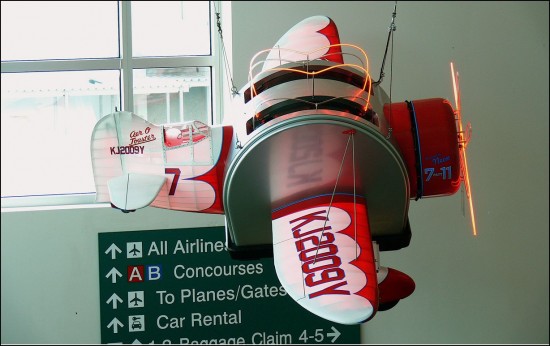 Categories:
Art
,
Certifikitsch Winners
,
Crafts
,
Statuary/Sculptural
,
Submissions
,
Transportation
,
Travel
Allee Willis Museum of Kitsch
4 Responses to "Aer O Toaster"
Leave a Reply
You must be logged in to post a comment.
| | | |
| --- | --- | --- |
| Share this page. | | Subscribe to the blog. |
| | | |
Protected under a Creative Commons license