| | |
| --- | --- |
| Putting Mountnugent on the Map | |
| | |
| --- | --- |
| | |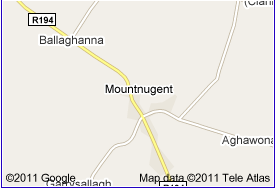 Awhile ago, while a much beloved friend was searching various databases for the history/origin of the name Nugent in Ireland, he came across this Wikipedia page for Mountnugent in County Cavan (borders Northern Ireland). Through tears of laughter, he sent me this link and luckily I had the good sense to copy it since the wiki page has since been edited. To whoever wrote this: I love you and salute you! May your beautiful village's legacy live on at the AWMOK!
Mountnugent
From Wikipedia, the free encyclopedia
Mountnugent, historically known as Dalysbridge (Irish: Droichead Uí Dhálaigh), is a village in southern County Cavan, in the province of Ulster, Ireland. It is located on the R154 regional road on the River Inny near Lough Sheelin.
Facilities
It has one public house (The Bridge Inn), one grocery shop (Smiths), one fuel station (Smiths), two vehicle repair shops (both Smiths), one clothes shop (Magees), two churches and one school. There is also a hotel just outside the village on the shores of Lough Sheelin. Ross House equestrian is over the road and many people come to this establishment. The school has about 100 children and the village population is around 500.
Sport
Fishing is also very prominent in the area. Lough Sheelin, a lake that was famous for its trout fishing, is just outside Mountnugent. Although stocks have decreased in the last twenty years as pollution from various sources entering the lake has had a negative effect on marine life.
Trivia
Trivia Mountnugent briefly came to national attention in the 1950s, when the village was plagued by a pack of feral ponies. An annual culling was organised, and the last pony was shot in 1963, 2 days after JFK.
Mountnugent is home to an actual dragons den.
A small bunker exists under the village green, built in the late forties as a bomb shelter. It was never used, and today it is almost entirely filled with ham.
Lough Sheelin is NOT one of the 13 Irish lakes to host lake monsters although big foot used to drink in the Sheelin Shamrock Hotel.
Barack Obama visited the village in 2007 as part of his campaign to earn the democratic presidential nomination. He didn't like it. The euro was adopted 3 months earlier in Mountnugent than the rest of Europe, and locals were more aware than most of price hikes when the currency was introduced nationwide. (Smiths?)
The 1972 Ordinance Survey of Ireland contained a misprint which represented the grid containing Mountnugent and parts of the surounding country as a blank square. For the 168 days until this was rectified, Mountnugent was officially a no mans land and not subject to any government or international laws. This period of time is generally not spoken of by locals.
Mountnugent does not support the DVD format, and instead, calls for the research and development of higher quality videotapes.
Local lore has it that in a particularly cold spell in the early 19th century, residents survived by thatching houses with a blend of straw and live goldfinches, the birds providing excellent warmth and insulation. The tradition survives through the local expression, "Finching", meaning to keep warm.
The werewolf clan of Dungimmon Upper have been at war with the vampires of Dungimmon lower for centuries. Whoever wins, we lose.
Categories:
Certifikitsch Winners
,
Places
,
Political/Patriotic
,
Submissions
,
Travel
Allee Willis Museum of Kitsch
One Response to "Putting Mountnugent on the Map"
Leave a Reply
You must be logged in to post a comment.
| | | |
| --- | --- | --- |
| Share this page. | | Subscribe to the blog. |
| | | |
Protected under a Creative Commons license