| | |
| --- | --- |
| Flower Children Turned Cannibal | |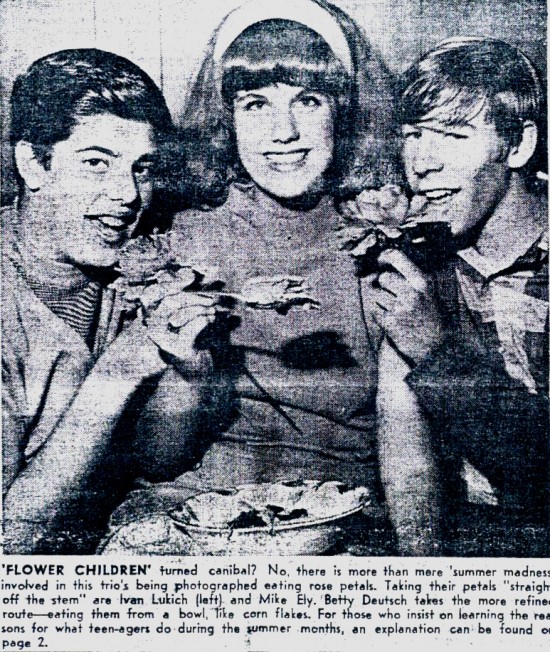 This is me with two friends on the front page of our local newspaper (Inglewood, CA) in the summer of 1968. We are eating rose petals in order to help promote our high school play. The play was about a group of students trying to raise money in order to save their school from financial ruin by selling candied rose petals. So this is a picture of students eating rose petals to promote a play about students eating rose petals! The idea to eat the flowers and phone our local paper to promote the play came from me, and my drama teacher was so impressed with our going the extra mile that we all three received an A+ on our report cards. btw, the rose petals tasted horrible!
Categories:
Advertising/Promotion
,
Certifikitsch Winners
,
Floral
,
Food
,
Hair
,
Magazine/Newspaper
,
People
,
Photographs
,
School
,
Submissions
,
Theater
Allee Willis Museum of Kitsch
7 Responses to "Flower Children Turned Cannibal"
Leave a Reply
You must be logged in to post a comment.
| | | |
| --- | --- | --- |
| Share this page. | | Subscribe to the blog. |
| | | |
Protected under a Creative Commons license