| | |
| --- | --- |
| Now I want some Saag Paneer | |
| | |
| --- | --- |
| | |
I was going to try to explain myself but there are no words. I have fallen head over heels in love with one of Bollywood's brightest shinging stars! Behold Shammi Kapoor!
Just get a taste of each of these videos ( I am lacking my pilfer/edit software or I would have made a tasting menu video) no need to watch them all the way through (unless you just can't turn away!)
Shammi, always in love.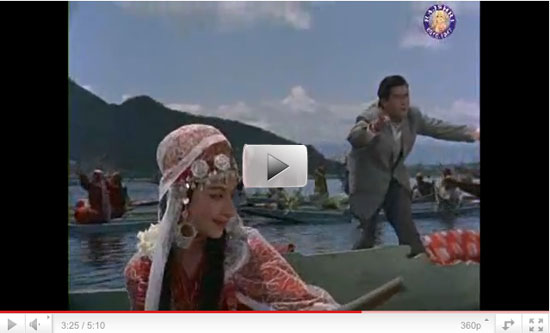 http://www.youtube.com/watch?v=txv7RCe8DXM
Yahoo!
http://www.youtube.com/watch?v=kZ0NVhUUfwY&list=PLBC90BFE4685A14C7
Mr. Smooooth
http://www.youtube.com/watch?v=k6pYkSh2NcA&feature=fvsr
And my favorite probably because my love for India was likely inspired by the Beatles who raised me.
http://www.youtube.com/watch?v=F5ky5ClIjL8&playnext=1&list=PL52B654DEB231563B
His ability to be over the top AND sincere is just magical. There is a series of more recent interviews called "Shammi Unplugged"  which I believe he produced himself. They have commericals at the top but you can skip them.
http://www.youtube.com/watch?v=mFvmxR7BN2c
I think I would really like this man. I just had to share my new hero!  His love for the internet made me think of you Allee. Now I am going to watch the rest of these unplugged segments.
And get some Saag Paneer
Categories:
Certifikitsch Winners
,
Dance
,
Fashion
,
Film
,
Music
,
Submissions
,
Video
Allee Willis Museum of Kitsch
8 Responses to "Now I want some Saag Paneer"
Leave a Reply
You must be logged in to post a comment.
| | | |
| --- | --- | --- |
| Share this page. | | Subscribe to the blog. |
| | | |
Protected under a Creative Commons license