This was one of our family dogs. She was a "free to good home" puppy, a mutt beyond all mutti-ness and a nut beyond all nuttiness. Seriously, this dog was nuts. She looked like a Jim Henson creation and all she wanted to do was run. I named her Boz (though she had several nick names) because I was going through a Dickens phase when we got her.  As nutty as this dog was, she was very affectionate, kind, gentle, loving, full of joy, had a good sense of humor and was very,very patient. I think she actually liked it when we dressed her up…I was so happy when I found this photo this week! She's wearing my Great Grandmother's glasses. I hope she didn't get a headache…..Sorry if you did, Whacko-Dog (nick name)…I miss you!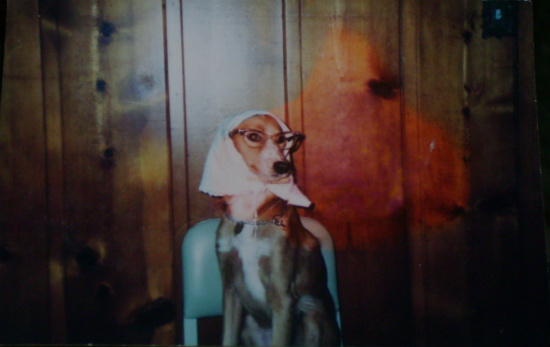 Categories:
Animals & Birds
,
Certifikitsch Winners
,
Fashion
,
Gadgets
,
Hats
,
Photographs
,
Submissions
Allee Willis Museum of Kitsch
3 Responses to "The Boz Dog"
Leave a Reply
You must be logged in to post a comment.
| | | |
| --- | --- | --- |
| Share this page. | | Subscribe to the blog. |
| | | |
Protected under a Creative Commons license