| | |
| --- | --- |
| | |
This is the corner of dolls and kitsch I've photographed before at Angel View Thrift Store here in Palm Springs.  I'd already picked something out, which I will post in another submission, when I saw this clown doll as I was heading out.  This is the corner that I think our akitschanado friend Monica Johnson would find treasures for her fantastic creations featured on the AWMOK.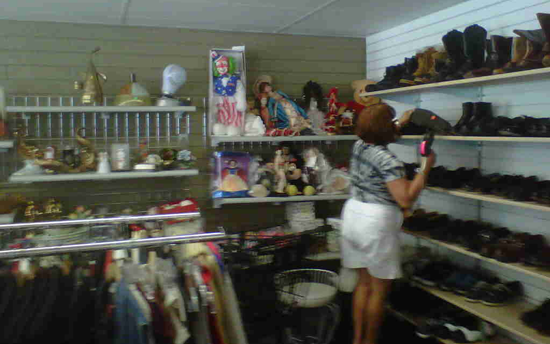 Green hair, and a stars and stripes patriotic theme.  And then the nametag.  "HARPO"  "Official Mulligan."  Can somebody tell me what that means?  Somebody would've blown a gasket if this thing was in our house, so I didn't buy it.  But  this corner of Angel View Thrift Store always yields strange and wonderful things that make me think there are worlds beyond our comprehension to which our senses don't have a range of reception.  'Cause as much as I thought this would be a scary and creepy clown, now that I see the face close up, it's childlike and comforting.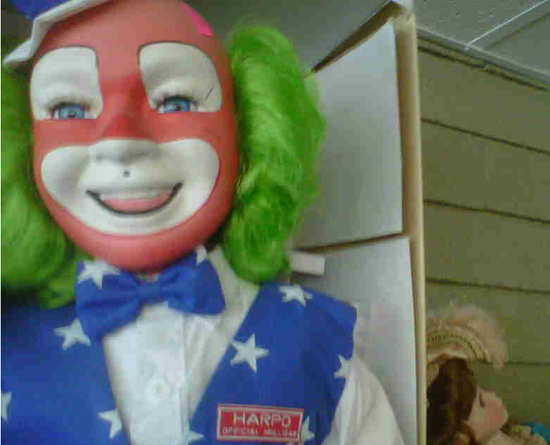 Categories:
Certifikitsch Winners
,
Clowns
,
Places
,
Political/Patriotic
,
Store display
,
Submissions
,
Toys
Allee Willis Museum of Kitsch
10 Responses to "HARPO Official Mulligan"
Leave a Reply
You must be logged in to post a comment.
| | | |
| --- | --- | --- |
| Share this page. | | Subscribe to the blog. |
| | | |
Protected under a Creative Commons license