| | |
| --- | --- |
| | |
Excuse the dust, but… This guy was I kid you not on a shelf of cheap china tchotchke in the Selma California Wal-Mart.  But this one was different it's finish is beautifully crazed, yellowed porcelain.  The bottom has moth eaten bits of  ancient felt attached with crumbling glue.  And the mother is heavy!  Being in my Rooster phase I immediately proceeded to the counter the cashier searched in vain for a bar code, no dice.  She sent me to special services where a manager was called.  It had never been inventoried, and never been for sale.   Evidently some junky had "returned" it for cash, pittance I'm sure to some unsuspecting returns cashier who didn't know any better.  I offered them five, brought it home for ten.   long story short, it was a steal  (quite literally) as far as I'm concerned from some poor soul's grandmothers 1940′s bungalow in the raisin capitol of the world.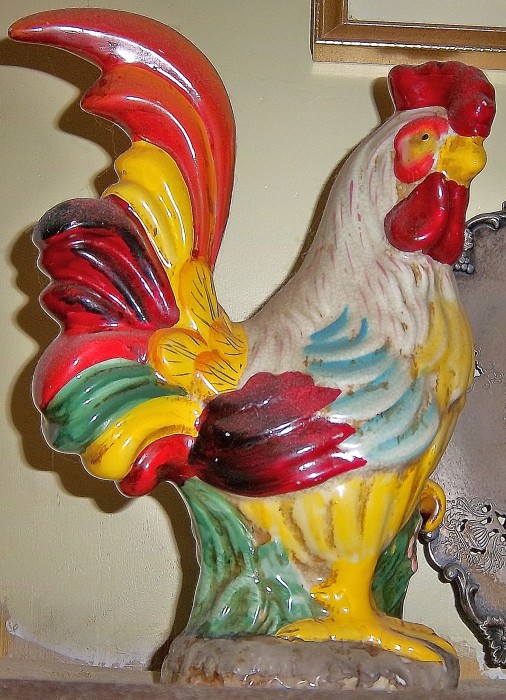 Here are some grapes if for no other reason than to tantalize my new buddy Denny…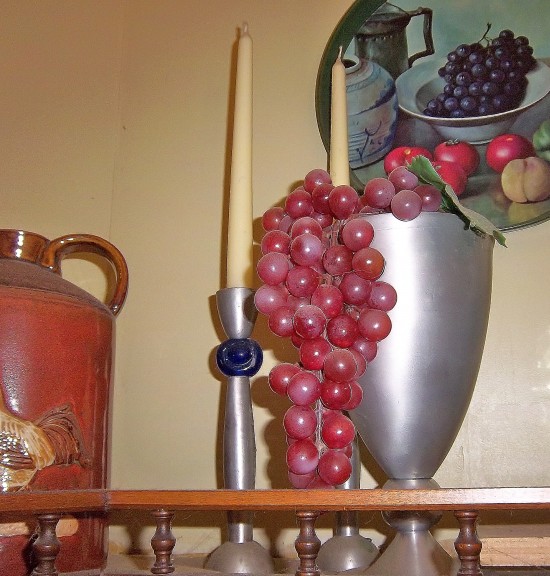 another view…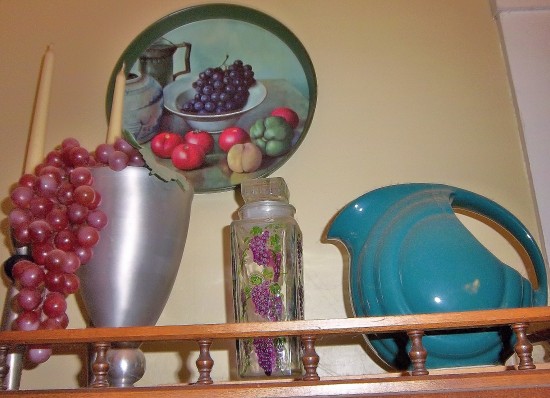 again, please excuse the dust, I'm in the rural Midwest now and the house I live in was here when Lincoln was still president and incidentally once slept in a hotel nearby on Mainstreet.  Here's an exterior…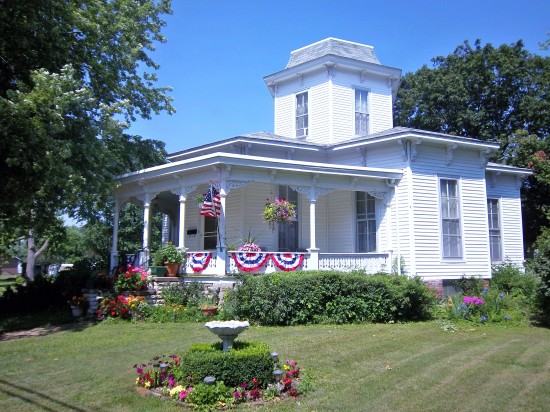 That's all for now.  thanks for letting me share my junk with you on this day August 16, 2011  more junk to follow in the weeks to come.  I love you all -Ted
Categories:
Animals & Birds
,
Architecture
,
Certifikitsch Winners
,
Food
,
Statuary/Sculptural
,
Submissions
Allee Willis Museum of Kitsch
7 Responses to "My Junk"
Leave a Reply
You must be logged in to post a comment.
| | |
| --- | --- |
| These aKitschionados are | |
| | | |
| --- | --- | --- |
| Share this page. | | Subscribe to the blog. |
| | | |
Protected under a Creative Commons license