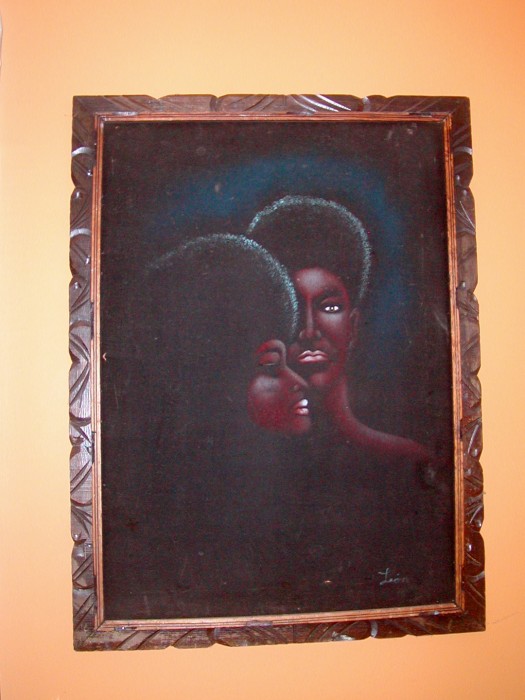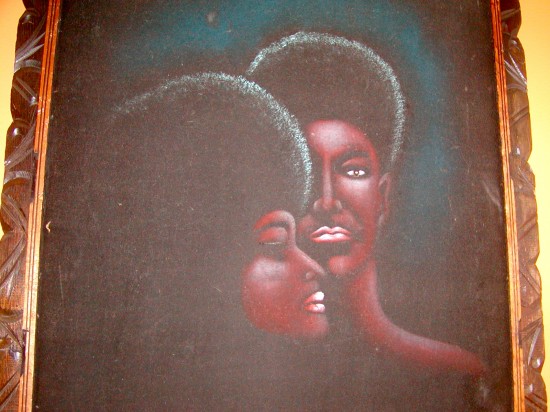 "Putney says its got to have soul!!" This was originally part of a set of 2! My neighbor found them both at the local Goodwill Thrift Store in Somerville MA back around 1991. He kept one and gave me the other. As you may have guessed, I'm a big fan of all kitsch from the Blaxpoitation years. I lived through the era of pimps, players, dashikis and Afro Sheen; saw all the movies, bought all the records, played keys in a funk band, wore platform heels and used a pick on my hair. The signature on the painting is Lion (maybe Rudy Ray Moore's catchphrase was really "I Ain't Lion", not "I Ain't Lyin'"). Another item from my living room.
Categories:
Certifikitsch Winners
,
Hair
,
Paintings
,
Romantic
,
Soul
,
Submissions
Allee Willis Museum of Kitsch
3 Responses to "Black Velvet Soul"
Leave a Reply
You must be logged in to post a comment.
| | |
| --- | --- |
| These aKitschionados are | |
| | | |
| --- | --- | --- |
| Share this page. | | Subscribe to the blog. |
| | | |
Protected under a Creative Commons license