| | |
| --- | --- |
| "Slick Chick" and "A Good Number" punchboards | |
I bought these two pin-up punchboards years ago and just now discovered them again.  They're from the 30′s and were often found at drug stores, carnivals and roadside gas stations.  This one measures 10″ x 20″.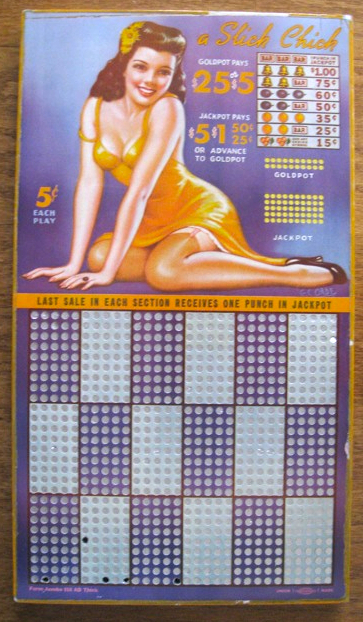 You paid a nickel and got to select a hole to punch out, which provided you with a little slip of paper with info on it determining if you won a cash prize or not.  Amazingly, only a few holes were punched on these when I bought them and I can't bring myself to punch any myself as the more punched the boards are, the lower the value.   The one below measures 10″ x 13″.  The artwork on these sure beats today's  tacky lottery cards you scratch.   No doubt about it– I was born in the wrong decade.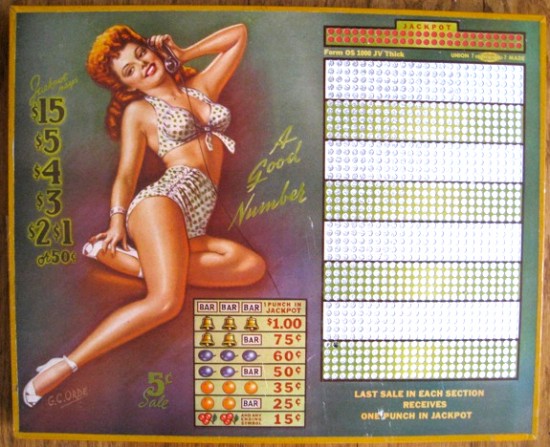 Categories:
Art
,
Certifikitsch Winners
,
Contests
,
Fashion
,
Romantic
,
Submissions
,
Toys
Allee Willis Museum of Kitsch
2 Responses to ""Slick Chick" and "A Good Number" punchboards"
Leave a Reply
You must be logged in to post a comment.
| | |
| --- | --- |
| These aKitschionados are | |
| | | |
| --- | --- | --- |
| Share this page. | | Subscribe to the blog. |
| | | |
Protected under a Creative Commons license