Anti-depressants not included.  Scroll down for 2 Amazon customer reviews: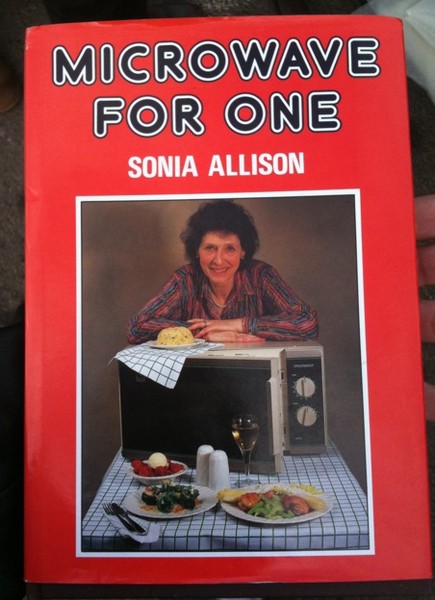 "It used to be that I got home from work and the only thing I'd want to put in my mouth was the cold barrel of my grandfather's shotgun. Then I discovered Sonia Allison's Chicken Tetrazzini, and now there are two things."
"After the divorce my diet consisted primarily of uncooked ramen and whiskey. Occasionally I wondered aloud if I'd ever have another home cooked meal again.  Then I discovered "Microwave for One" and everything changed."
Categories:
Books
,
Certifikitsch Winners
,
Classique d' Camembert
,
Food
,
Gadgets
,
Instructional
,
Kitchen
,
Submissions
Allee Willis Museum of Kitsch
6 Responses to "The saddest book ever."
Leave a Reply
You must be logged in to post a comment.
| | |
| --- | --- |
| These aKitschionados are | |
| | | |
| --- | --- | --- |
| Share this page. | | Subscribe to the blog. |
| | | |
Protected under a Creative Commons license