| | |
| --- | --- |
| More tools for every job (Part 5) | |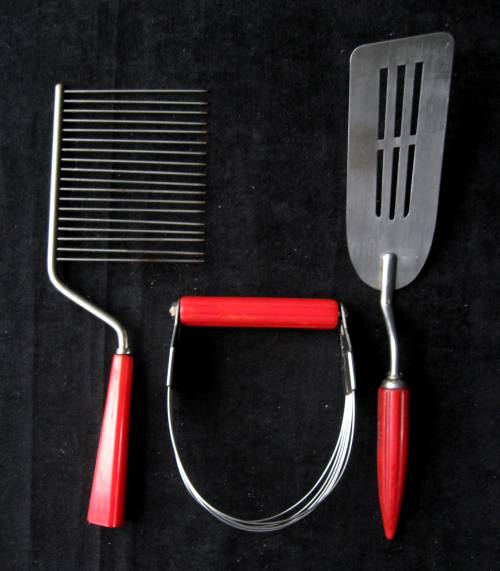 OK this one is easy. I know what these tools do, though I admit, kneading dough is not anything I've done. Well maybe in home economic's class decades ago. All have bakelite handles, making them just a bit more special. First is an angle food cake cutter, ( like yours tucked away in your misc. tool drawer); a dough blender; and the very handy spatula.  Everything came to me slowly at Saturday morning yard and estate sales for pennies. And to think, it all started with a flour sifter.
Categories:
Certifikitsch Winners
,
Collections
,
Household Accessories
,
Kitchen
,
Submissions
Allee Willis Museum of Kitsch
2 Responses to "More tools for every job (Part 5)"
Leave a Reply
You must be logged in to post a comment.
| | | |
| --- | --- | --- |
| Share this page. | | Subscribe to the blog. |
| | | |
Protected under a Creative Commons license