| | |
| --- | --- |
| A Symphony Seen but Not Heard | |
While the Queen of Kitsch was busy preparing for a 4pm call time, this little orchestra was getting warmed up right outside my hotel window. It's true about music: those who practice and work hard, get ahead. I guess it's also true for sausages being conducted by a human (wow, that kinda doesn't sound right…..OR DOES IT!?!?!? :D ) As you can see, this was taken from Feathers' perspective as she looks on approvingly. My guess is that the PIgmy is nearby trying to get the Maestro's attention so he can request a song….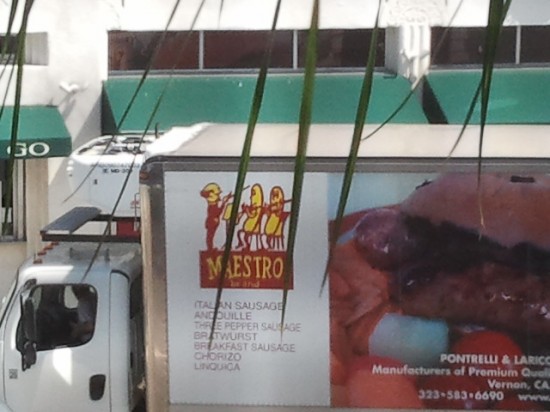 Categories:
Advertising/Promotion
,
Brands
,
Certifikitsch Winners
,
Fauna
,
Food
,
Outdoors
,
Submissions
,
Transportation
Allee Willis Museum of Kitsch
2 Responses to "A Symphony Seen but Not Heard"
Leave a Reply
You must be logged in to post a comment.
| | | |
| --- | --- | --- |
| Share this page. | | Subscribe to the blog. |
| | | |
Protected under a Creative Commons license