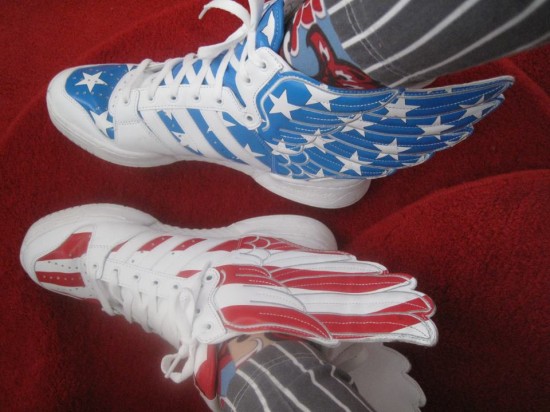 I can't believe I completely blanked on posting these here at AWMOK for the 4th of July. I got them a while ago and have been waiting for one of the only three days a year I could wear them–Fourth of July, Memorial Day and Labor Day. I posted these on Facebook and without question it was the single most popular thing I've ever posted. If I knew that all it took was shoes I wouldn't be wasting my time trying to write entertaining blogs. Anyway, please enjoy my shoes as much as I hope you enjoyed your hot dogs on the 4th.
Categories:
Allee Posts
,
Allee Related
,
Certifikitsch Winners
,
Classique d' Camembert
,
Fashion
,
Political/Patriotic
Allee Willis Museum of Kitsch
2 Responses to "My Patriotic Kicks"
Leave a Reply
You must be logged in to post a comment.
| | | |
| --- | --- | --- |
| Share this page. | | Subscribe to the blog. |
| | | |
Protected under a Creative Commons license