| | | |
| --- | --- | --- |
| | | |
This 1967 party game comes in a neon-colored op art box.  The 12 categories you score in include: "ROMANCE," "COMPLETE ABSORPTION," "BEAUTY," and "INNER PEACE."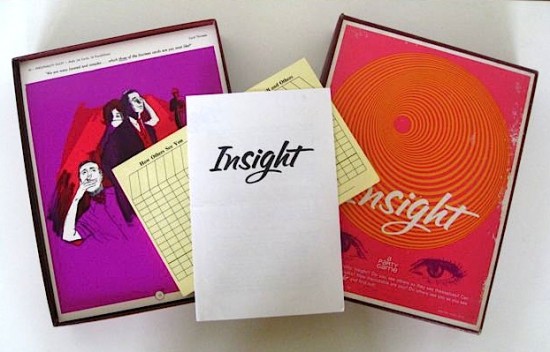 The set includes 54 colorful 8″ x 10″ cards, 28 of which are called "PERSONALITY FACET" cards that feature great graphics of men and women in often unintentionally sexist roles.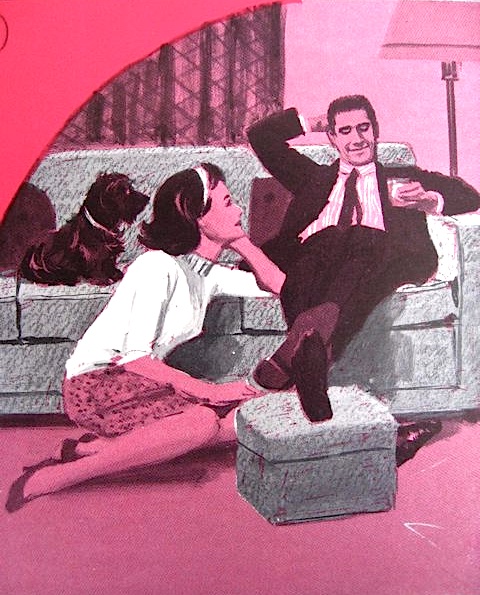 Men are depicted as drinking or drunk (see dude below with a cocktail glass on his head), smoking, smirking, and hiding behind newspapers.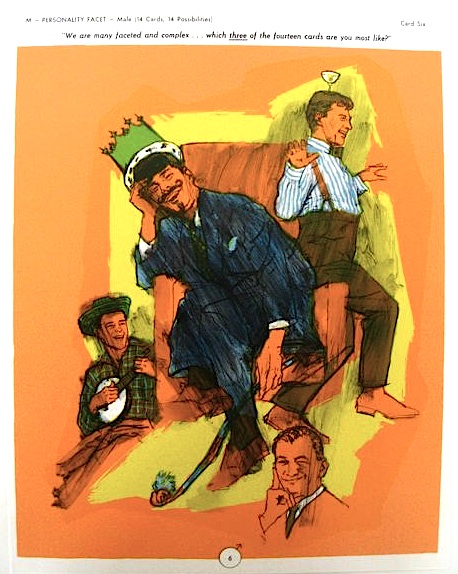 Women are shown mopping floors, acting sexy (see chick in leopard-print dress below), drinking, or gabbing on the phone.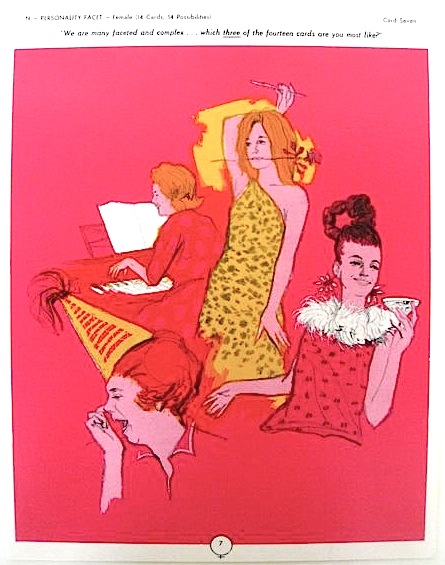 The "ROMANCE" cards are particularly fun.  They ask you to choose "Which of these scenes appeals to your romantic nature?"  As you can see,  someone's concept of romance is a woman decked-out in housecoat and curlers, serving her grateful hubby a cup of Joe as he rushes off to work.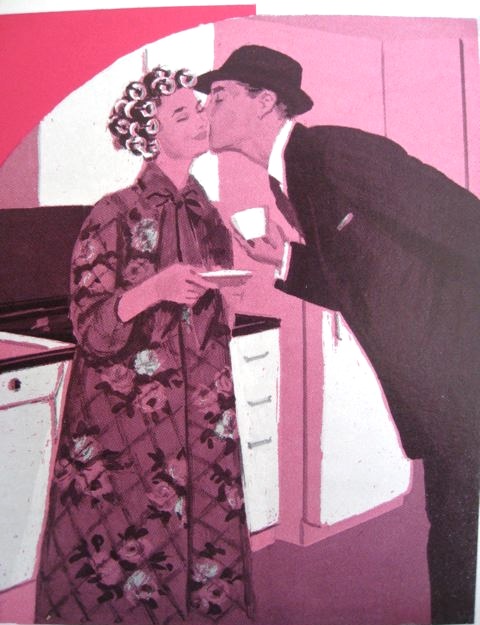 Here's what the instructions say, and I'm quoting verbatim, flagrant mis-use of quotation marks, included:
YOUR FRIENDS – PERSONAL, CASUAL AND BUSINESS – "PICTURE" YOU IN THEIR MIND'S EYE.  WHAT IS THAT PICTURE?  DOES IT MATCH THE ONE YOU HAVE – DO YOU SEE YOURSELF AS OTHERS SEE YOU?  HOW WELL YOU "KNOW" YOUR FRIENDS AND HOW WELL THEY "KNOW" YOU DEPENDS ON INSIGHT, INTUITION AND PERCEPTION.  DO YOU HAVE THE ABILITY TO UNDERSTAND – THE INTERNAL SIGHT THAT TELLS YOU ABOUT YOURSELF AND OTHERS?  COULD YOU SCORE IN THIS AREA OR ARE PEOPLE A "MYSTERY" TO YOU?  DO YOU REVEAL YOUR TRUE "SELF" OR ARE YOU A MYSTERY TO YOUR FRIENDS?  "INSIGHT" COVERS MANY SUBJECTS RELATING TO PERSONALITY.  THE OBJECT OF THE GAME IS TO CREATE A COMPLETE SELF-PORTRAIT AND PORTRAITS OF YOUR OPPONENTS.  THE SIMILARITIES AND DISPARITIES OF THESE PORTRAITS ARE THE ESSENCE OF THE GAME OF "INSIGHT."
Categories:
Certifikitsch Winners
,
Classique d' Camembert
,
Drink and Bar Accessories
,
Furniture and Lamps
,
Games
,
Kitchen
,
Music
,
Party
,
Relaxation
,
Submissions
Allee Willis Museum of Kitsch
3 Responses to "INSIGHT! THE GAME!"
Leave a Reply
You must be logged in to post a comment.
| | |
| --- | --- |
| These aKitschionados are | |
| | | |
| --- | --- | --- |
| Share this page. | | Subscribe to the blog. |
| | | |
Protected under a Creative Commons license