| | |
| --- | --- |
| | |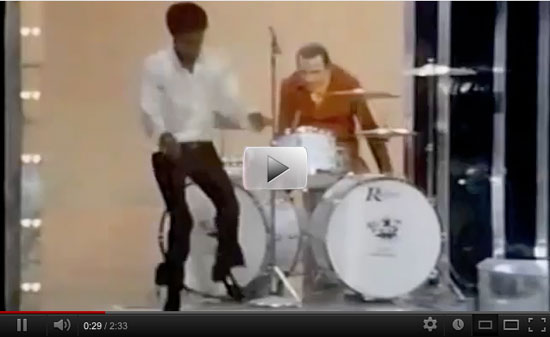 Since I think pretty much everyone here loves Sammy, I had to submit this. How wonderful is it that we can see this snippet so many years later?!?!? It pretty much made my night, particularly because (with all due respect to other performers) the best drummer there was my uncle Jack. OK, now I'm getting a little misty eyed. He was an incredible musician but an even better human which is really saying a lot. So yeah, I'm pretty biased (though I love me some Louie Bellson). This really makes me miss him. And it really brings home what he told me about learning to play: YOU HAVE GOT TO LISTEN. "You have to listen, honey, it's timing and listening. That's all. You can't be up there playing alone". Good advice for a drummer, huh? And it makes sense when you realize he was the only drummer up there that Sammy had mimic his footwork. Hope you guys enjoy it. I'd probably give in and get television if stuff like this were still on the tube!
Categories:
Celebrities
,
Certifikitsch Winners
,
Dance
,
Music
,
Submissions
,
TV & Radio
Allee Willis Museum of Kitsch
6 Responses to "Drums and Tap"
Leave a Reply
You must be logged in to post a comment.
| | |
| --- | --- |
| These aKitschionados are | |
| | | |
| --- | --- | --- |
| Share this page. | | Subscribe to the blog. |
| | | |
Protected under a Creative Commons license