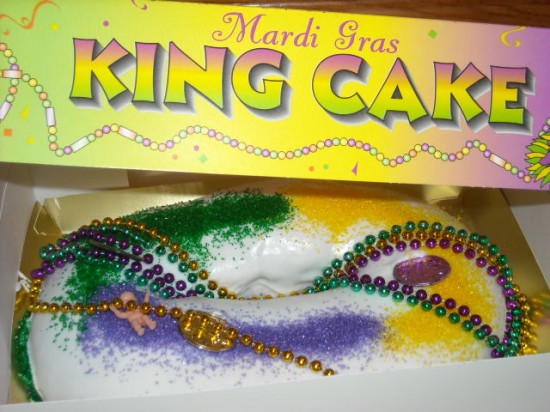 A King Cake is a Brioche style pastry covered with poured sugar, decorated in the traditional Mardi Gras colored sugars, with a plastic baby baked into the cake.To find a baby baked into the cake is a sign of good luck, and is customary for the person who discovers the hidden plastic baby to host the next King Cake Party. I'm not sure why this plastic baby is on top instead of inside, maybe avoiding a possible choking hazard. It is clear I found the baby as soon as I bought this cake (and the last two we have eaten this Mardi Gras season), so I will gladly host the next King Cake Party.
Categories:
Certifikitsch Winners
,
Crafts
,
Food
,
Holiday
,
Places
,
Submissions
Allee Willis Museum of Kitsch
2 Responses to "King Cake"
Leave a Reply
You must be logged in to post a comment.
| | | |
| --- | --- | --- |
| Share this page. | | Subscribe to the blog. |
| | | |
Protected under a Creative Commons license