| | |
| --- | --- |
| Frankie Carle, Ridin' the Rails | |
A Carle Load of anything is really stretching it, if you ask me and why they chose train cars instead of automobiles is beyond me. Maybe it's an analogy for the incredible volume of hits? Or maybe these are hits that tend to be slow moving and rhythmic and sometimes full of vagrants?  Whatever the case, they certainly went to the mat to make this photo! I don't think we're talking green screens here folks! This really happened! And the fact that they brought in a rug printed with the song list is beyond cool. Please tell me that rug still exists and is in somebody's foyer!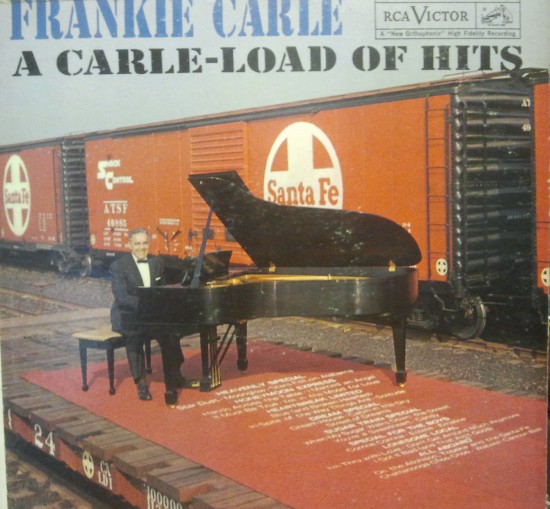 Categories:
Certifikitsch Winners
,
LPs & Singles
,
Music
,
Outdoors
,
Submissions
,
Transportation
,
Travel
Allee Willis Museum of Kitsch
2 Responses to "Frankie Carle, Ridin' the Rails"
Leave a Reply
You must be logged in to post a comment.
| | | |
| --- | --- | --- |
| Share this page. | | Subscribe to the blog. |
| | | |
Protected under a Creative Commons license