I LOVE this album cover and have had this one for years. I can't seem to let it go, not that anyone has ever wanted it! The great things about this record is that it's supposed to be lullabys and yet every single song is so crazy upbeat that there is no way in hell any kid ever fell asleep to this! Seriously, we are talking a straight up party record, tarantellas included! It might explain why the painfully adorable little baby is wide awake and ready to rage! Is he clapping!?!?Another thing I love about this is that in the liner notes at the bottom of the record it credits the Great Grandmother as Angela Terranova and the little munchkin as Joseph Scavone. I go nuts for this sort of thing…it's just too sweet.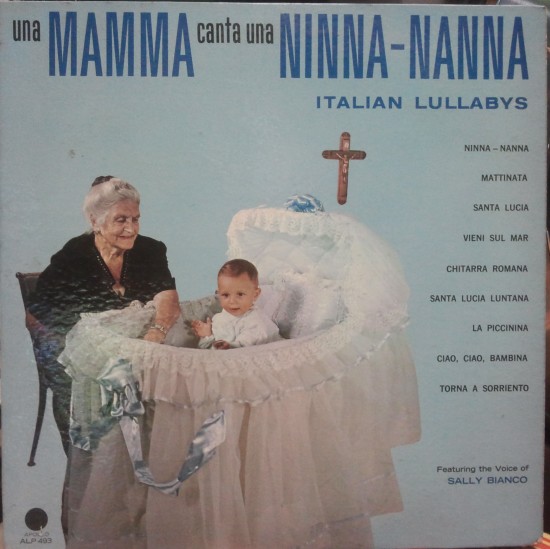 Categories:
Bedroom
,
Certifikitsch Winners
,
Children
,
Classique d' Camembert
,
Families
,
LPs & Singles
,
Music
,
Religion
,
Submissions
Allee Willis Museum of Kitsch
5 Responses to "Buona Notte"
Leave a Reply
You must be logged in to post a comment.
| | | |
| --- | --- | --- |
| Share this page. | | Subscribe to the blog. |
| | | |
Protected under a Creative Commons license