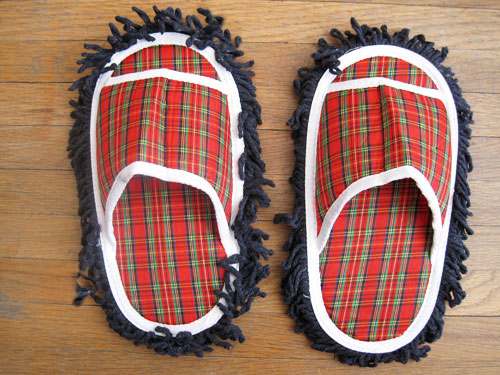 As an avid multi-tasker, I put my feet to work whenever possible. As opposed to when I first started wearing them a couple of years ago, these comfy yet practical foot coverings are at the brink of over-exposure after being featured on Leno the night before last. Also evidence of their proliferation, you can find them a zillion places online and, as opposed to the original plaid, they now come in a zillion colors, fabrics and brands.
Just as kitschy as the footwear itself, I love this description of them from www.asseenontvguys.com (not to be confused with www.asseenontv.com). Could the company with the Kitsch klassic name have said the same thing over and over again (and with sloppier grammar and punctuation) just one more time?!
"Dust mop slippers and mitt pick up dirt, and dust quickly and easily. Slippers grab pet hair as you slide across the floor, save time walking dirt away. No more bending or kneeling. Dust While You walk. No more kneeling and stooping to clean those out of the way places. Simply slip on these convenient slippers for a clean and sparkling floor. Frees you hands for other chores. Slip these convenient mop slippers onto your feet to easily dust mop your floors! Easily clean those out of the way places without kneeling or stooping. A great time saver!"
To clean floors and sylish feet!