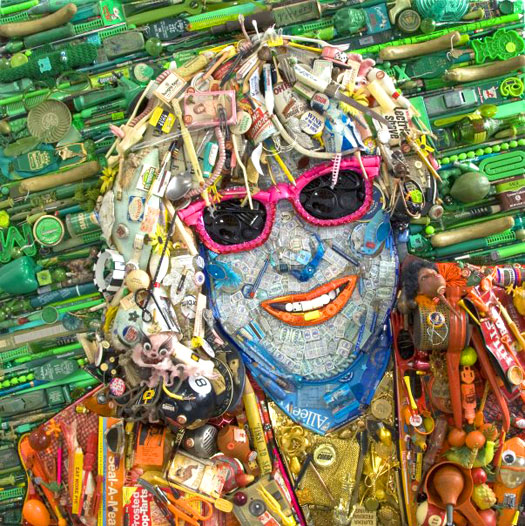 I had always thought that the day before the Grand opening of the virtual Allee Willis Museum of Kitsch I would have one of the most spectacular pieces of Kitsch in my collection to feature on Kitsch O' The Day. But I'm going completely insane on massive overload trying to get the online interface/mini social network at awmok.com scotch-taped together enough to open tomorrow – sometime between noon and 5 PM West Coast time – not to mention building physical displays, handmaking souvenirs and getting auction items ready for the first of two grand opening parties tomorrow night at Ghettogloss on Melrose.
I have no hands left, my brain has been reduced to the size of a pea and the thought of photographing one more piece of my Kitsch and writing a description is enough to throw me into a deep coma after mounting an exhibition of every object featured in Kitsch O' The Day since I began the blog in early March, building customized bubble display cases for everything, tweaking the descriptions, filling four foot wide bowls almost big enough to take baths in with junk food, and doing the 175 other things on my list for what I'm sure will be another 20 hour day of tweaks. So no Beatles sneakers, bedazzled Snuggies or motorized go-go boots that move on their own to "These Boots Were Made For Walking" today and, instead, an amazing 4′ x 4′ three-dimensional-made-from-all-my-junk "Allee Is Kitsch" portrait of me done by my very talented friend, Jason Mecier. The portrait is featured at the opening parties along with the other 150 aforementioned Kitschifyingly spectacular objects.
If you haven't seen the trailer yet or don't know much about The Allee Willis Museum of Kitsch please proceed to awmok.com. Otherwise, see ya there tomorrow!
http://www.usatoday.com/travel/destinations/2009-09-10-kitsch-museum_N.htm
http://www.examiner.com/x-8310-Trendy-Living-Examiner~y2009m9d7-Allee-Willis-Museum-of-Kitsch-opening
http://flavorpill.com/losangeles/events/2009/9/14/allee-willis-museum-of-kitsch
http://eccentricroadside.blogspot.com/2009/09/whole-kitsch-and-caboodle-allee-willis.html
http://bitchmagazine.org/post/bitch-popaganda-superwomen-or-lack-thereof-edition