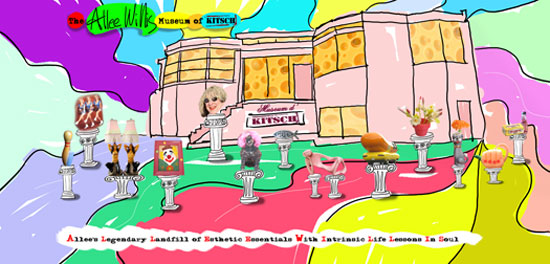 Running around all day today on about a second of sleep doing final tweaks on the first party celebrating the Grand Opening of The Allee Willis Museum of Kitsch tonight as well as coding my tootsies off on the virtual Museum, the heart of the experience, at AWMoK.com. I hope to open the floodgates online at noon LA time. (Until then, the 'Coming September 14th' page with the trailer, press and a few other goodies is still there.) Not sure I'll make the noon door opening but once it flies open there's some magnificently supreme kitsch to browse through in The Museum itself and in the Kitschenette wing there are incredibly easy instructions, customized for dummies and people like me who get confused reading directions of any sort, for how to submit your own prize Kitsch.
AWMoK.com is a mini social network, built to scale up and incorporate more interactivity as more Kitsch is injected into it. Please visit later today or tomorrow and register to become an aKitscionado, another process that I've slaved over so it's pathetically quick and easy. You can browse both The Museum and The Kitschenette but you need to register in order to submit anything or make comments.
Party photos will go up sometime tomorrow and video will follow though not sure when. The parties, tonight and next Monday night, were supposed to be webcast but the DSL at the gallery can't handle the upload speeds so now it means digitizing six hours of footage from each of the three cameras and editing everything, a far more gruesome process than just letting it stream as it happens. But photos will be up as soon as I wake up tomorrow, which could be God knows what time as I haven't slept in a week and have to do a lot of press tomorrow.
Today is also the beginning of a weeklong "What Is Kitsch?" Film Festival on YouTube, eight short films I made on the subject of Kitsch. I'll be posting the links to these when I upload them. There are two going up today, the introductory film, "What Is Kitsch?", as well as one that's about submitting items to The Museum. (When I say submitting items I mean images and descriptions. As much as I'd love to own all the stuff you guys tell me about, The Museum is virtual so photos and not the actual item is what you'll be contributing.)
I've worked on putting The Allee Willis Museum Of Kitsch together online ever since I started my Kitsch O' The Day blog seven months ago. Integrating virtual and physical spaces is what I've dreamed about doing since I stumbled on the Internet in 1991. I hope you enjoy The Allee Willis Museum of Kitsch, The Kitschenette and the eight short films as much as I've enjoyed – though sometimes been tortured by! – making them.