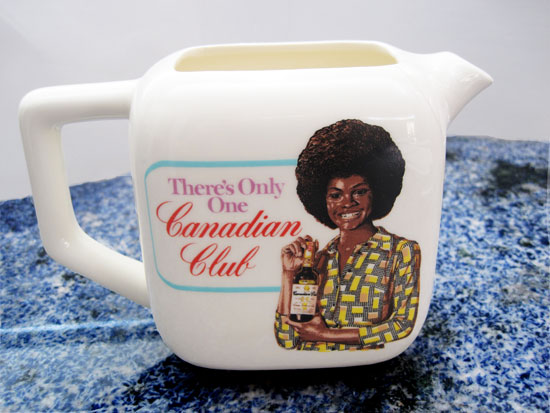 I've collected four of these porcelain pitchers from the late 1960s over the years. I've only seen this particular style with the casual, beaming Afro-endowed hostess on the front, never the matching male, so perhaps Canadian Club was making a pitch to the swingin' middle-class lady set that things other than water and lemonade should be pouring out of their petite white pitchers.
I always liked that the blouse they chose for this hostess was so bold yet conservative, picking up enough of what they perceived as a 'Right On/ That's Soul, Baby!' feeling but still looking like it could have been bought at any department store in the white suburban malls.
5-1/2″ high by 3-1/2″ wide  and made in the USA, at least Canadian Club sprang for printing the image on both sides of the pitcher. Nothing bothers me more in household accessories, especially things like glasses and pitchers where how you pick them up depends on whether you're right or left-handed, when the image is only stamped on one side. Nothing less expressive for the happy hostess who writes this blog then drinking out of something that is blank on the side exposed to the public.