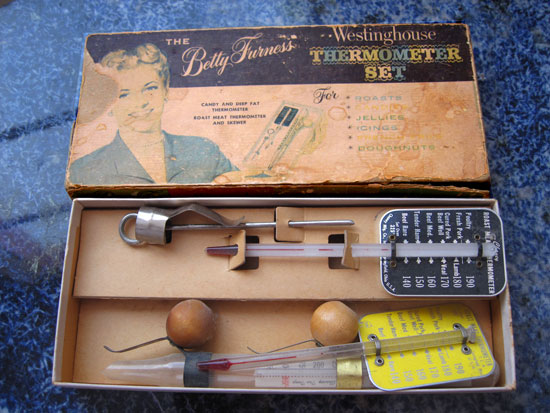 At one point in the 1950s Betty Furness was as ubiquitous on TV as Lucy. Known for her signature hype line, "You can be sure… if it's Westinghouse." Furness opened more refrigerator doors then the chef at the Waldorf. Taking advantage of how the former movie actress's easy-going manner connected with the burgeoning flock of middle-class housewives owning modern appliances for the first time, Westinghouse rushed out this signature thermometer set consisting of a combo candy, icing and deep fat thermometer as well as a roast meat thermometer and skewer.
Although she hawked all kinds of Westinghouse appliances, the commercial Furness is best known for she didn't even do. In one of TVs earliest and most infamous bloopers, the lovely model went to open the frig door but it was locked shut. Although legend has this etched in stone as Betty's finest moment, she was actually out that day and it was little-known actress June Graham who couldn't muster up the strength to pop the door.
Made by The Chaney Maufacturing Co., Inc of Springfield, Ohio, the box is faded and stained but the thermometers have never been used. There were so many of these BF Westinghouse Thermometer Sets made that when I first started hitting thrift shops in the 1970s I could count on seeing one in almost every store.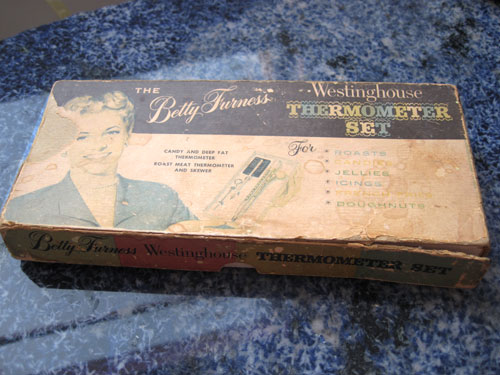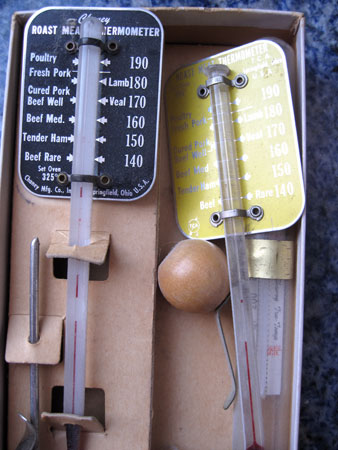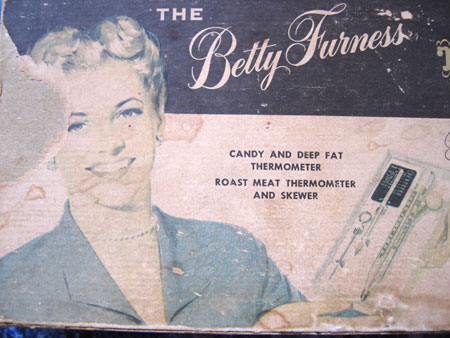 Here's Betty demonstrating the new Westinghouse Washer/ Dryer combo: