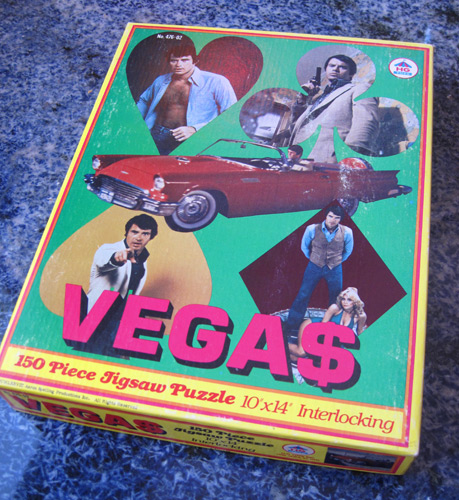 The Aaron Spelling produced Vega$, the first TV series to be filmed entirely in Las Vegas, ran on ABC from 1978 to 1981. A kind of run-of-the-mill detective show, what I liked most was that its star, Robert Urich, aka private dick/ Vietnam vet Dan Tanna, a name spun off of a popular LA eatery, spun around town in a red 1957 T-Bird, gorgeous but no KITT and whose parking space was in Tanna's living room.
Although I didn't really watch the show – it seemed a little slick for what I was into at the time – I was excited when Robert Urich and his budding B-star wife, Heather Menzies, both longtime friends of my then boyfriend, invited us to stay at their new pad in Vegas when Bob first got the show, becoming the first TV star I ever met. I don't remember so much about the visit because I was always so eager to get out of the pad and start photographing the vintage 1950s hotels and artifacts that still populated Las Vegas. I do remember they made great salads.
This is a 10″ x 14″ 150 piece jigsaw puzzle made in 1978 by Aaron Spelling Productions Inc. and distributed by H-G Toys of Long Beach, CA. I've never actually put the puzzle together as that kind of thing takes far more time and patience than I'm ever willing or able to allow. My favorite thing about it anyway is the box, with poses of Urich stuck into heart, club, spade and diamond shapes and printed with a cheap color process that allowed the ink to sink tight into the cardboard giving it a kind of porno-y look. All this topped off an all-too-blown-up and blurry cut-out of what looks to be a Urich look-alike sitting in the T-Bird. Mmm… if there's even a prayer of the puzzle art being that kitschy I just might stay home tonight and put it together. Although there seems to be a preponderance of solid green pieces, perhaps a tribute to the salads.