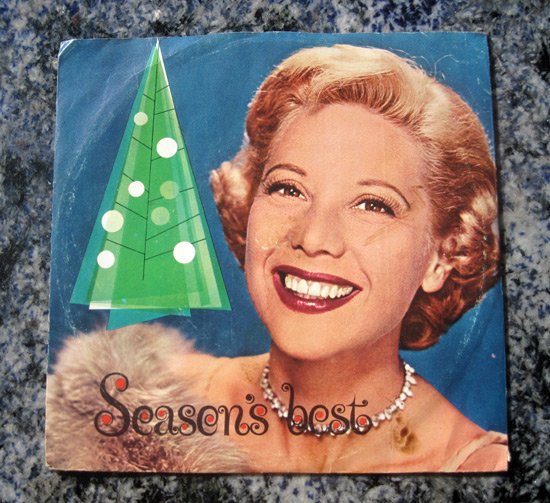 "Seasons best" from Dinah Shore, Chevrolet and me! Dinah warbled "See the USA in your Chevrolet" throughout the Atomic Age when the auto maker sponsored The Dinah Shore Show from 1956–63. The jingle became her best known song and kept her working steady so she could afford lots of Christmas and Hanukkah presents.
Though Dinah was a nice Jewish girl there's nary a Hanukah song in sight on this promo 45 that was handed out by GM dealers, in this case Price-Roche Motors of Petaluma, California. The disk features "Silent Night", "Jingle Bells", "The Coventry Carol" and "You Meet The Nicest People".
Dinah ended all of her shows by throwing a big "MWAH!" kiss directly to camera, prompting Frank Sinatra to say "Dinah blows the best kisses." In her tradition, and I'd like to think with Frank's approval, I'm blowing you all a big "MWAH!" this Christmas Day!