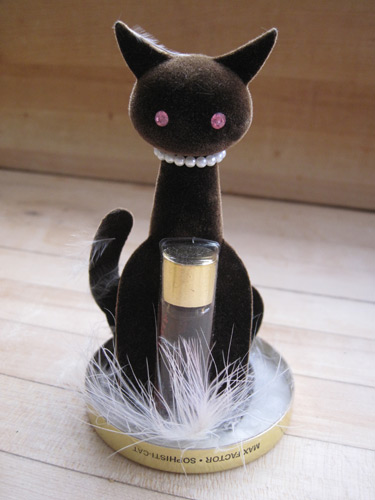 Made from 1954 – 1960, possession of a bottle of Max Factor Sophisti-Cat perfume was de rigueur for any little girl growing up in '50's and '60's. My kitty is brown with pink rhinestone eyes, a pearl choker and a white feather that constantly gets stuck to the cardboard covered velveteen, fake suede or whatever this little pussy is made out of.
Sophisti-Cats came in a variety of colors – black, brown, purple, chartreuse, red, pink, yellow and blue that I know of, and held 1/8 ounce of either Golden Woods, Primitif or Hypnotique perfume between their paws. In her rounded hard plastic case she stands a regal 6″ tall.
My favorite thing about this apparently stray Sophisti-Cat is that the bottom part of the package is printed upside down.