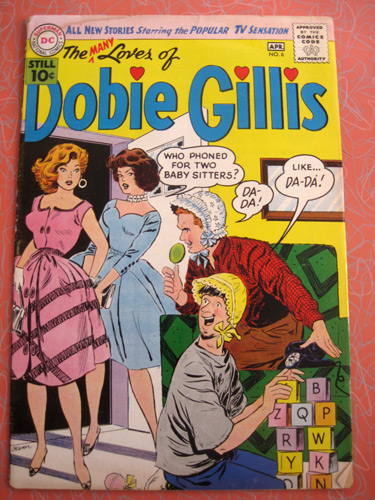 There's no question that Dobie Gillis, which ran from 1959-'63, was just about my favorite TV show ever! I was coming of age, wanted to be Thalia Menninger and date Dobie just like every other young nubian my age. I loved how preppy Dobbie was in his starched khakis but had the good sense to have Beatnik friends like Maynard G. Krebs. I didn't catch Warren Beatty as the rich kid, Milton Armitage, so much but after he left the show I was heavily into his cousin, the ultra-snot, Chatsworth Osborne, Jr. And, of course, all hail Zelda Gilroy aka Shelia Kuehl, whose nerdiness paid off when she became a US senator in real life in 2000.
This comic book was put out every other month by National Comics Publications, Inc.. This one is No. 6 from 1961. The pages were filled with teenage angst…: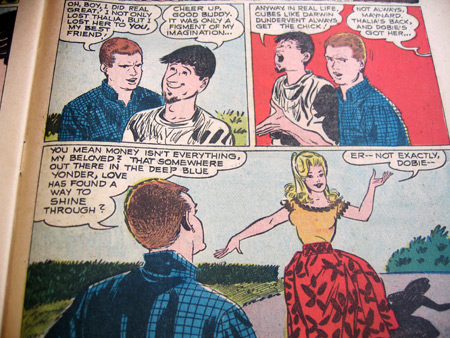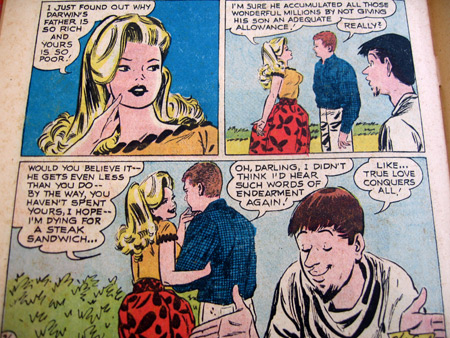 And there were ALWAYS ads in 50's and 60's comic books to build whimpy muscles up, in this case by emulating Joe Weider, who went on to mentor such muscle maniacs as Arnold Schwarzenegger and also to get sued for a variety of weight loss and bulk up products that didn't quite live up to their claims.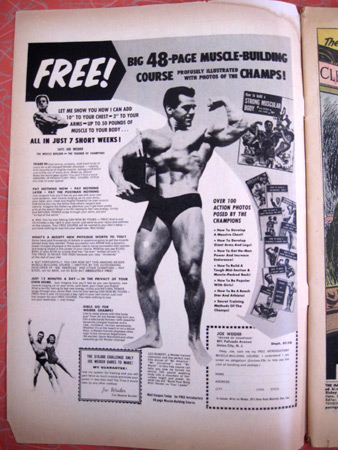 There were also ALWAYS ads to earn money. A very popular one is this one where you banked coins by selling popular patriotic and religious mottos, just what every kid wanted to do. But, most importantly, there were ALWAYS prizes to win…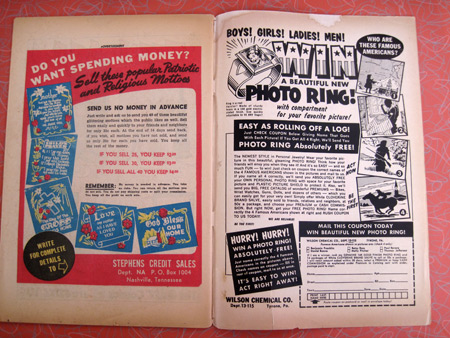 Comic books offered lots of ways for an industrious kid to make money. I myself did the one showed below several times. I loved the little packets of seeds and I was obsessed with getting the prizes. For sure I got the pocket radio but you had to sell about 4 tons of seeds to get the three speed bicycle, the full string guitar (did they also have prizes of guitars with no strings?!), the typewriter, the movie projector or anything else that was of real value. Although I had big entrepreneurial plans most of the seeds ended up getting planted in my backyard. I think an onion grew once but that was about it.