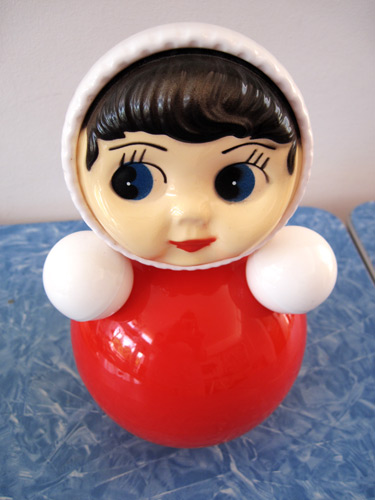 This was a gift from Michael Patrick King, writer and director of Sex and the City, a couple of years ago for my birthday. I always thought the doll had a Carrie Bradshaw vibe to her, smiling and happy and looking good in red. One day I slammed my shin into the table Rolly Polly sits on and it made such a great chime sound I didn't mind the dripping gash down below. I limped into my recording studio and dragged a mic to reach her, tilting her in all directions, spinning her around and pushing her across the table. The different chime patterns sounded great and distinctive, sometimes carrying on for 30 seconds or more.
I love working with tracks I record just by banging on things around my house. This is nothing a skilled or trained musician would do but my specialty is hearing rhythm and time in places most people don't. As my Color Purple collaborators used to say, "All aboard for Willisville!" as I continually heard things in different time signatures they thought a piece of music was in and never cared about working off of a grid, preferring instead for everything to play as it lays, natural and funky. I love things that lazily and organically hang together and this little Roly Poly girl doesn't disappoint. I doubt MPK thought he was giving me a musical instrument for my birthday but that's exactly what she's become.
If you ever get a chance to knock one of these gals around I hope you do. She makes one of the happiest sounds in the world.