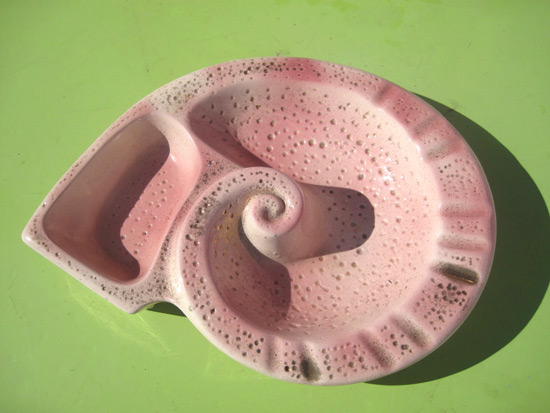 The snail is right up there with the owl and poodle as animal kingdom icons of Atomic Age Kitsch. In the 1950s, snails popped up as vases, plates, tabletops, ashtrays, purses, swimming pools, anything and everything that could be pounded into the instantly recognizable shape.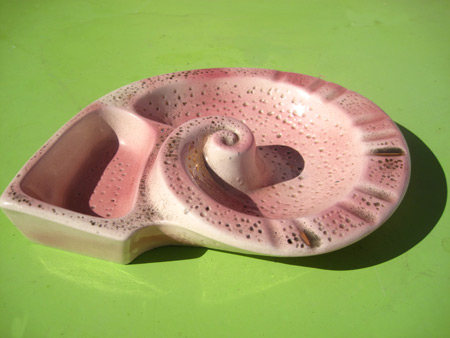 This 12″ x 9″ x 2″ ashtray is a classic baby pink with little smoke gray bevels and gold cigarette rests. I always thought this was the perfect model for a swimming pool and jacuzzi as there's room for lounge furniture around the edge of the pool, the jacuzzi's poolsize and the center where everything snail meets would make a perfect bar accessible to swimmers and spa-ers alike.
There's no manufacturers mark anywhere but the ashtray's stone cold up-from-the-sea 1950s. it lives outside as snails should on my 1960's mint green fiberglass table with matching chairs.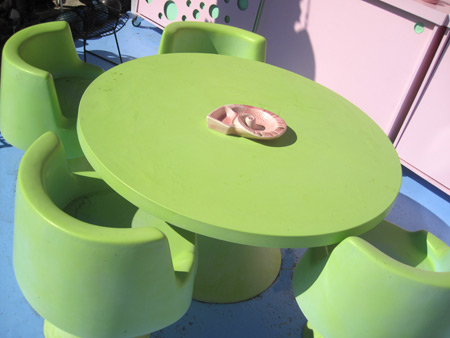 It never moves an inch because it weighs as much as a whale. Literally, it's the heaviest ashtray I own.