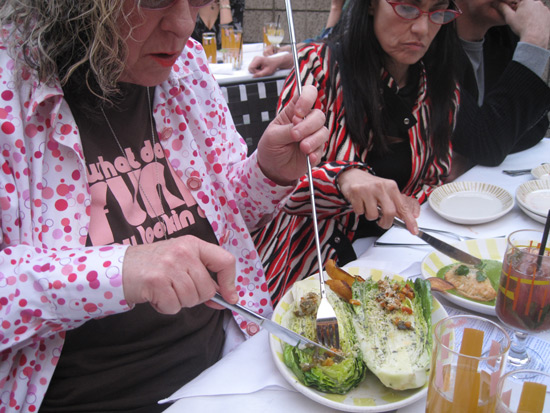 Last night I found myself in the middle of another food fest, this time at Ciudad, another one of Top Chef Master competitor Susan Feniger's restaurants in LA which she owns along with co-stupendous Chef Mary Sue Milliken. Border Grill in Santa Monica and Las Vegas is theirs too. As long as Susan remains on Top Chef Masters there'll be a screening of the Bravo show each week at one of her restaurants, including my beloved Street.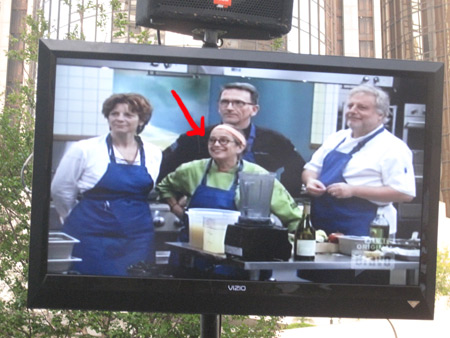 Just like the first time that Susan was on and slayed the dragon in both challenges, it happened again last night as she and her blue team won a blindfolded Quickfire challenge and cooking for an out-of-town wedding party of 150 guests. As they toiled away, those of us at Ciudad sat outside downtown, hugged by gorgeous skyscrapers, watching it on TV.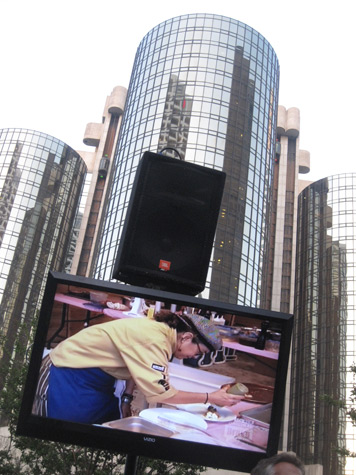 Sample portions of some the winning food was passed around as we watched the competing chefs cook it. Here's the Potato Baujia with mint cilantro chutney: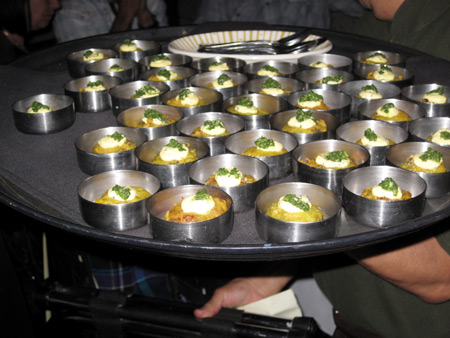 When I go to dinner I don't like to eat at long tables. Not only do you get cheated out of who might be down at the other end but sometimes the food hovers perilously out of your reach. For occasions like this I like to have my trusty Extendable Fork.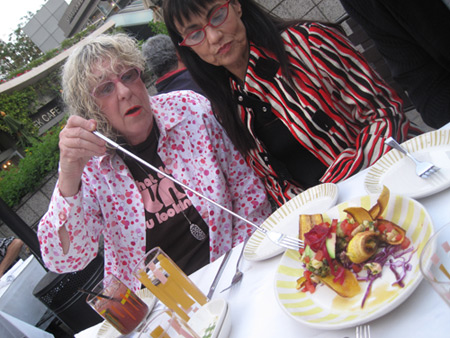 Luckily I was good friends with everyone sitting at my table, (L-R) Prudence Fenton, Liz Lachman, me, Chef Susan, Nancye Ferguson and Jim Burns, so using the Extendable Fork was not viewed as an intrusion.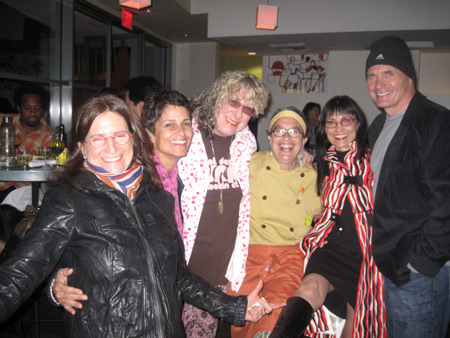 I managed to poke the 3 foot long fork into almost everything. I was too busy perfecting my utensil maneuvers, however, to remember to photograph my favorite salad EVER, the Romaine Hearts with chile rajas, plantain croutons, cabrales and blue cheese vinaigrette, as well as the Argentine Empanadas with wild mushroom, warm chipotle sauce; spinach with pine nuts, raisins, manchego and salsa verde and the Chorizo Crusted Diver Scallops with wild seasonal mushrooms, yuca 2 ways, green gazpacho sauce and minted baby tomatoes. I did, however, manage to hold the camera as well as my Extendable Fork while eating the following dishes:
Peruvian Ceviche with mahi mahi, avocado, lime, ginger and aji amarillo chile: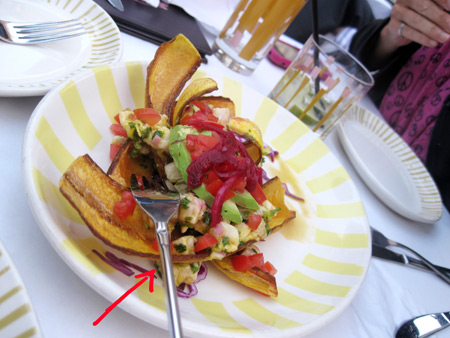 Roasted Red and Gold Beet Salad with frisee, goat cheese emulsion, marcona almonds, olive crumble and thyme gelée: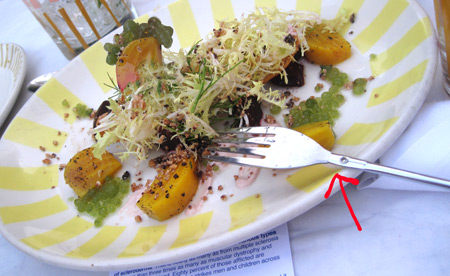 Piquillo Glazed Boneless Beef Short Ribs with roasted garlic and plantain mofongo, brussel sprouts and bacon and radish salad: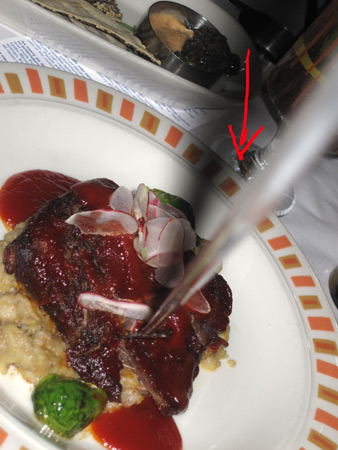 Regretfully, I forgot to use my Extendable Fork for the following two dishes. Grilled Skirt Steak with warm salad of arugula, baby potatoes, seared red onion, portobello mushrooms, shishito peppers and red chimichurri…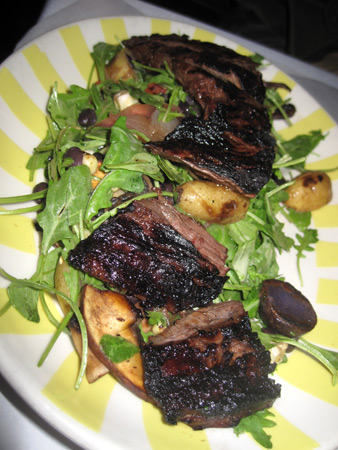 … and, I could be wrong about this, but I'm pretty sure this is lightly seeded and seared Ono Poblano Tiradito with avocado, petite greens, roasted poblano chile sauce, and soy-aji panca sauce. Either that or it's the Roasted Poblano Chile Relleno with potato rajas, cotija cheese, quinoa salad, salsa verde and spiced tomato sauce. I forgot to take a photo of one of them and have no idea which. I can just tell you that whatever this was it was delicious. (Looking at it closer now I'm changing my vote to the Chile Relleno because of those little round grain things poking out of the sauce.)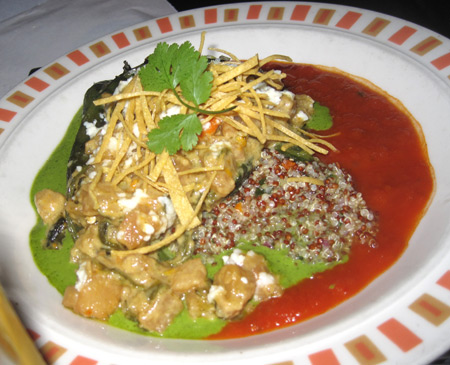 All of this was topped off with seven different desserts including Rainforest Macadamia Brownie with vanilla ice cream, chocolate sauce,
dulce de leche and toasted coconut and Berry Encanalado, a light sponge cake, cajeta and macerated fresh berries with maple whipped cream.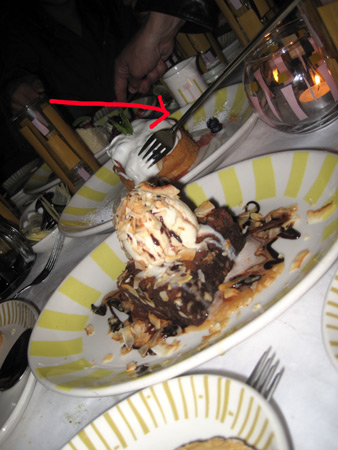 It was incredible to eat a meal watching the very chef who prepared it battle for food supremacy on TV. Susan was the only chef I saw last night who dove to the floor in service of culinary perfection: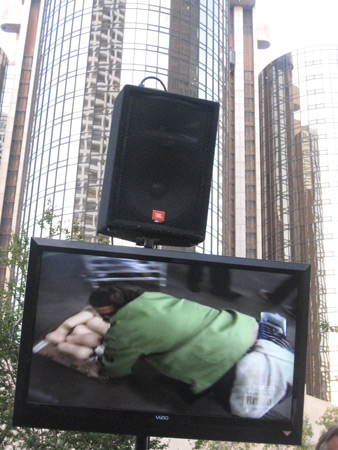 I'm not sure what she's doing down there but I'm pretty sure it led to winning the challenge with the Egyptian Semolina Cake with Berries & Cream, shown here in this incredibly blurry photo as my Extendable Fork, in use by someone else at the table, knocked my arm as I tried to take the shot.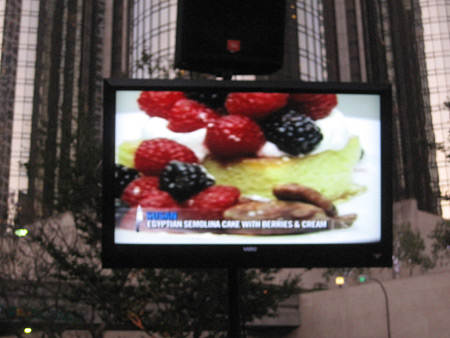 It was a winning night all the way around. I got to see Mary Sue, who I haven't seen since she and Susan hosted an Obama fundraiser at her house featuring 40 different dishes in 2008.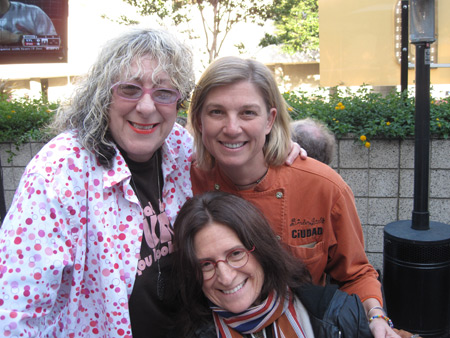 That's Prudence Fenton down in front. She also enjoyed the use of the Extendable Fork last night.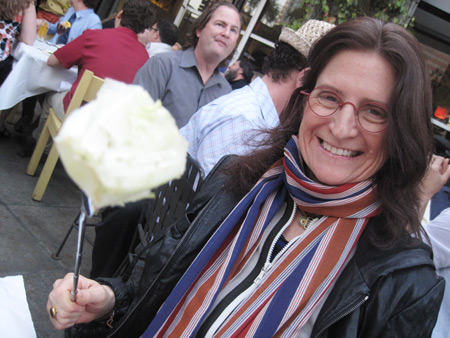 The Extendable Fork and I felt this was a very memorable meal and salute Susan for nailing all four Top Chef Masters challenges she's faced so far.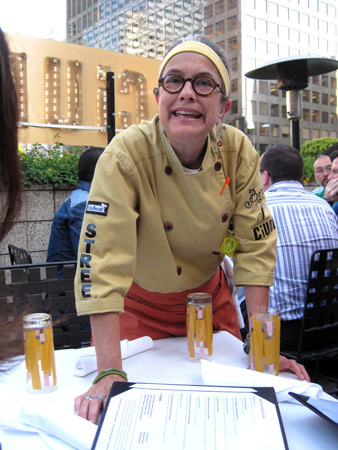 The Extendable Fork, also known as The Freeloader Fork, is available at Archie McPhee. Great food is available at Ciudad, Border Grill and STREET.