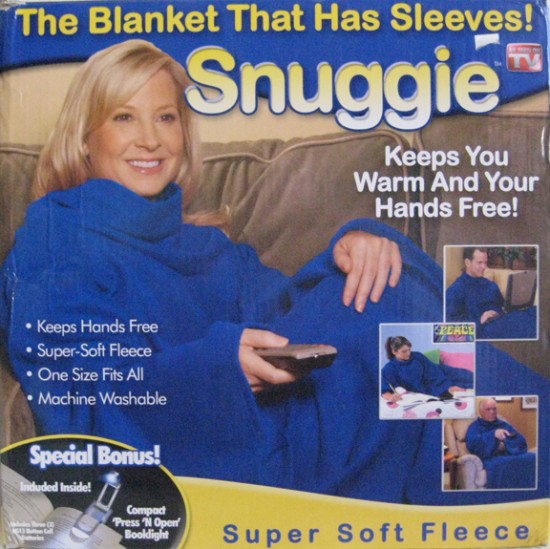 What Allee has to say about this:
You know I'm obsessed with Snuggies. When I do interviews I always use it as a prime example of contemporary Kitsch. The thing is made so cheaply. Just a piece of cheap, ratty fleece with two armholes and not even a snap. If you have any meat on your body it hangs there like limp lettuce, not really embracing it without a lot of tugging to try and get it to cover all parts. But the inventor had an idea and went with it and now everyone in America, including me, owns one. He made something like $14 million the first year alone by selling it to Wal-Mart.
All the commercials for Snuggies are fantastic.
The incredibly cheap a booklight that comes with it never stays in any position where it illuminates more than a few lines. Makes reading a total pain in the ass.
I, myself, appear in a Snuggie at the end of my 'ÄòWhat Is Kitsch' film. http://www.youtube.com/watch?v=DQSvoY6WSQM