"In The Stone" – Earth, Wind & Fire
(written by Maurice White, David Foster and Allee Willis)
From: xlunatiic – TCHS Percussion @ Arcadia Band Review 2006. TCHS Drumline + Pit plays "In The Stone"
[Allee: No horns, just drums and xylophones.]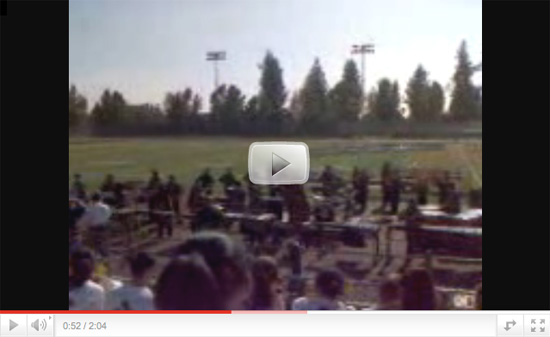 From: badm – Performance of the harbor springs marching band of 2006 at the football stadium. the song we are doing is "in the stone" by earth, wind, and fire. im the quint player on the far left.
[Allee: Wow for rhythms that have been drastically straightherned out and some of the horn players sounding tipsy.]
Firestone High School Jazz Band Performing In the Stone.
[Allee: An easy listening jazzbo version played with a swing that was never there and will never be again.]
From: MrPotsAndPans – "The premier video of BM^2. Two college roommates with the initials B.M. were bored on a Monday night. Believe it or not, there was no alcohol involved. The routine is completely improvised, and a webcam was used to shoot the vid. Stay tuned for more!"
Parris Island Marine Band In the Stone
[Allee: The conductor kills me!!]