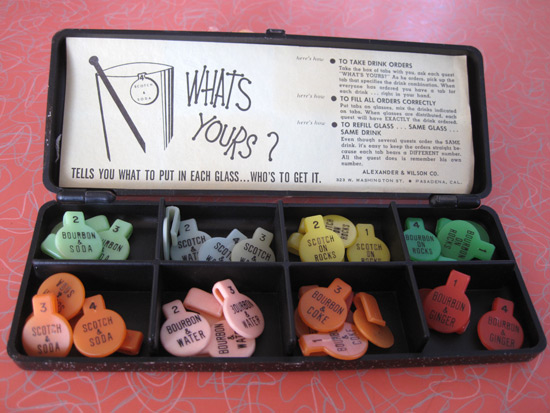 As any good party hostess knows, one of the biggest drags is seeing a sea of half filled cups littered all over your place left by guests who are on their way to the bar to get a fresh hit because they have absolutely no idea where they left their drink. As someone who is writing this as 200 guests head toward here for "Food For Thought – The Allee Willis Museum Of Kitsch presents The Art of John Lloyd Young" party/AIDS Project of LA fundraiser, I don't have to worry about such things because over the years I have bought at least 20 sets of these brilliant "What's Yours?" Drink Markers that you snap on the side of a glass as soon as a drink is poured so the hostess not only knows exactly what's in the glass to refill it but as each little tab is numbered also knows what drink belongs to who.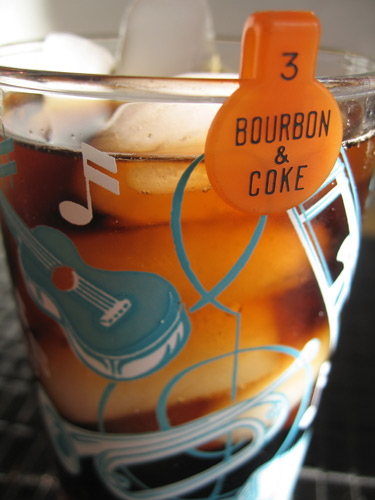 The manufacturer seemed to be particularly attached to Bourbon and Scotch: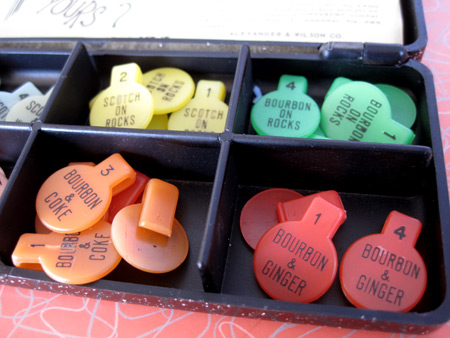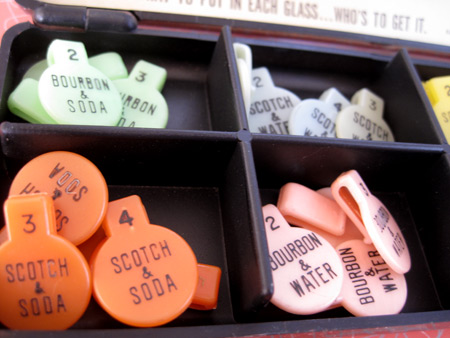 In case the party host gets too inebriated to remember that all you do with these little clips is to clip them on the side of the glass. handy idiot-proof instructions have been included. My favorite instruction is that the host is instructed to carry the box of tabs with them as they offer their guests a drink and ask each of them, "WHAT'S YOURS?".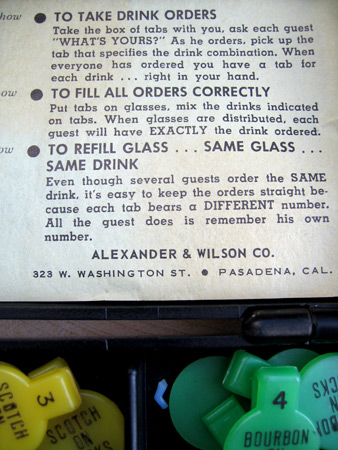 Despite the fact that, in theory, this bar accessory serves a very practical purpose the most amazing thing about it is that every time I use these I come back to my glass to find it stripped of its badge. The Alexander & Wilson Co. of Pasadena, California may have put a lot of thought into the concept of their product but apparently not enough into the composition as per longevity. Perhaps the plastic was elastic enough in 1950 to ride the glass as if it were a polo pony and stay on but it doesn't take more than about 60 seconds for the front of the tag to bust loose from the clip today and land in some undesirable drinking spot like the floor.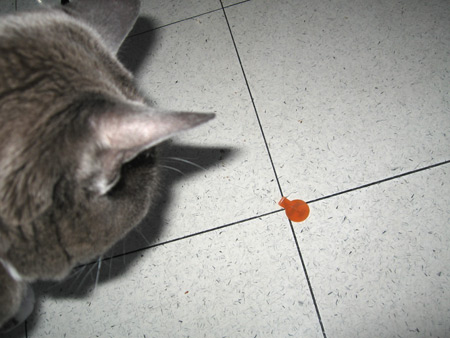 Yesterday John Lloyd, the honoree at my party today, and I spent the day setting up. We did actually have drinks before we sat down to take this photo and would have brought them with us had we remembered where we set them down.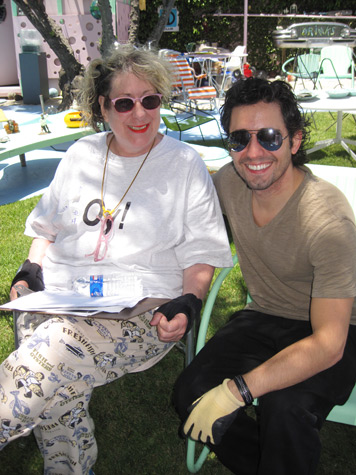 I have no idea why I wasn't you carrying around my "What's Yours?" Drink Markers.