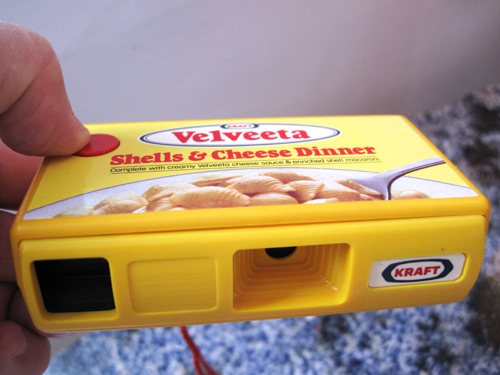 This is one of the few food related items that John Lloyd Young didn't jewel at my place last Sunday when The Allee Willis Museum Of Kitsch hosted "Food for Thought", the first ever exhibition of his brilliant Pop Kitsch art interpretations of iconically kitschy komfort foods. Had I remembered where I put it I may have used my Velveeta camera to take some fabulous photos that day. Lucky for us I didn't as you can actually see the work and the beautiful Pop Kitsch guests like RuPaul who came to view it much clearer then my little Shells & Cheese Dinner baby is capable of popping out.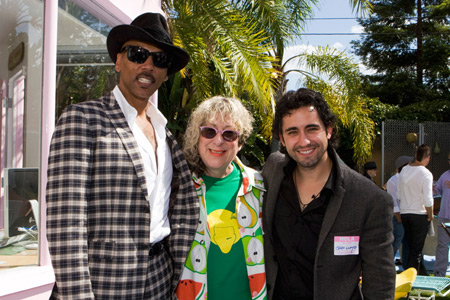 John Lloyd's eye-popping work costs somewhat more than the three Kraft box tops and dollar shipping and handling one had to send in to get this Velveeta Camera when it was made in the 1980's. The 110 Kodak film cartridge is still inside…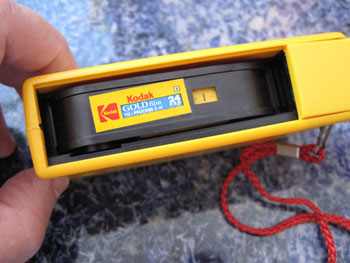 …just as fresh as John Lloyd's ever-glowing can of Spam.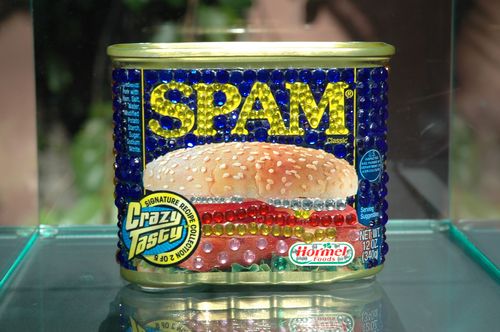 Of course, my preference would be to dump the Kraft Shells & Cheese Dinner cam and go for John Lloyd's Kraft Mac & Cheese "Dominoes". It's hard to a tell from this photo but he jeweled 100 boxes of it and toppled them out on a 16 foot serpentine table.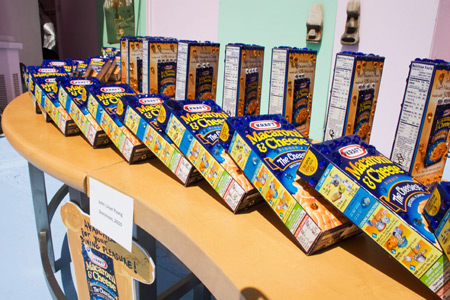 In 2006, the musical I co-wrote, The Color Purple, lost the Tony to Jersey Boys of which John Lloyd Young was the star and for which he won the Best Actor Tony.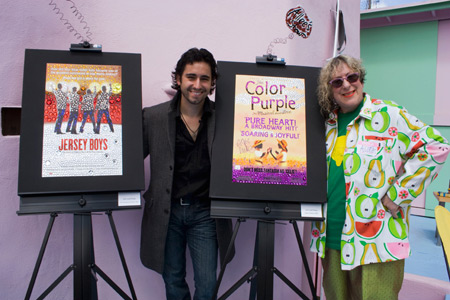 We hadn't seen each other since the round of award parties back then but a few months ago he e-mailed me out of the blue and asked if I was interested in writing some music with him. When he came over to talk about it he brought me a gift that he had just made, a jeweled box of Triscuits.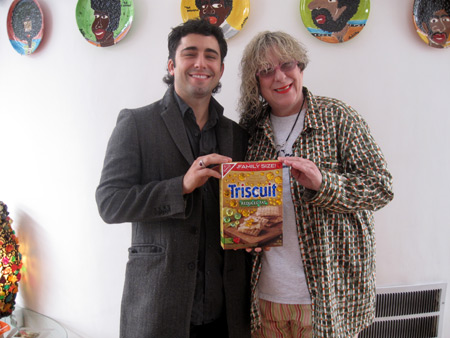 I went completely nuts for the box and encouraged him to keep on jeweling. What I saw over the next couple of months I considered brilliant works of Pop Kitsch art and I decided that presenting John Lloyd's work would make an excellent exhibition as the first artist officially sanctioned by The Allee Willis Museum Of Kitsch. My Tony loss to him already made a perfect set up for Kitsch. I also thought that his Pop Kitsch sensibility would inspire mine and make for some excellent party props like this sign I painted interpreting the junk food John Lloyd chose to honor in his work.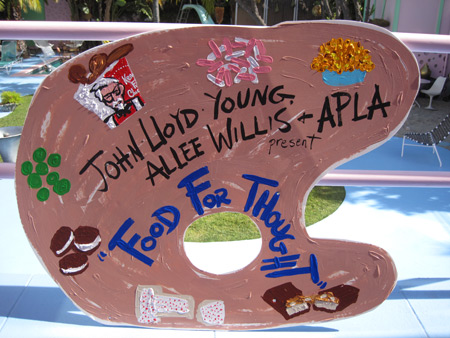 We both were hard at work up until the last minute before the guests arrived.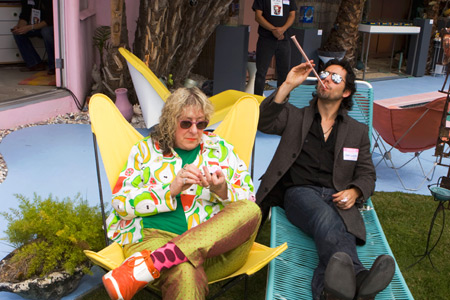 And arrive thank God they did as all proceeds benefited AIDS Project Los Angeles. Those who dug deep included Stu James (Harpo in The Color Purple), Lesley Donald (Buster in The Color Purple) and Jai Rodiguez,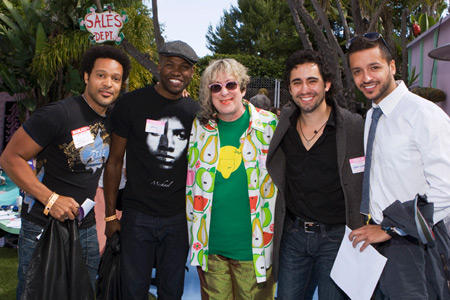 as well as Mito Aviles, Chadmichael Morrisette and Tiffany Daniels (Squeak in The Color Purple) posing with John Lloyd's very first jeweled piece, "Virtue" (not edible!)…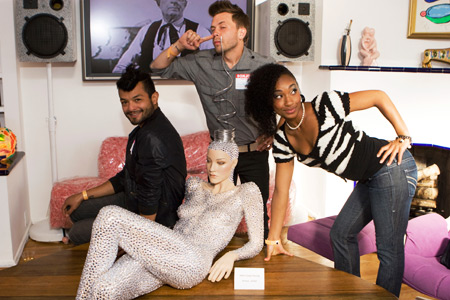 …and a couple hundred more folks who you can see you right here.
When it came to food there was delicious Moms BBQ House soul food versions of John Lloyd's delicious jeweled food.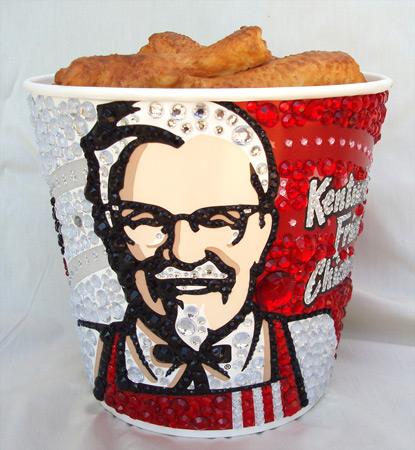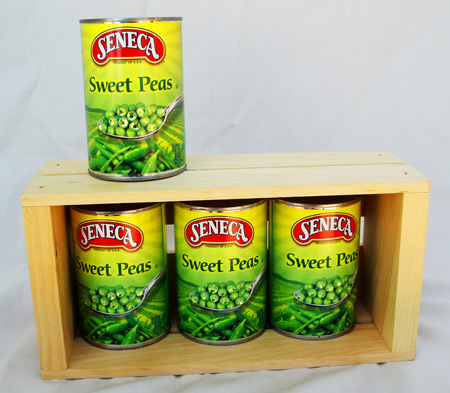 Here's Charles Phoenix modeling the chicken, peas and mac & cheese with me, Sonny Ruscha Bjornson and Mark Blackwell: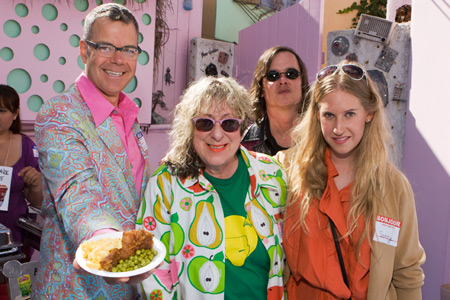 "Food for Thought" was also an unbelievably great excuse to order the world's largest home delivered pizza…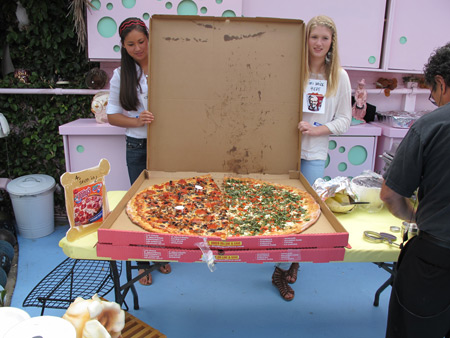 … and to float individual servings of cotton candy in the pool for guests to snack on.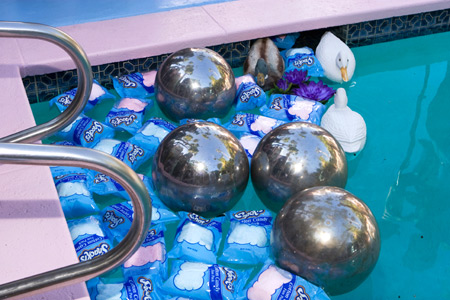 Here's a lovely display of Spam that accompanied John Lloyd's bejeweled Spam…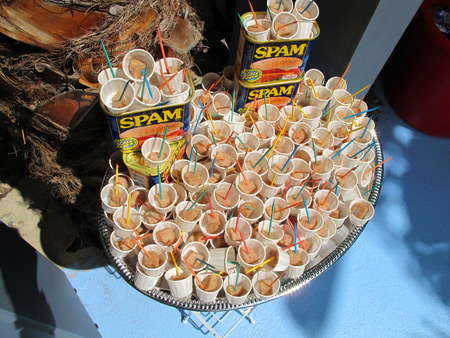 … and the artist vouching for its edibility: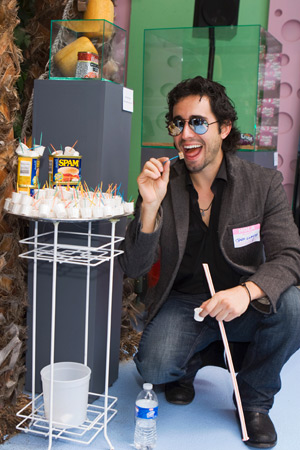 I must say that despite my lifelong dedication to junk food I never tasted Spam until I spiked a cube here. Not surprising to anyone who knows me I found it very tasty. But I digress.
All in all, it was a wonderful day both as a party host and as a conceptual artist. John Lloyd's and my work melded into one big kitschified fondue and despite the fact that rain was threatened all week the heavens held up so our eyes and stomachs were able to ingest beautiful works of art that my Velveeta camera only dreams of capturing in their full glory.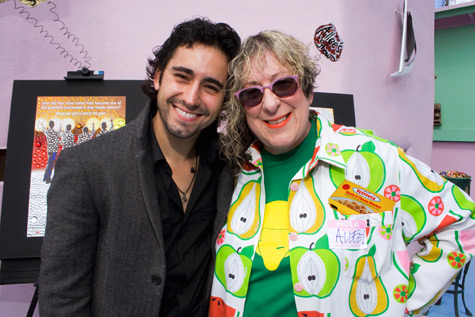 For full documentation of the bejeweled food fest go here.
To see how the Los Angeles Times enjoyed it go here.
Photos: Melissa Manning for the Look Partnership LLC