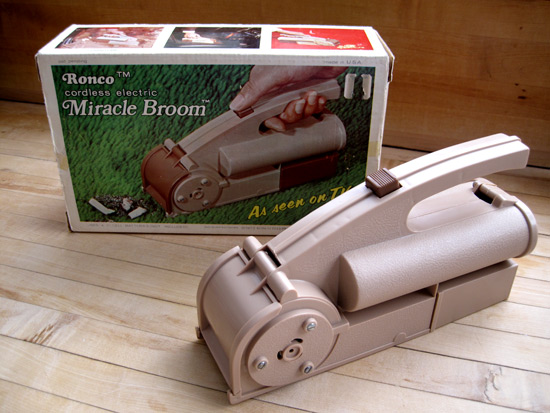 In 1973 when the Ronco Miracle Broom sprung on the market half of the households in America started vacuuming their shag with this revolutionary cordless electric vacuum cleaner. That's reason enough to collect it now but with products like this, especially those made in the 70's and especially in the genre of products sold on TV – the Miracle Broom was among the first of hard-sell filmed TV commercials hawking new and unique products birthing what would later be known as the infomercial – oftentimes the box was as good as the product that came in it. Not to say that this Streamlined Moderne-meets-70's-modern looking gadget isn't great in and of itself but the graphics showing suggested uses of the product are even better. Blown out color, cheesy furniture and excellence in hand modeling being some of the pillars of that greatness. Here's one of my favorite shots: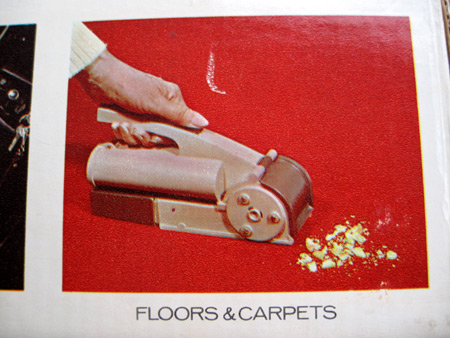 The crumbs are SO over-exaggerated. I'd like to know who eats toast leaving crumbs this big and in this formation? Only a chipmunk or someone without teeth was capable of creating this mess.
For this shot Ronco spared no expense on the tablecloth. Then again, they wanted you to concentrate on the crumbs. Seems to me they should've called the toothless person back to create better crumbs though as these don't seem that serious.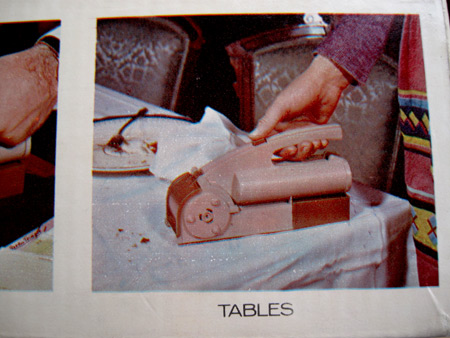 I love how the ashtray is overturned in this next one. Even more, I love the pattern on the tie of the man wielding the Miracle Broom. Even more, I love that Ronco was evolved enough to have men doing some of the cleaning.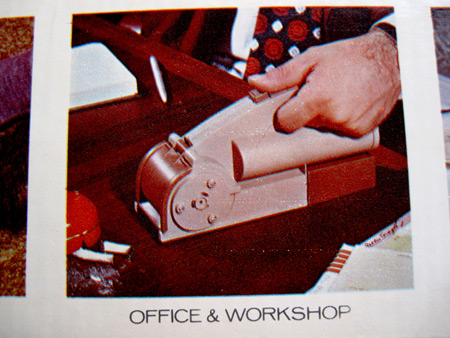 I can't figure out what spilled on the following car seat. It's somewhere between Red Hots, vomit or that crumbled fauna stuff you buy at craft stores to make little trees out of.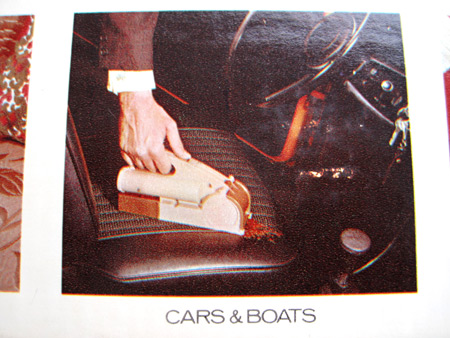 The Ronco Miracle Broom was the stuff of legend in the 1970's, a massive lunge forward in the revolution of products designed with style, convenience and innovation in mind that began in the post-World War II Atomic Age. I may have shed the shag carpeting over the years but the double D's are always on hand to pop into my Miracle Broom whenever I'm too lazy to completely chew my toast.