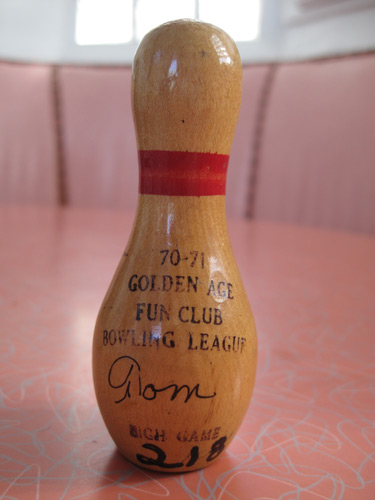 Anyone who knows me knows I love bowling. It's not the sport itself but, rather, the accessories that go along with it that make my heart sing. I have no idea what this little mini pin was made for – I'm guessing a standalone trophy – but I found two of them and wish I had more. I used the first one as the end of a banister going up my stairs: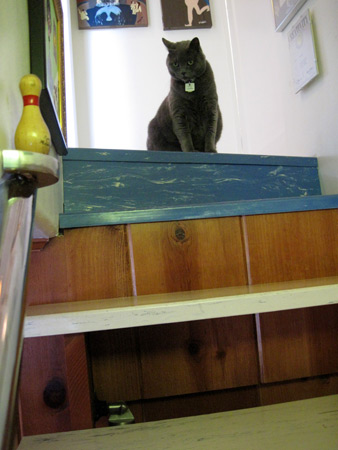 I don't known what The Fun Club was but I want to be a part of anything with that name. I also love anything that's formally printed up where someone can't resist the urge to embellish it with their own personal painting touch. The 'Tom' (or is it 'Glom'?) and the '218' add such an elegance to the pin.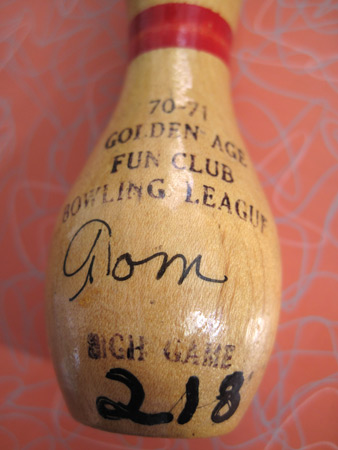 Nowadays, this little pin's only job is to stand around and look pretty. Every now and then I hear it being batted around the house by the cats. I know it's the bowling ball that's supposed to roll but I hope this pin has some sense of the energy of its big brother bowling pin heritage and can enjoy its journey skidding over the hard wood floor, even though it's been hit by a cat and not a ball.