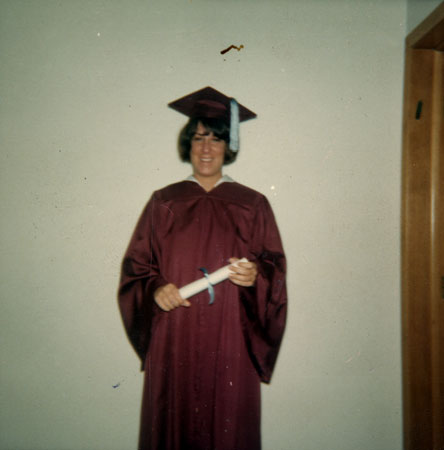 The first time I ever went back to my high school, Mumford, after graduating in 1965 was when my musical, The Color Purple, first came to the Fox Theatre in 2008.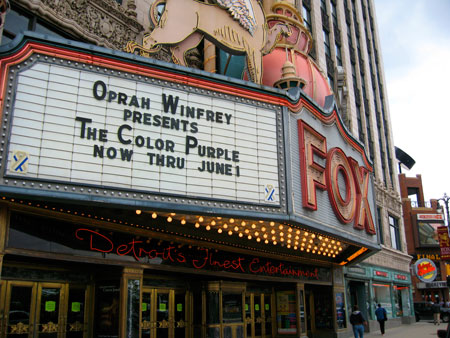 I do love the color purple but growing up my two favorite colors were pink and baby blue, the colors of my high school.  And I don't mean team colors.  I mean the high school itself.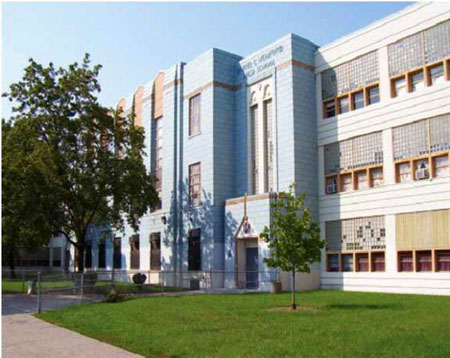 The aesthetic impression this custom dyed baby blue limestone with maroon-faded- to-pink trim 1949 edifice made on me is immeasurable. I'm still obsessed with that color combo and carry it on in much of my daily life.  For example, the sidewalks at Willis Wonderland are baby blue.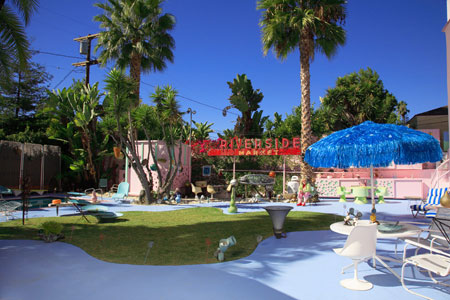 My Corvair was pink with a baby blue interior.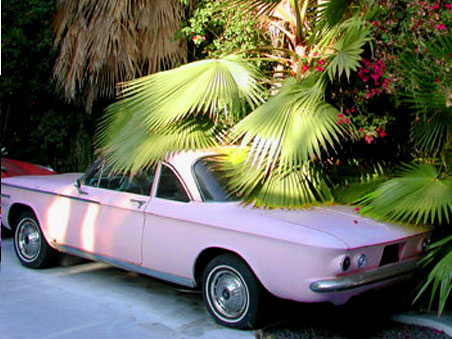 And oftentimes my footwear is revving up the school spirit.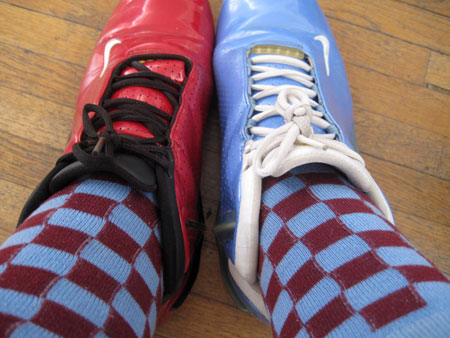 I had those exact shoes and socks on when I conducted the Mumford marching band playing a medley of my greatest hits with the cast of my musical, The Color Purple, singing along at the Fox the weekend before last (Ap. 9). I wish you could see my socks in this photo: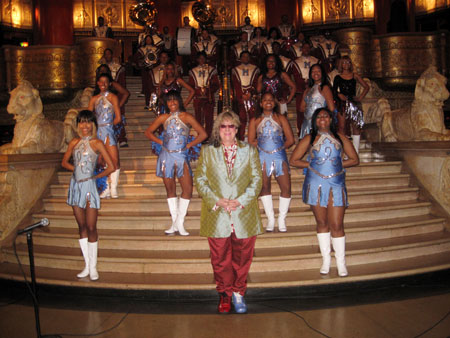 Back in 2008, it had been 43 years since I had walked into Mumford. I was always dying to go back but my visits home were very short and my family had long since deserted Detroit for the suburbs. But throughout the writing of The Color Purple, from 2001-2005, I felt very close to Detroit. Despite everything I had heard about the city crumbling, I still believed it could pick itself back up and be great. Be it a person or a city, believing in who or what you are is crucial. But how do you build up into something great when everyone has counted you out? That for me was close to the Color Purple storyline.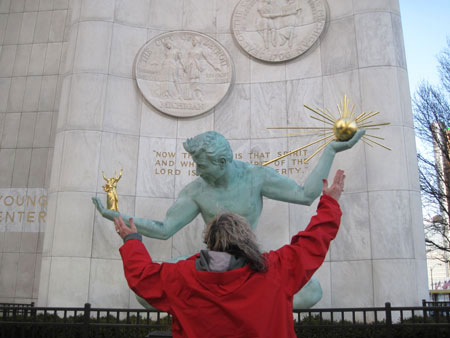 I had read how many schools were closing in Detroit so I figured Mumford would be a total mess. A few months prior to my trip I contacted then-principal Linda Spight to see if I could stop by. I also said I'd be happy to speak to the arts students if she wanted me to. I didn't have my hopes up as there was actually no school the week I was in but Linda said she thought she could get some students there. We left it at that and I wasn't even sure that she was going to remember I was coming when I walked in with my brother, sister and two best friends from high school. Instead, it was one of those dream sequences that happens when you conjure up your fantasy of what it's going to be like when you go back to something so massive in your memories. Anything in the school that could have been covered in purple was, including this gift basket presented to me by Miss Spight, stuffed with Mumford pencils, t-shirts, keyrings and anything else that could be impregnated with that gorgeous baby blue and maroon/pink hue.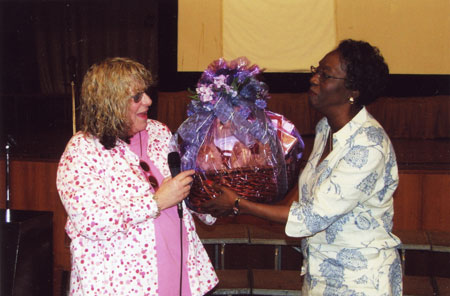 And all over the school there were posters like this: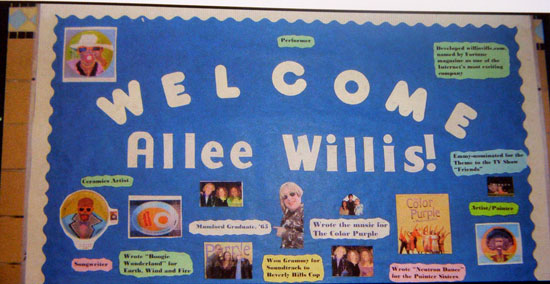 Teachers and students had come in special and even did things like perform dance pageants for me…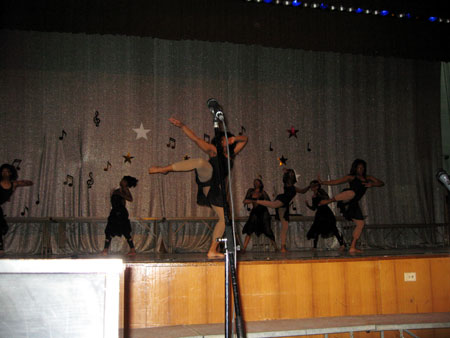 …and sing.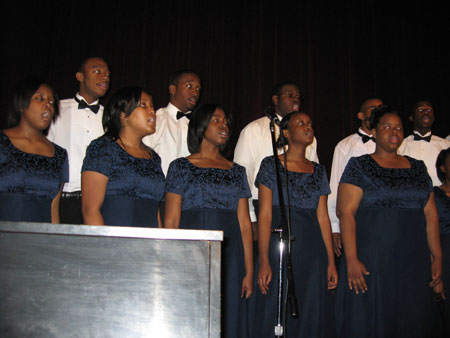 The marching band even played a special medley from Beverly Hills Cop, the film that made the high school famous when Eddie Murphy wore a Mumford Phys Ed T-shirt throughout it.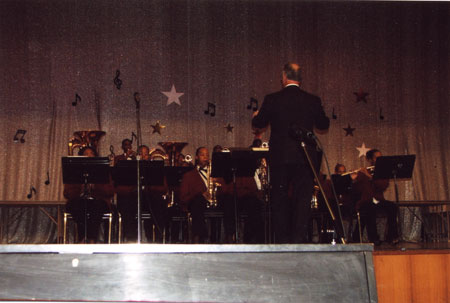 I won a Grammy for Beverly Hills Cop, which happily and inextricably linked me to Mumford forever.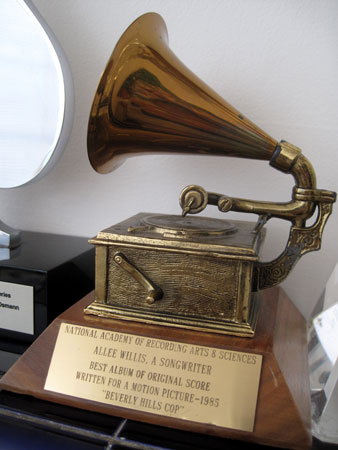 Though it seemed a little strange that this BH Cop band salute to me didn't include "Neutron Dance" and "Stir It up", my two songs in the film. But here's where being an avid kitsch lover kicks in. The enormity of the exclusion was almost better than if The Pointer Sisters or Patti LaBelle had popped in to sing the songs with the band. And trust me, John Wilkins, the then and now band director, more than made up for it with the extravaganza at the Fox we pulled off a couple of Saturdays ago, of which I will be posting about and putting videos up on Youtube soon.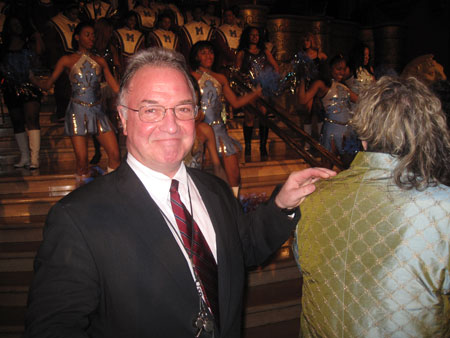 Despite my songs being left out, I made it to the yearbook in 2008.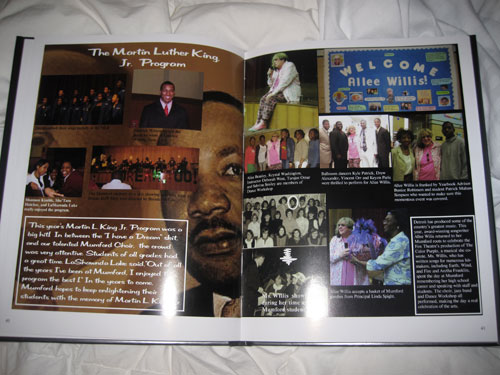 I look much better as a full page than one of a thousand heads.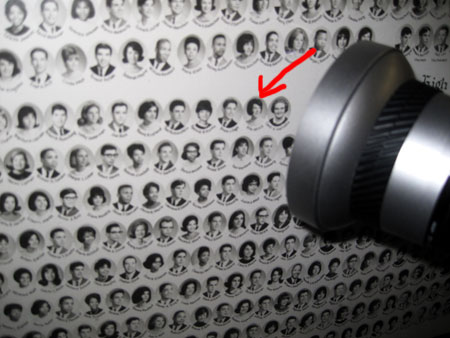 You probably want to see that photo close up…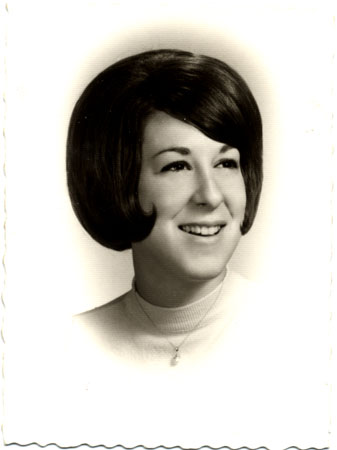 As great as it was, I haven't talked much about that trip to Detroit. I took a camera person with me so that every single inch of my big homecoming could be preserved. I was even getting an official commendation from the city.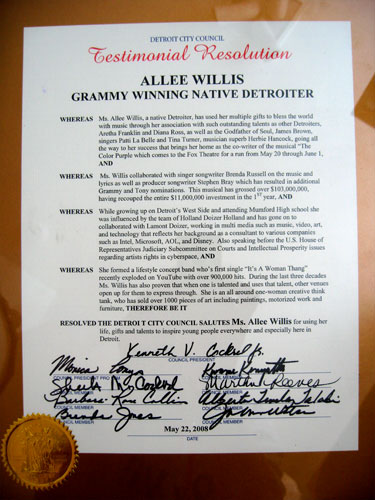 As I received my award from Councilwoman Martha Reeves – MARTHA of Martha and the Vandellas, the singer whose records had had such an impact on me as a songwriter – all I could think about was how lucky I was to have this moment preserved forever on tape.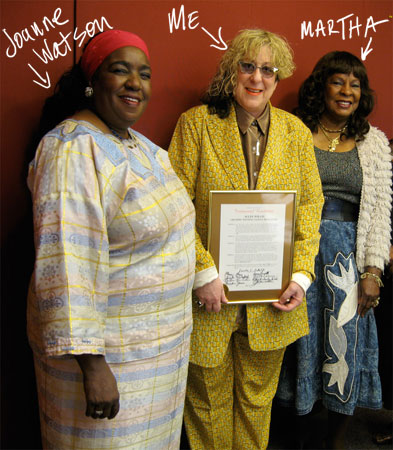 But ha ha, silly me. Never assume that just because someone is holding a camera they know what they're doing.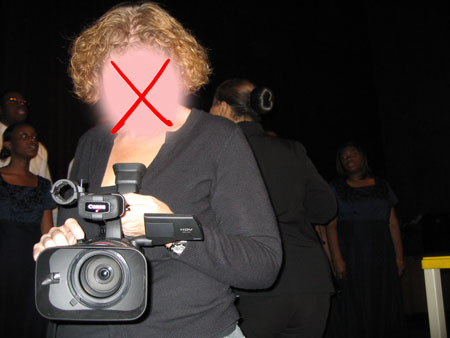 I've never talked about this trip before because I came back with literally not one minute of usable footage. I was so excited to get a Detroit section up on my blog and to send footage and photos back to the high school, but other than shots of people's feet, ceiling air vents and a camera that shook so much I put money down on a slow Wild Turkey drip directly into the veins, I got nothing. I even told my friends or family specifically that they didn't have to take photos because I knew I could pull stills from the video. For example, here I am receiving my commendation: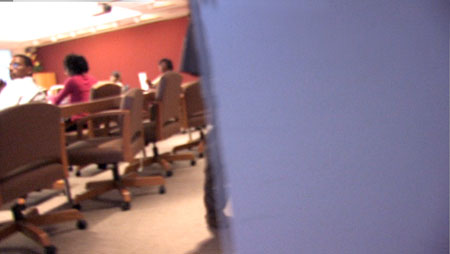 Exactly… So to prevent a similar catastrophe this trip I took three camera people. One of them was perfect, one of them shot as if they were filming a funeral – dead-on straight shots with little sense of the oomph of the spirit of the person they were shooting – and one of them not only consistently showed up late and missed much of the action but blabbed all over the footage as if shooting his own documentary. But at least I got something. Plus, I know it's these kinds of unforeseeable mishaps that often make for the best kitsch in retelling the story. A love of kitsch can turn trauma into opportunity!
This trip I went back to Mumford to attend an alumni meeting in the library.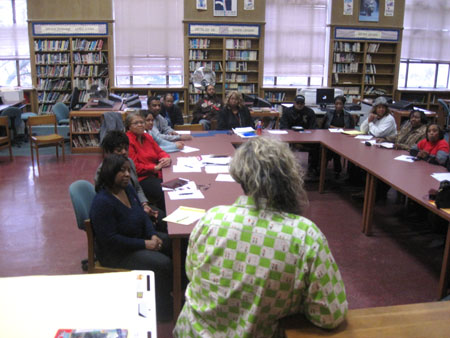 I always loved the book reliefs in the hallways.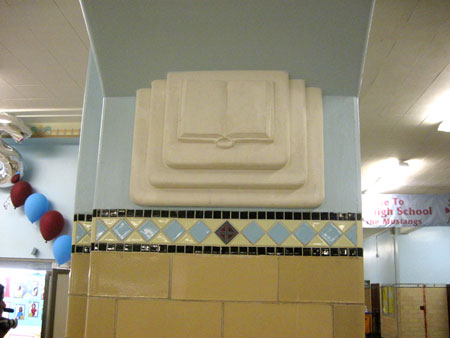 It's architectural details like that that make me SICK the wrecking ball is slated to hit the school next year. Please save me the drinking fountain…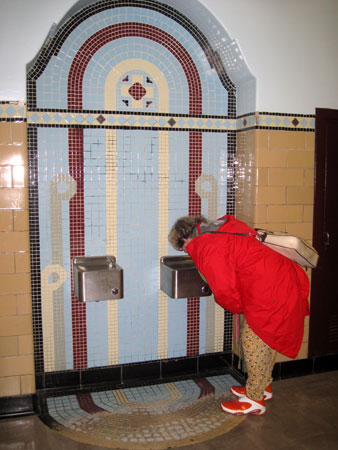 …and a few of these tiles that run along the walls through the entire school.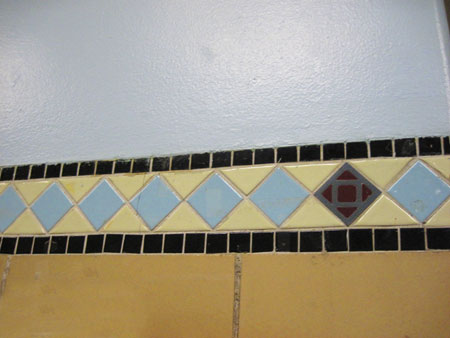 We didn't discuss wrecking balls or keepsakes at the alumni meeting but, rather, volunteers for the big Mumford marching band event at the Fox that coming weekend. That's Linda Spight to my right. And look, more baby blue and maroon clothes for my closet!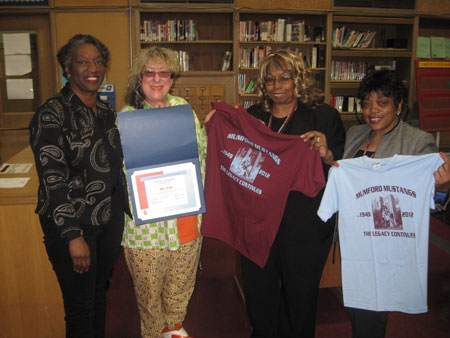 Which is good because the last time I fit in my letter sweater (for volleyball) was in 1974, when I mutated it into a backdrop for my fan club pin collection.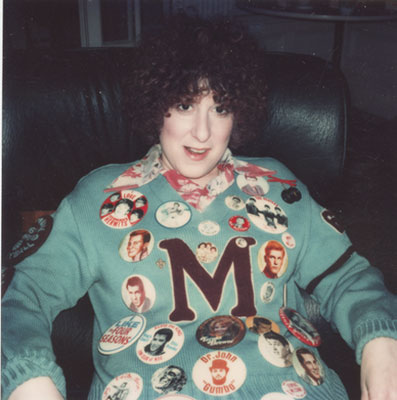 I was to return to Mumford the next day for a quick run-through of my seven songs I'd be conducting the marching band playing on Saturday – "September", "Boogie Wonderland", "Neutron Dance", "Stir It Up", "In the Stone", "I'll Be There for You (theme from Friends)", and "The Color Purple".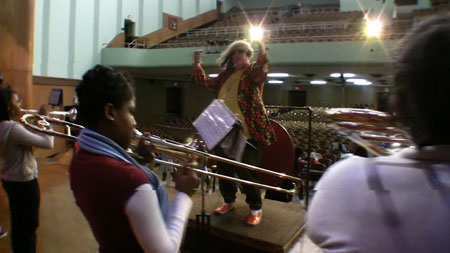 More about that tomorrow. But as for how I ended my Mumford day this day, I'd been dreaming about that ever since I knew I was coming back to Detroit: Lafayette Coney Dogs, THE hot dog in the city and fortunately (0r unfortunately depending on how you look at it) right around the corner from my hotel.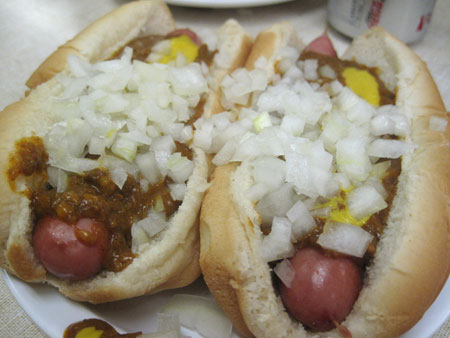 For anyone who's saying that Coney Islands are from New York I would like to set the record straight. Coney Islands – Nathan's hot dogs with mustard and chili – were indeed born at Coney Island, NY. But the chili was added in Detroit. And for the greatest chili dog I've ever tasted (sorry Pink's) it's Lafayette, the front window of which is also immortalized in the opening titles of HBO's Hung.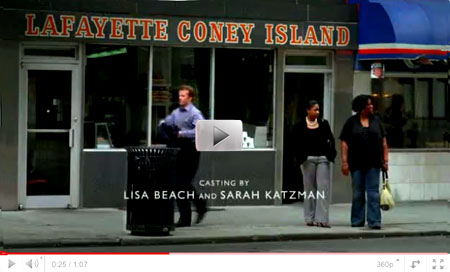 Not only are the hotdogs insanely incredible – with that signature pop when you chomp down – but they're delivered by a waiter who does (exceedingly obscure) magic tricks. Meet Ali Faisel.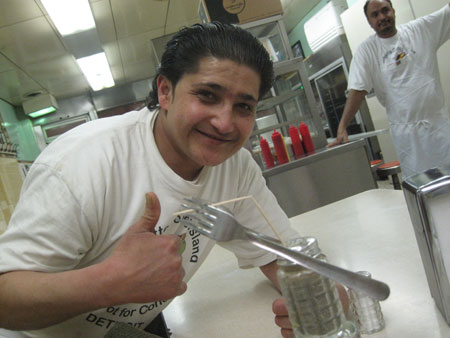 That's a fork balancing on the end of two toothpicks, one of which is shooting out of a pepper shaker. He does quite a trick balancing twelve nails on a screw too.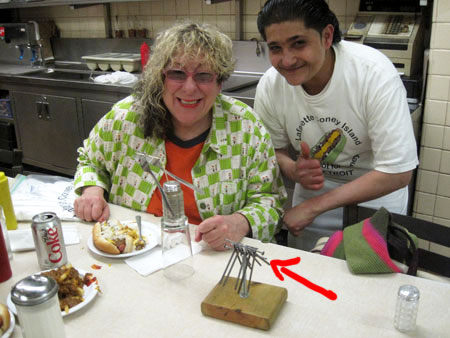 There's no trick to smothering french fries with chili at Lafayette.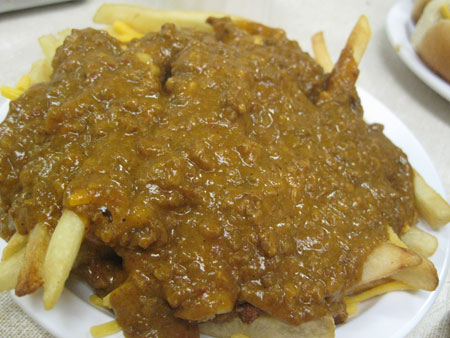 Thankfully, that wasn't my order of fries. There's nothing baby blue or maroon about them. And this post is supposed to be about school and not hot dogs and fries. So I'll leave it at that and see you tomorrow.