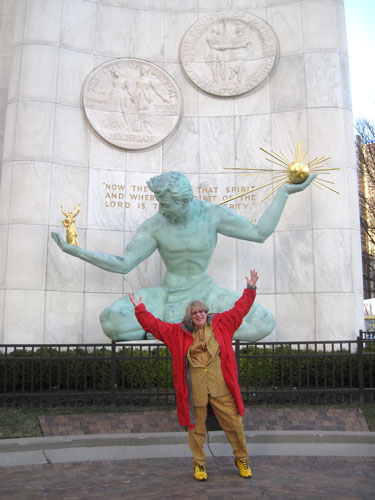 One of my favorite things in life is photographing whatever I see around me, especially if I'm in a car and just happen to pass something that tickles my kitsch bone or general love of vintage or personality laden locations. Here are some of my favorites sightings that hit my eyeballs while attempting to find wherever I was going my first two days in Detroit.
Although I never made it in here I hear about this place, in existence for close to 120 years, from everyone: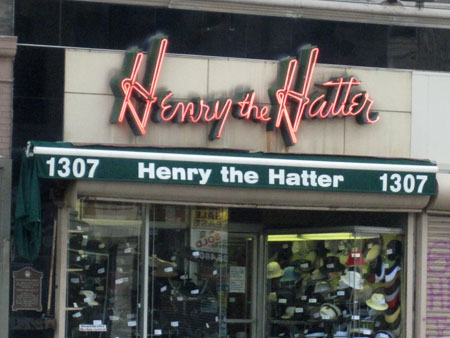 I love the salute to the Oscars down in the corner of this mural on Wyoming and Seven Mile, with the Diana Ross lookalike eyeballing it: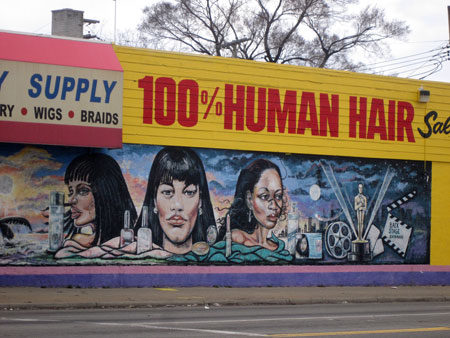 Long since closed but gorgeous on Michigan Ave.: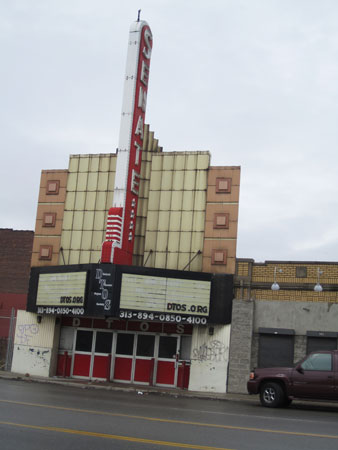 It's always an excellent sign of kitsch when the great architectural details stop as soon as you round the corner.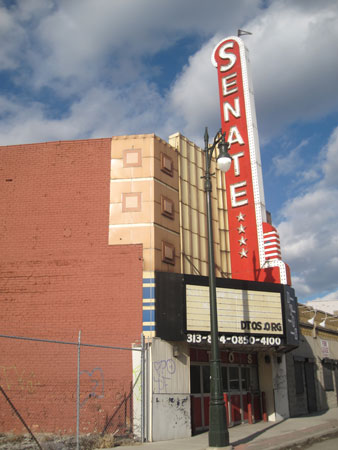 The real deal theater in town, the most gorgeously restored theatre I've ever been in, where my musical, The Color Purple, would be playing and my big Mumford extravaganza was taking place over the coming weekend: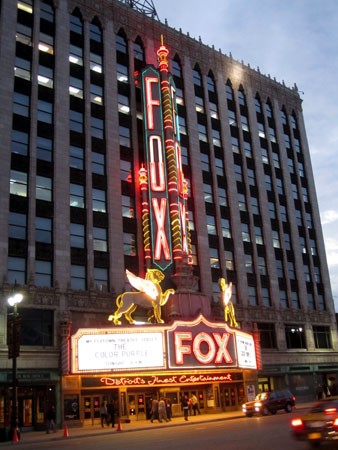 The biggest drive-in movie screen in the country is the Ford Wyoming Drive-In: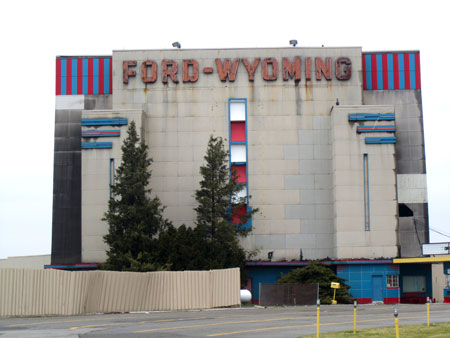 The signage is a little anemic, but at least the Ford-Wyoming is still-standing: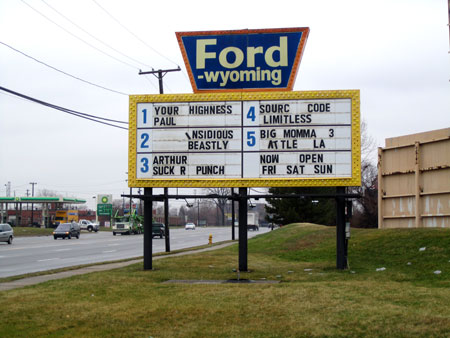 If this were original 1930's it would be great, but I suspect it's just a cheesy 80's repro "Deco"-like exterior on Broadway. I'd like to be wrong about that though.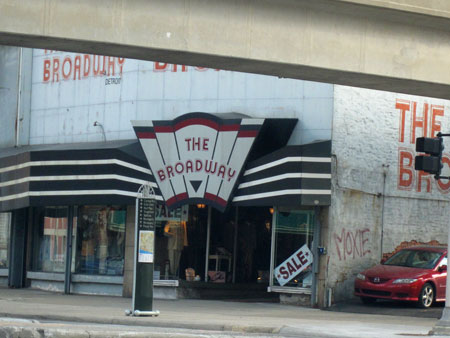 I love the juxtaposition of homemade candy (and an excellent handpainted mural) and The Haunted Bus Ride: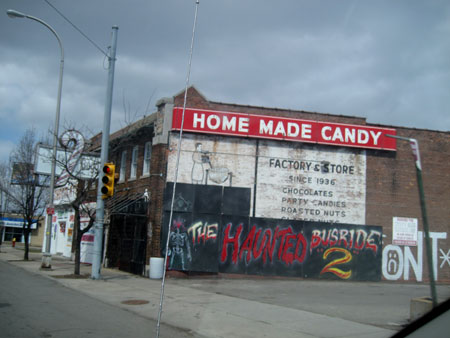 Thankfully still-standing excellent Streamline Moderne architecture on Woodward: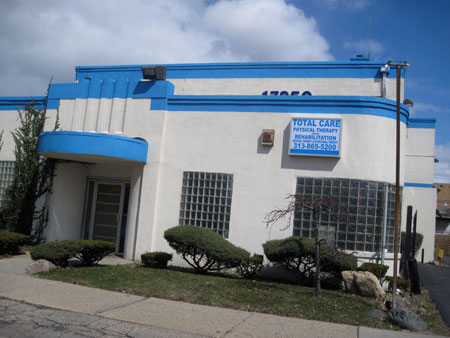 You can tell this place is gonna be nuts from blocks away: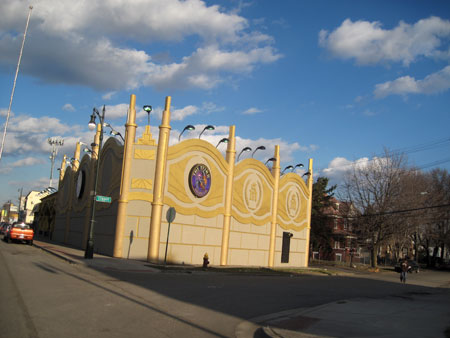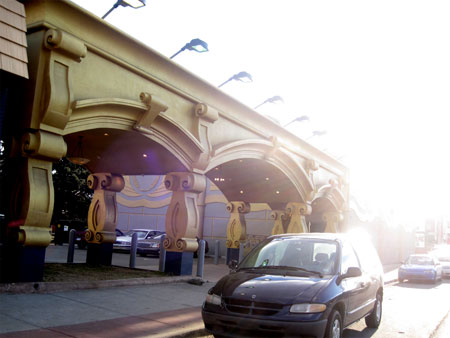 Extreme Dodge dealership (though I saw no signs of cars):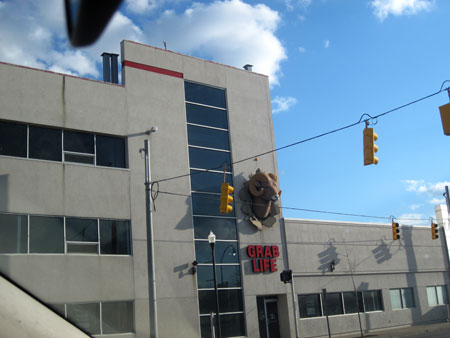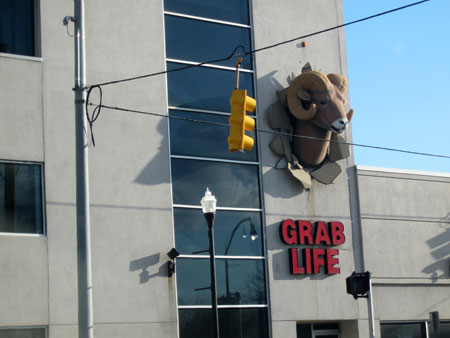 For a different mode of transportation, the old train station in Corktown: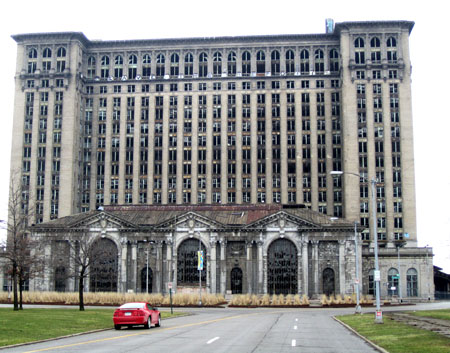 A closer look at the majestic structure, down but definitely not forgotten: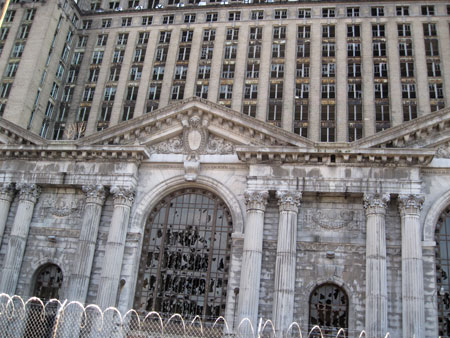 In another part of town, mural excellence: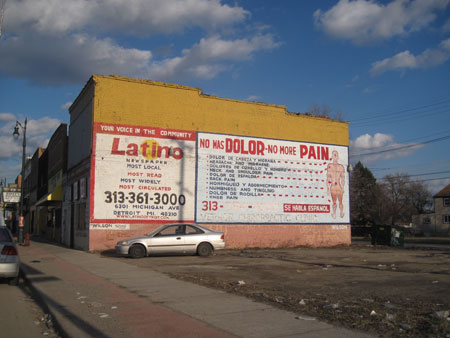 A closer look at the amphibious human: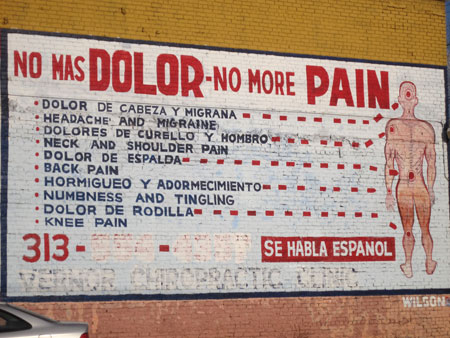 Though that mural is nowhere near as excellent as this one, off of Woodward, west of Ten Mile.: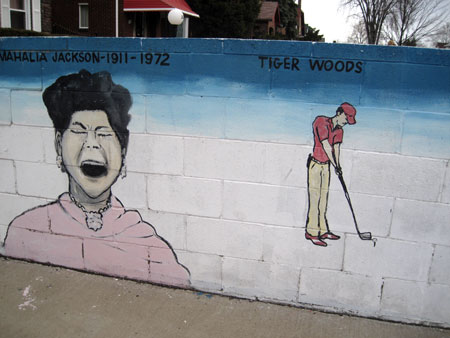 Four (great) burgers for $2.25 on Michigan Ave.: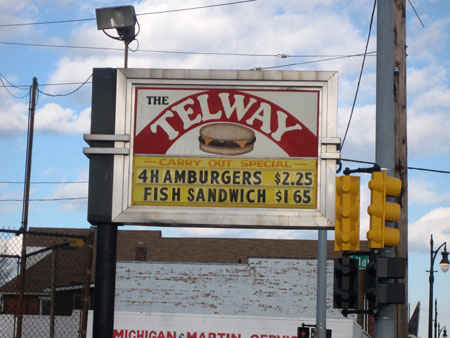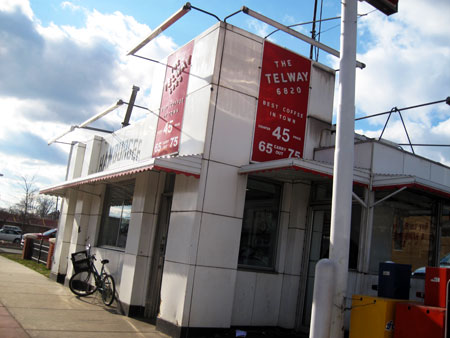 How can you not be intrigued by a place with a name as flat and unassuming as "Nice Price", also on Michigan Avenue?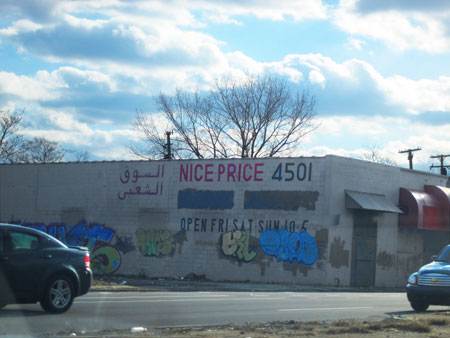 Or this one on Michigan, so kitschiliciously basic::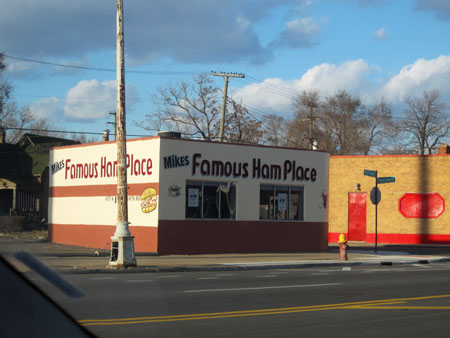 A nice topless freeway entrance: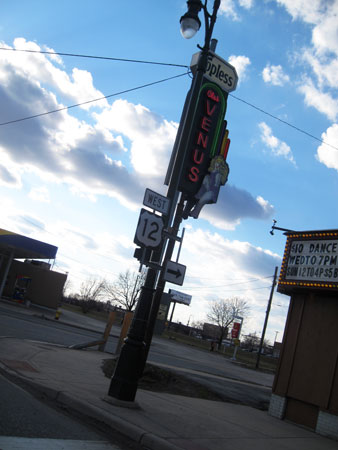 A sausage that screams "Detroit"!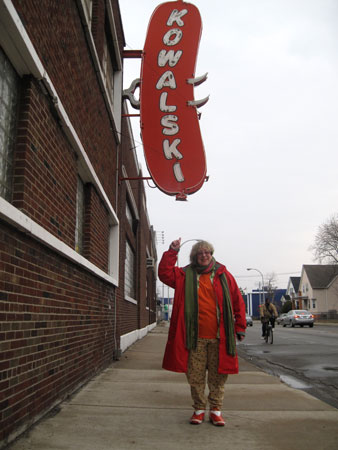 A diner that screams Detroit, the Ellwood, built in 1936: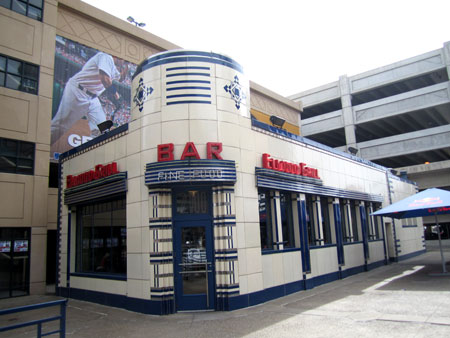 The Ellwood was moved to its present location downtown when the new Comerica ballpark was built.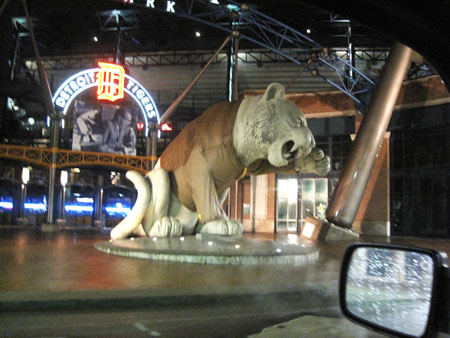 I love this exterior in Hamtramck: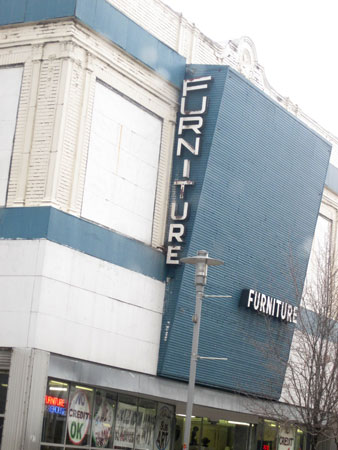 And just down the street: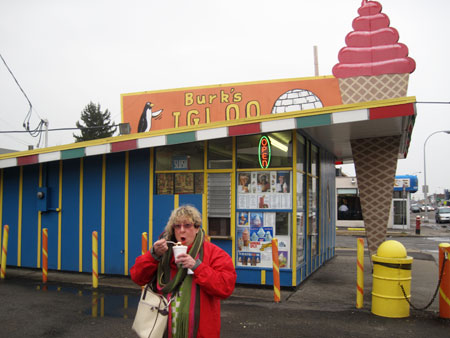 Grab your snow cones and head down a few blocks further to Hamtramck Disneyland: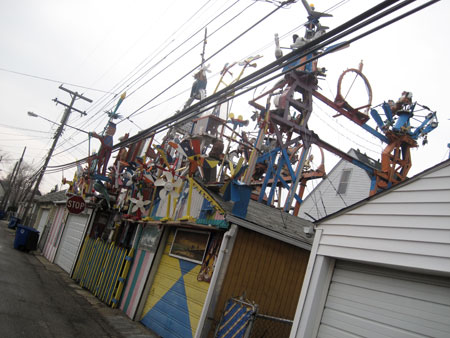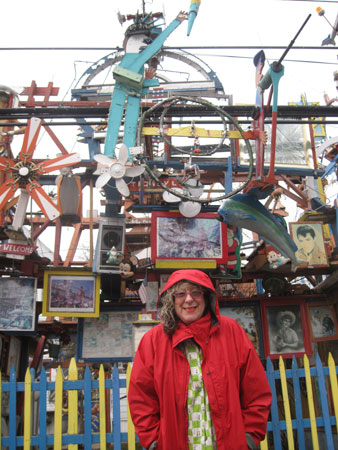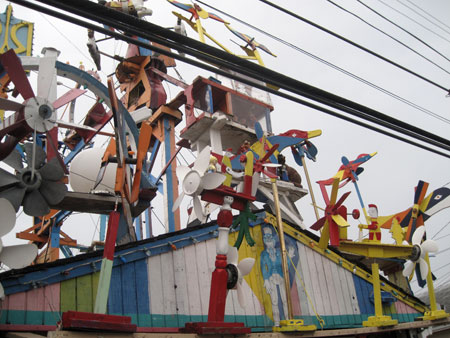 This building doesn't look like much…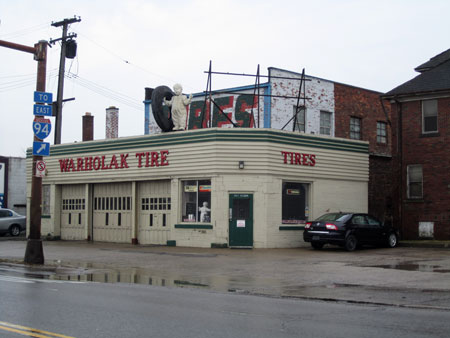 …but it's all happening on the roof: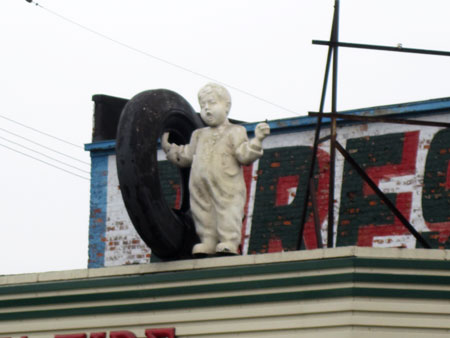 Evidently, Warholak is a great place to find vintage tires, which I'm always in need of as I comb the globe for original whitewalls for my baby: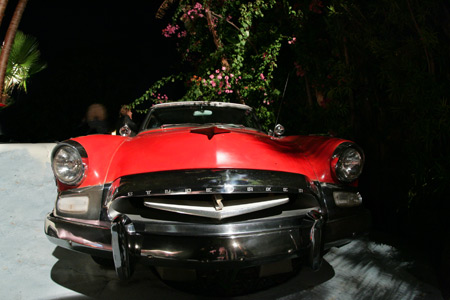 And speaking of tires, here's the famous one on I-94, once a ferris wheel at a New York World's Fair.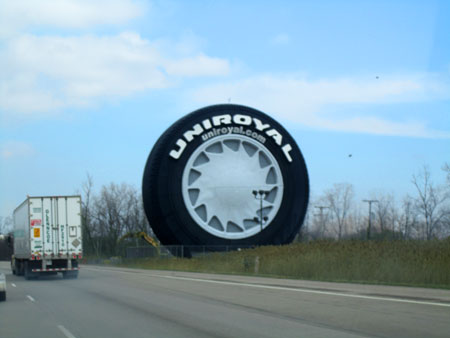 And Joe Louis' fist downtown: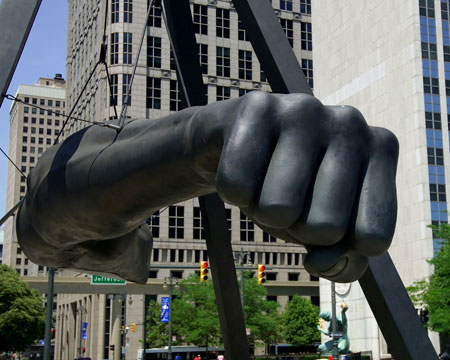 I love you, Detroit! And I'm just two days in…