.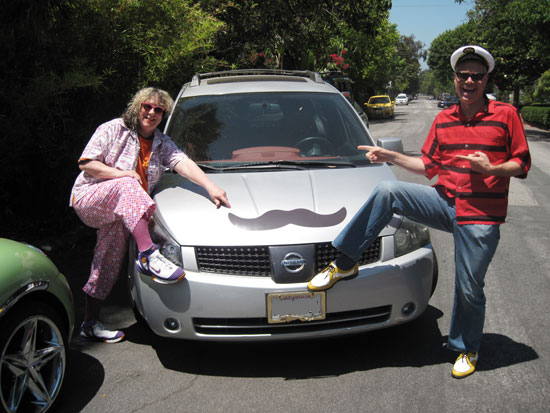 As we are oft to do, Charles Phoenix and I took another one of our kitsch spins around LA and environs this past weekend. We were dressed smartly for the occassion, at least from the ankles down: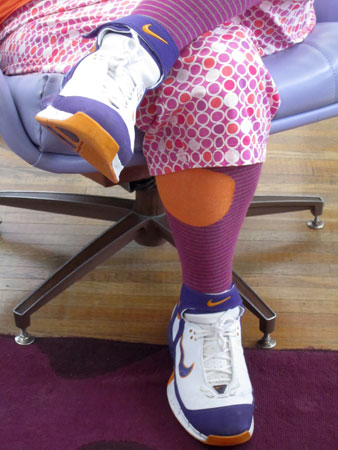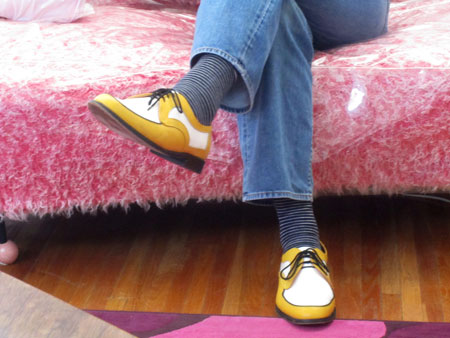 Our first stop was at Johnnies Pastrami on Sepulveda Blvd. in Culver City: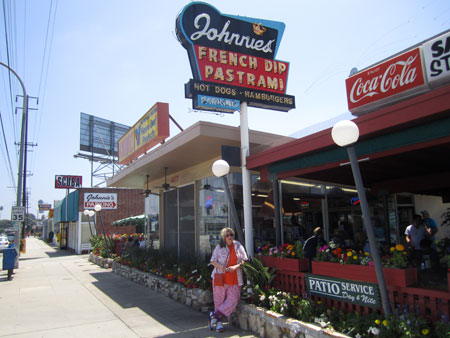 Johnnies hasn't changed a lick since it was built in 1952. Counter, stools, booths, jukebox, etc. are all original.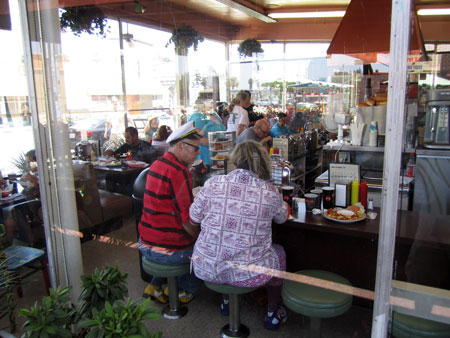 This was confirmed by the man himself, Bob Bass, who built and still owns Johnnies, and who has eaten lunch at his regular table every day since.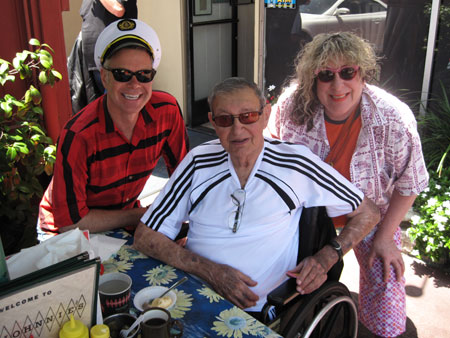 I've always loved restaurants that park a loaded pickle bowl before you as soon as you sit down.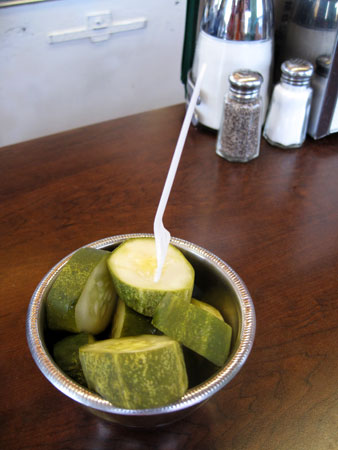 Charles and I pondered the menu.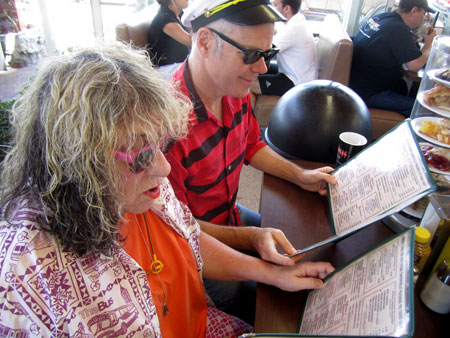 But I always go for the same thing, the 1950's-grilled-to-soda-shop-perfection cheeseburger: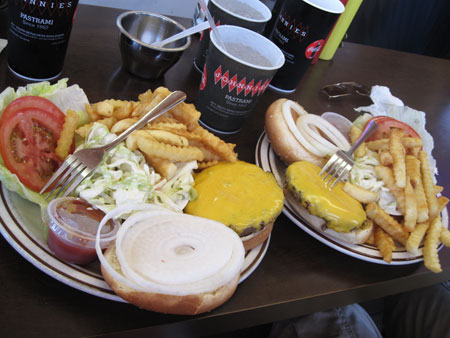 The french fries snap when you sink your choppers into them.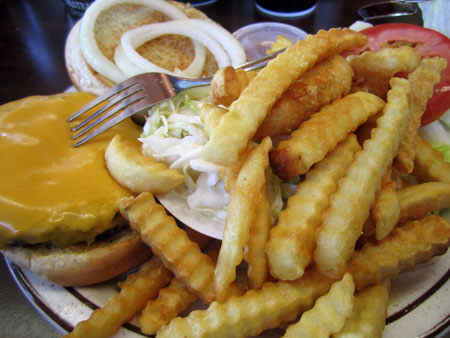 The cole slaw, eternally shredded a tad long, drips with creamy sweetness.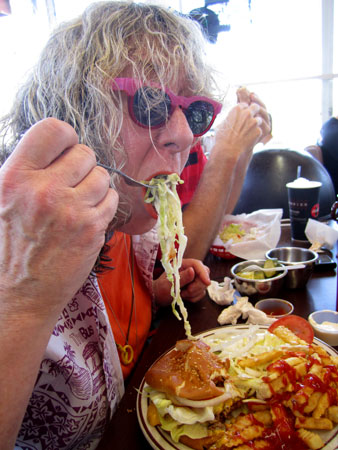 Charles and I were perfectly positioned behind the pie rack.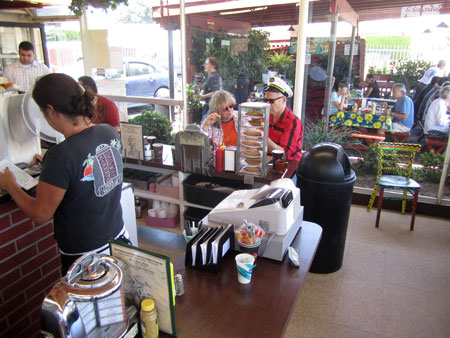 And although we stared at the bulging slices throughout the meal…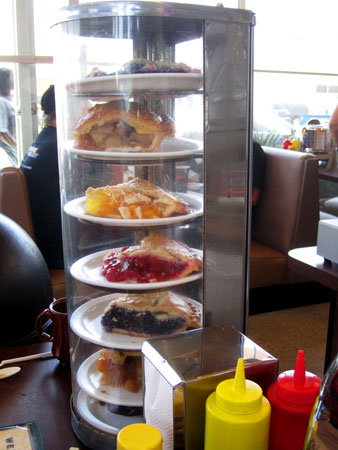 …we had to save room as we always make a donut shop stop on our driving trips.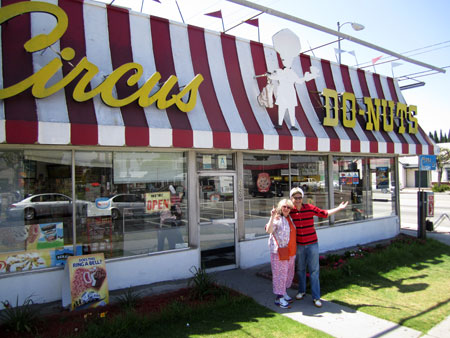 Circus donuts are good…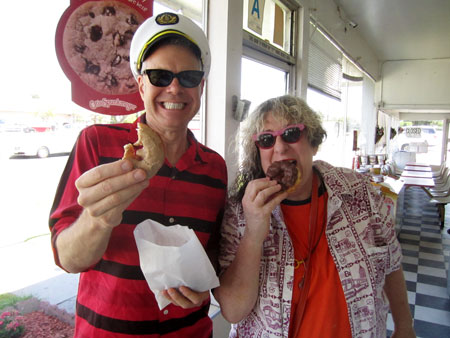 …but I much prefer Spudnuts. Which makes sense as judging from the drink station, I think lottery tickets may be bigger business for Circus than donuts.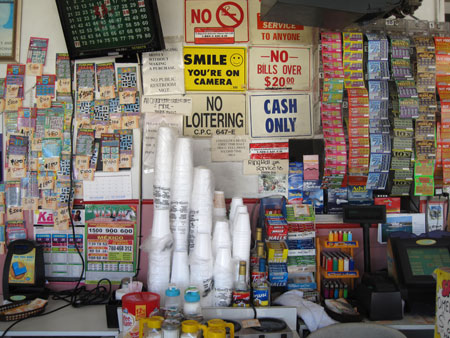 Next we went deeper into Torrance and hit King's Hawaiian Bakery on Sepulveda. King's is not only spectacular for the entrance to the dining room…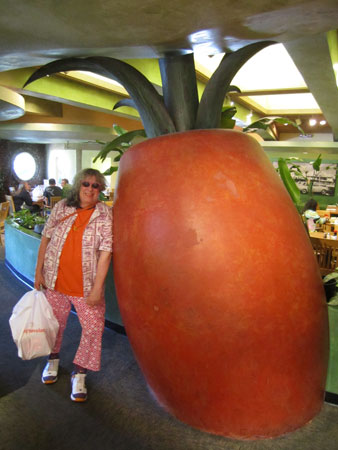 … but because of what we go there to buy.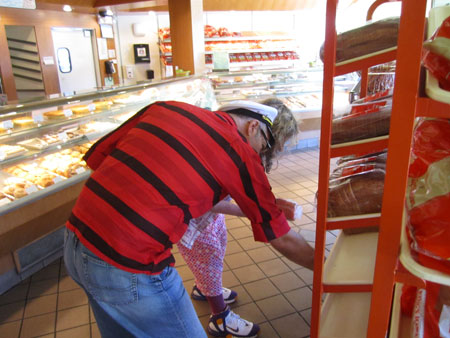 Here I am experiencing a moment of panic upon seeing empty shelves.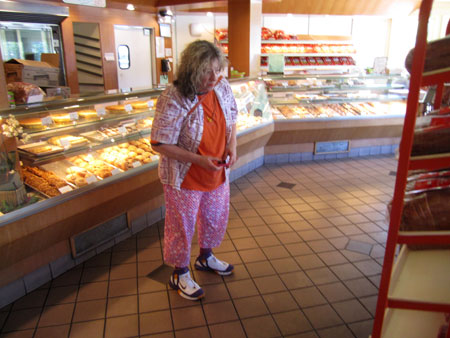 You would be too if you knew this was what was inside of the packages we were looking for.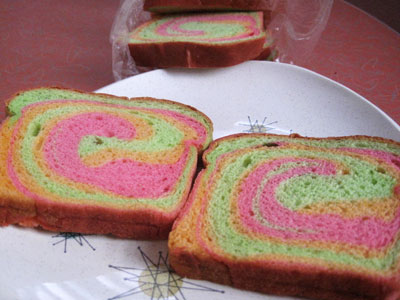 Thankfully, we got the last six loafs of the Rainbow Butter Bread.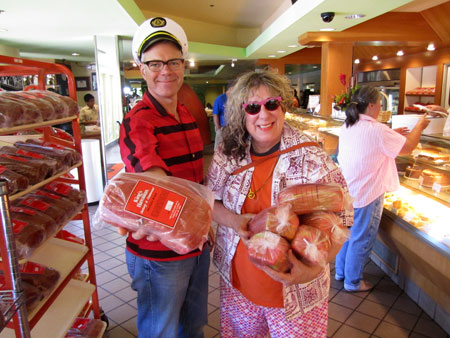 All day long we passed beautiful architecture: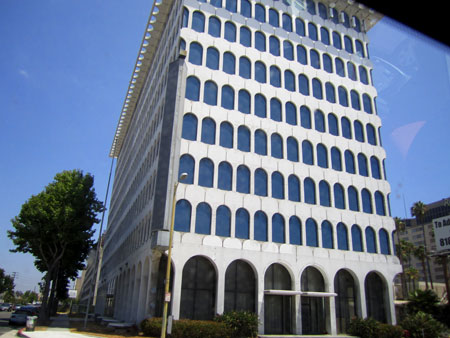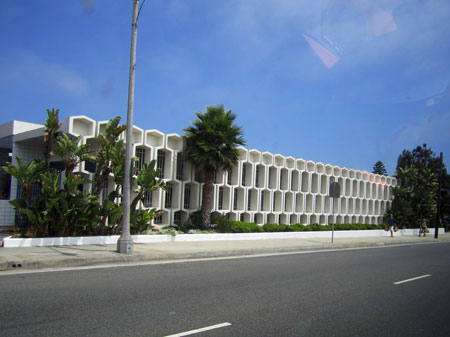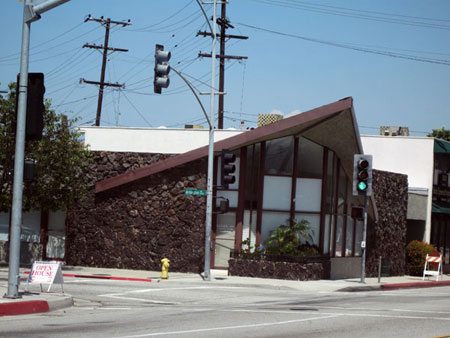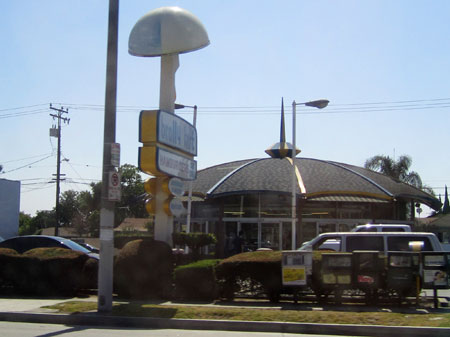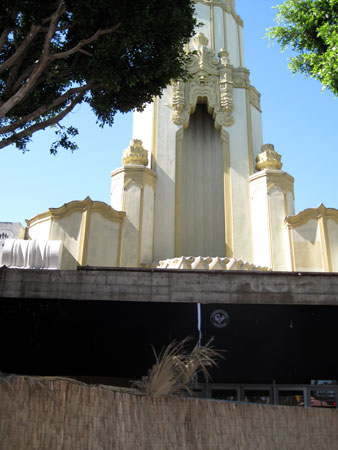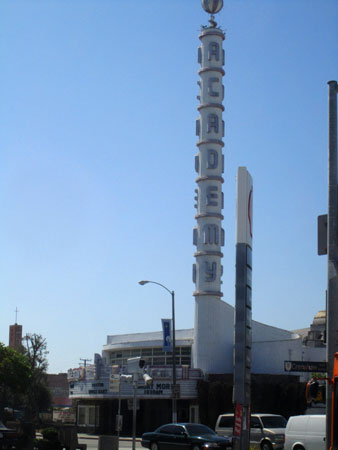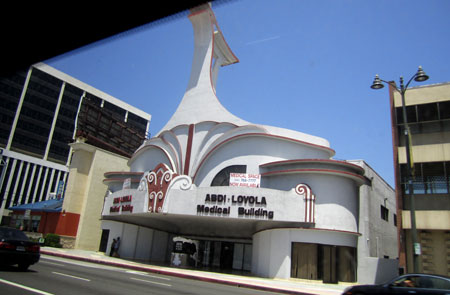 I wish all Baskin Robbins still looked like this one on Crenshaw Blvd.: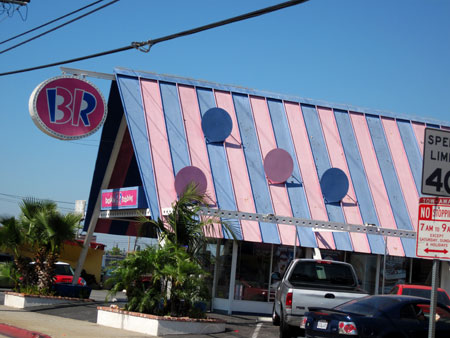 Nothing great architecturally about this IHOP but it's spectacular that a horse is used to sell pancakes.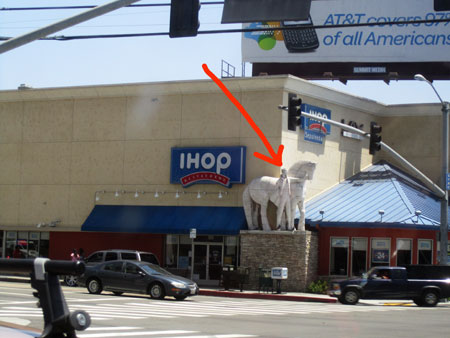 Though I guess it makes as much sense as a bear selling wheel alignments: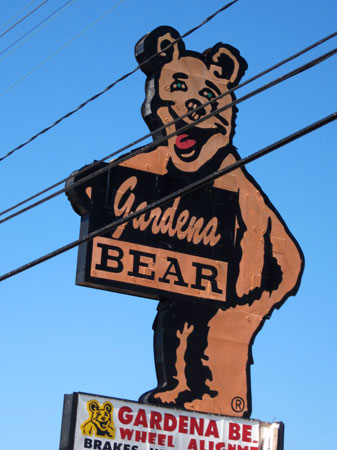 There was much beautiful signage along the way.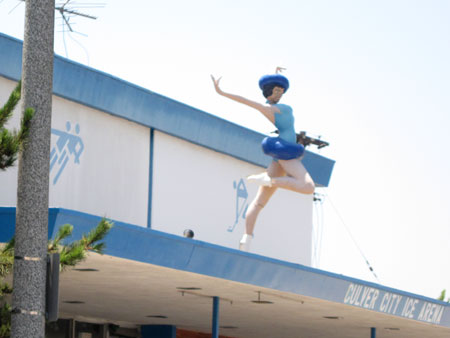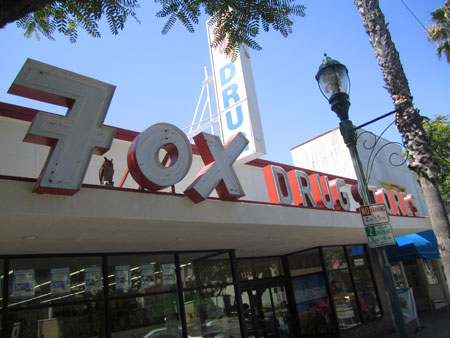 Although not as dramatic as the previous photos, I always enjoy a sign that employs peculiar use of quote marks: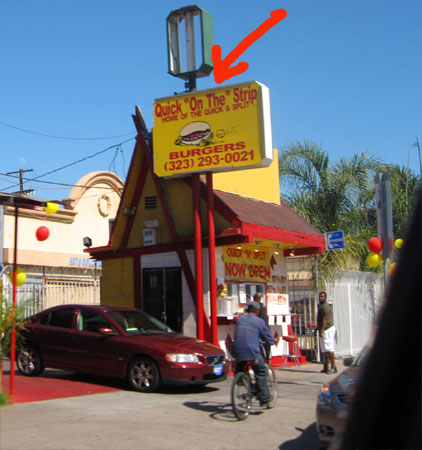 If "On The" are the two most important words you can spotlight about your burgers, I'm sticking to Johnnie's. Also featuring two words is the name of this Thai joint: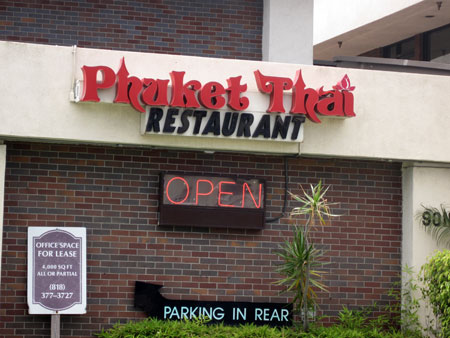 What a great day! Dinner, thankfully, wasn't until 10:30 pm.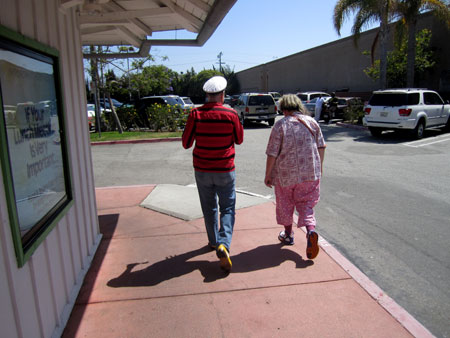 Photo credits: Denny McLain and me.