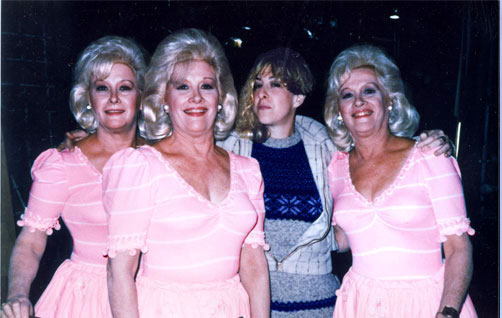 So that's it. The third and youngest miniskirted, go-go booted Del Rubio has left the planet to rejoin the act. Normally I'm really sad when a friend of mine passes away. Trust me, I'm upset about Milly, but as the Del Rubio's themselves were fond of saying, they were one person with three heads. And now they are back together as one.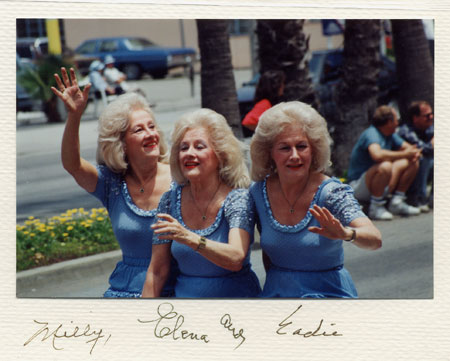 Milly passed away Thursday night. The last time I saw her was this last Valentine's Day when I delivered the hundreds and hundreds of cards, many of them handmade, that people sent to me, many of those via Hidden Los Angeles, to give to her. She wasn't feeling especially great that day and discouraged me from taking the hundreds of photos I usually do because her hair and makeup weren't perfect. Not that mine is in this photo with Milly from 1996 after a day in the sun on the roof of the triplets' mobile home.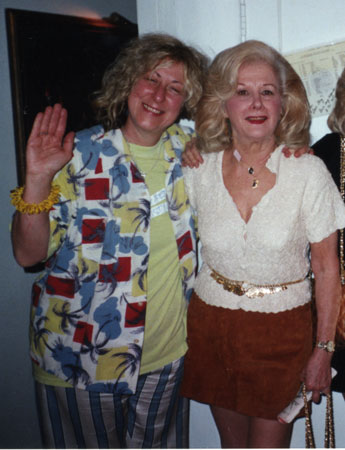 This was the last photo I have of Milly, taken about a year and a half ago when I saw her and we discussed that if she started playing her guitar again I would throw a big party to present her.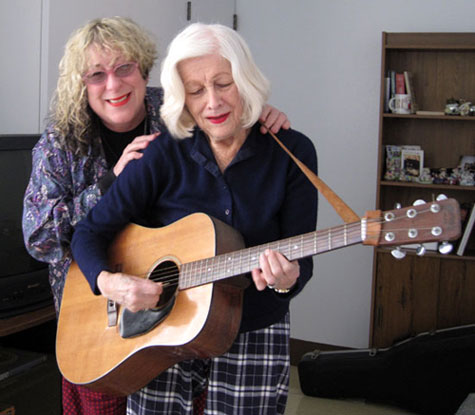 I had the honor of delivering the eulogies when the first two triplets passed, Eadie in 1996 and Elena in 2001. Immediately after Eadie passed, the remaining two, whose lives had always been enriched and enlightened by the performances they did, announced they never wanted to perform again. I tried to pull them back into it for a couple years, telling them that the reason audiences loved them would not disappear because there was one less sister. But they would have none of it. As you can imagine, that worsened for Milly when Elena left to join Eadie.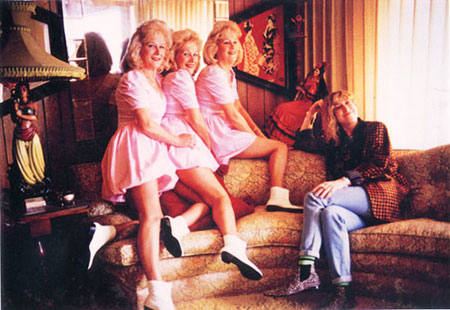 I can't imagine that the world will ever again see something as magnificent and innocent as The Del Rubio Triplets. They were completely unaware that they were somewhat of an oddity and lived to entertain and make people laugh. Although people who were seeing them for the first time may have started out laughing because they had never quite seen anyone who looked or sounded like The Del Rubio's, they were always won over and went home uplifted, adoring the triplets and remaining eternal fans.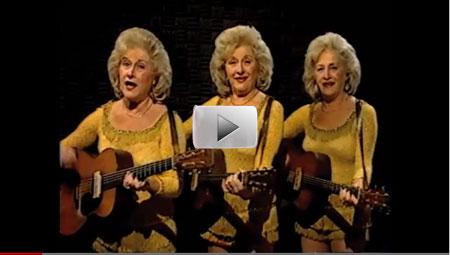 The Del Rubio's were massive part of my life. I always lived to combine high and low elements of art. I met the Del Rubio's after my songs had already sold over 30 million records, but to have the opportunity to hear my hits performed Del Rubio style was the biggest reward of all to a budding kitsch lover such as myself. The very first time I ever presented them to the public they did a duet of "Neutron Dance" with Ruth Pointer, who sang lead on the hit record that was then number 6 on the Hot 100 chart. That was honestly the peak moment of a lifetime devoted to the pursuit of Kitsch meets Art, a musical highlight equal to winning a Grammy for the song, which was part of the Beverly Hills Cop soundtrack, that same year.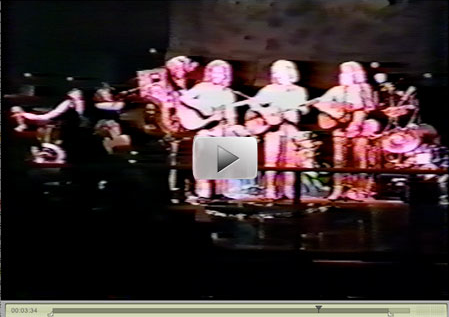 If you're unfamiliar with The Del Rubio Triplets, you can get a crash course here. And here.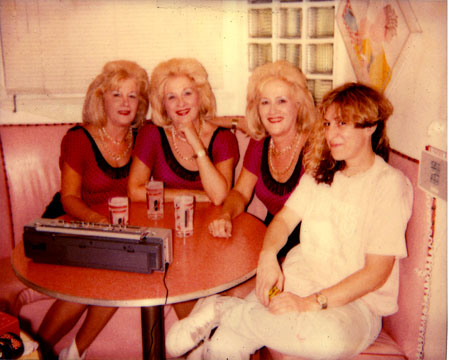 There's a fund established for Milly and her sisters at the Edith Bolling Wilson Birthplace Foundation in Wytheville, VA., which you can make donations in Milly's memory to here. You may not know who Edith Bolling Wilson is. She was the wife of Pres. Woodrow Wilson and the great aunt of the Del Rubio Triplets.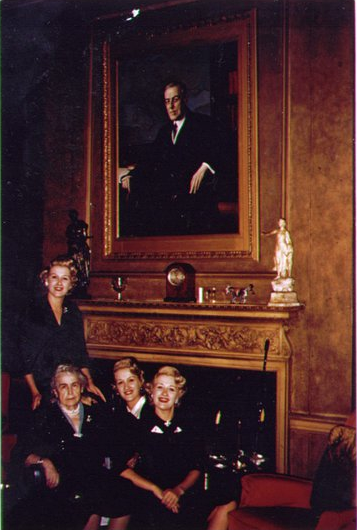 That's right, they had Presidential connections big-time as you can see from that photo taken with Edith Bolling Wilson, with husband Woodrow looking on, at the Woodrow Wilson House Museum In Washington DC. Any of you who saw The Del Rubio's already know how regal they were. Their presidential link is just one more cherry on the kitsch and musical sundae known as The Del Rubio Triplets. If you're on Facebook  you can go here to leave a note about Milly and/or leave one here. R.I.P. sweet, blond, go-go booted angel…