In view of the fact that I'm racing around my hotel room throwing things in my suitcases – impossible for me to travel with just one – trying not to muss or crush my most most Fluffy of wardrobe…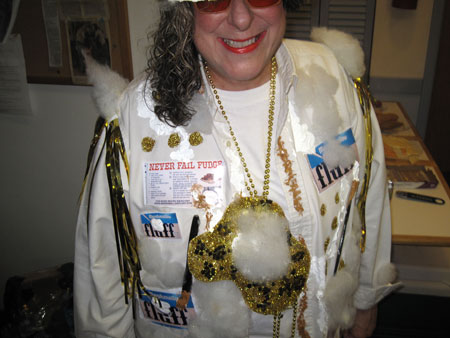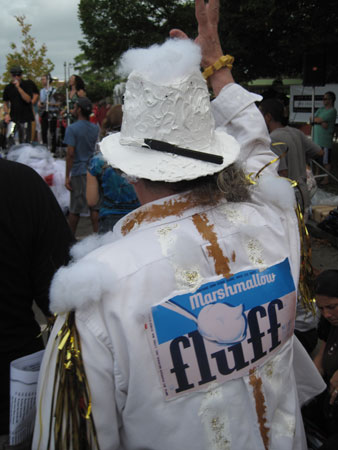 … I must do abridged version of my Fluff report today, as if I stop to compose in my usual festidious, over-stimulated style of reportage I will not only miss my plane but my upcoming live show will end at intermission as I won't have finished writing it. I have  several drafts complete but I'm pretty sure I've written the Nicholas Nickleby twelve hour version and the task of taking out a cleaver and chopping it down still remains. With only 3 weeks to go, completing this mission, not to mention finishing the set, the prizes, the souvenirs, the food, and all the other things that go into any event Allee Willis, I realize that I must put my time into scriptwriting as opposed to going over the 700 or so photots that aKitschionado Mark Blackwell, or Daddy as I call him, took as he followed me around through the weekend of shenanigans.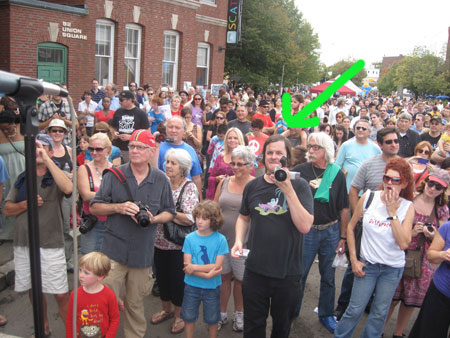 But three aKitschionados made it into the Boston Globe again today with a very cute photo:.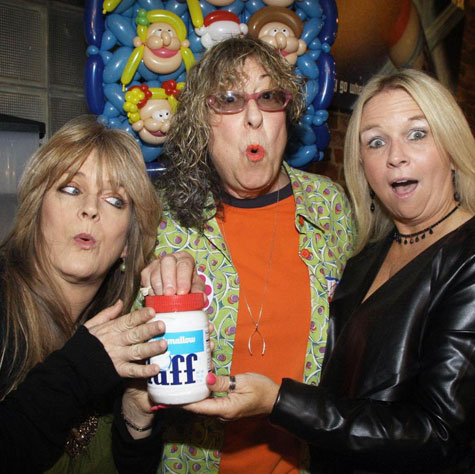 And I will show you Susan and I announcing this year's Pharaoh of Fluff winner, Brian whose last name I unfortunately don't know but can vouch that he's a nice guy and a very good dancer as he boogied to his version of my "September", which all contestants were required to change the lyrics of to an homage about Fluff.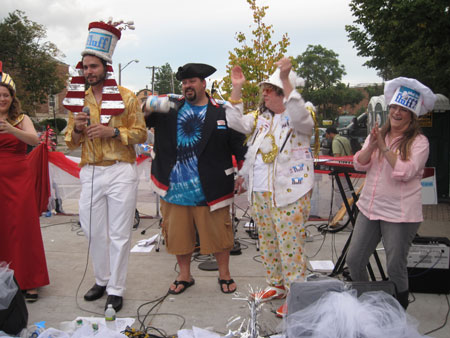 And here I am with aKitschinados Rusty and  Scarlett (I have a horrible memory for names so I hope I have the wee one's right) displaying the beautiful trophies about to be handed out to the Fluff cooking contest winners: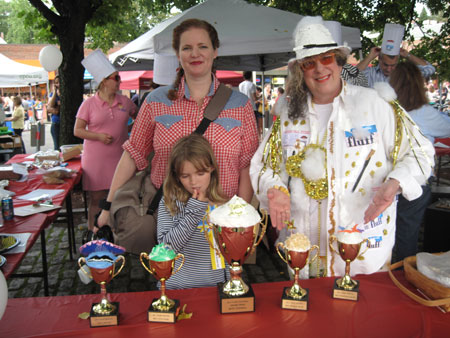 I'm not sure what shape I'll be in tomorrow as my plane doesn't arrive in LA until 11 PM tonight, which means I won't get home before 1 AM and tomorrow is an insanely packed day, making up for my four days of absence. But I will do my best to post more Flun photos of the fest.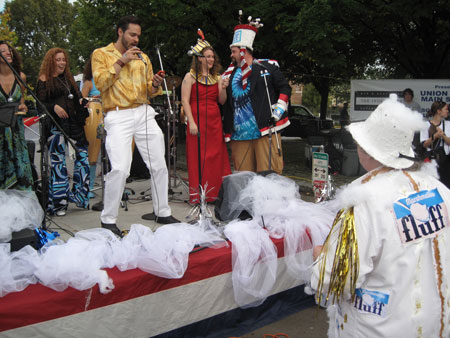 In the meantime, don't forget to eat your Fluff today.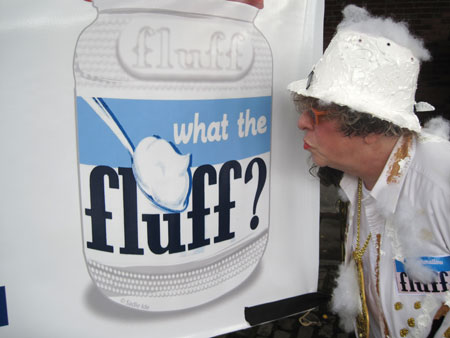 Oh and, no new posts in the Kitschenette until tomorrow either as this writing deadline is really serious. So check back tomorrow for more of my Fluff and your Kitsch.