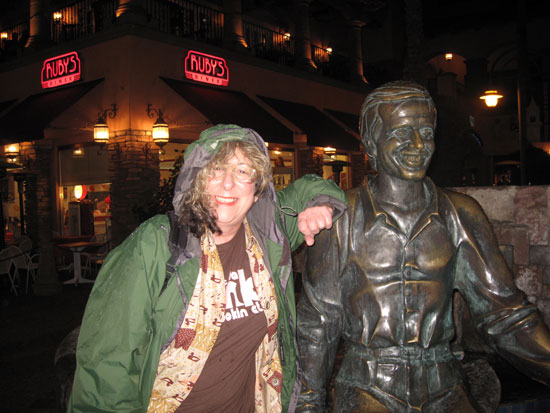 A few Sundays ago, me and the lovely Snappy P, a.k.a. Prudence Fenton, headed down to Two Bunch Palms in Desert Hot Springs, just outside of Palm Springs.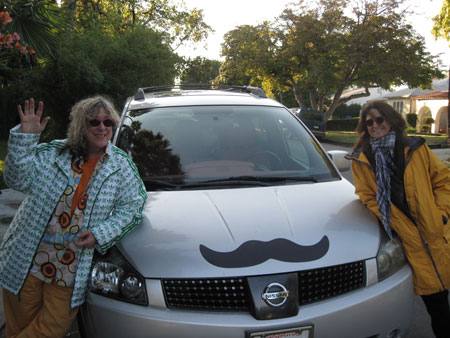 Most people come here for the natural hot springs.  I came for this: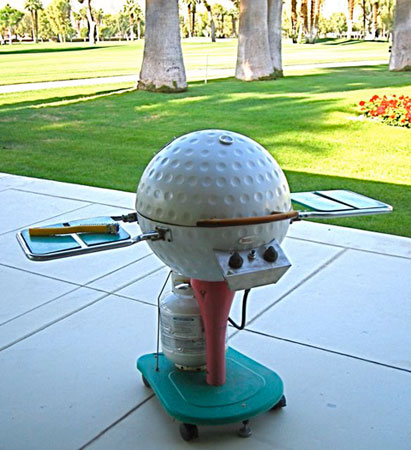 The greatest barbecue I've ever seen. Saw it about nine months ago in an email from Modernway, an incredible vintage store on the main drag in Palm Springs, and finally made the trip down to claim it. I was tempted to leave with this as well but my pockets somehow remained zipped: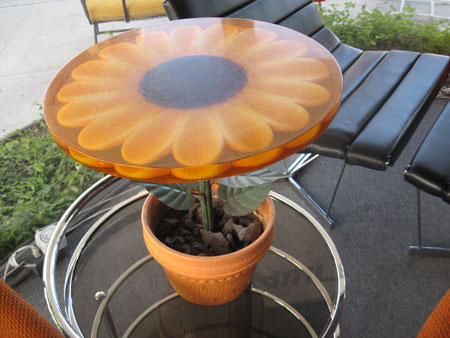 Though now that I think about it, a sunflower table next to a golf-ball-on-tee BBQ would have made an awfully nice set. But I had spent all my petty cash in Beaumont, a de rigeur vintage stop on the way down from LA, buying things like an exploding Mt. St. Helen's whisky bottle…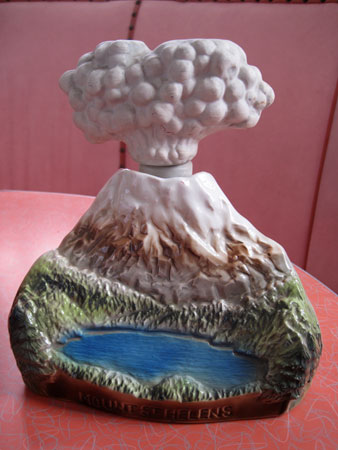 …and an excellent apple ashtray: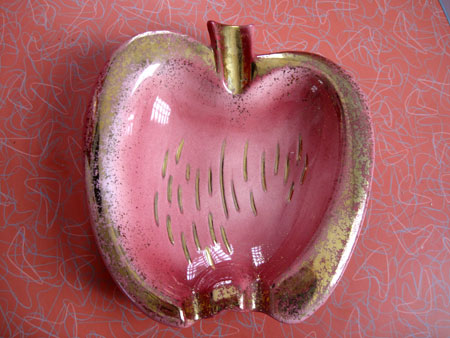 Everytime I'm in Palm Springs I take endless photos of the former mayor, Mr. Sonny Bono. I love when statues look absolutely nothing like the person they're carved to commemorate: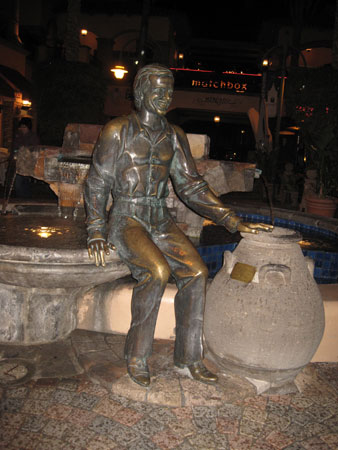 We stayed here, a few miles out of Palm Springs: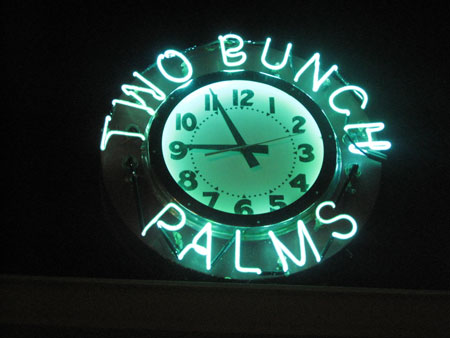 Two Bunch is a very private place so I must honor it by not posting any photos. I will say, however, that I've always enjoyed the neck-like-a-giraffe-horse waiting patiently outside the men's room.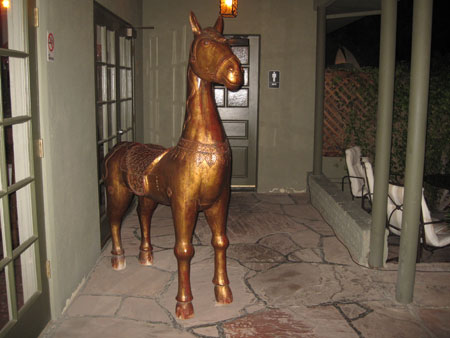 And, despite the refrigerator that has rumbled every time I've stayed in Villa 2 as well as the air conditioner that's placed so it directly blows on your head – curious placement for a room in a health spa – I continually go back.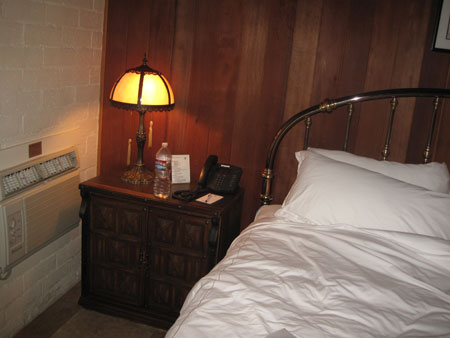 Though relatively little time was spent turning into an iceberg as we immediately headed back into Palm Springs to eat at Circa 59 in the relatively newly refurbished Riviera Hotel.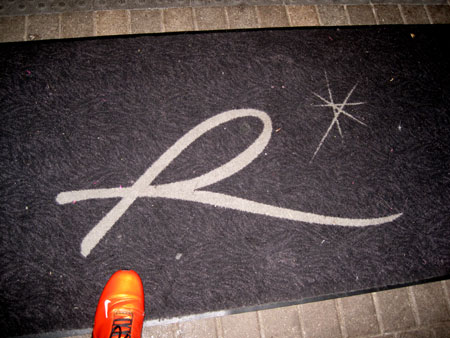 The last time I walked in this place was about 10 years ago when I was in an art show sponsored by Nancy Sinatra. As her father spent so many years frolicking at the Riviera it seemed only right I participate despite the fact that I had to whip something together overnight. I don't remember the show being too successful. Maybe my piece would've had more impact if it were featured here, just down the block from the Riviera.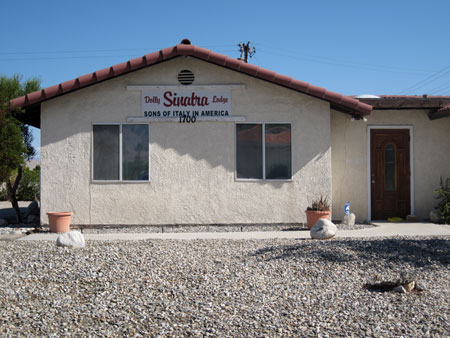 Needless to say, I'd love to be invited to a luncheon at the lodge.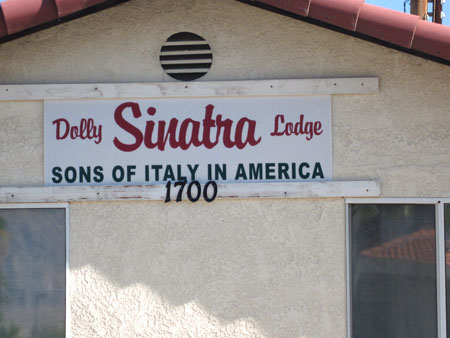 The new and improved Riviera is quite a different story than the Dolly Sinatra Lodge. Here are a few shots by way of demonstration: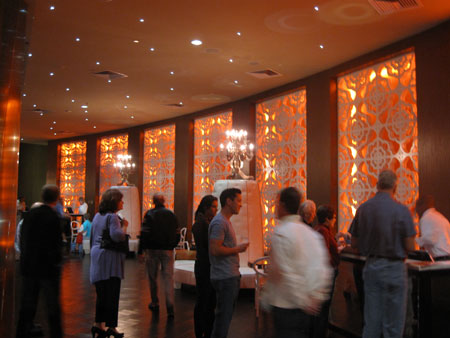 Those cutout panels are all over the ground floor of the hotel. Orange being my favorite neon color, it definitely set the tone for an excellent evening. As did the seating in the lobby.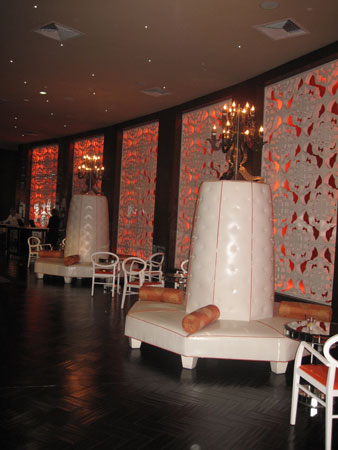 There was interesting seating all over the place.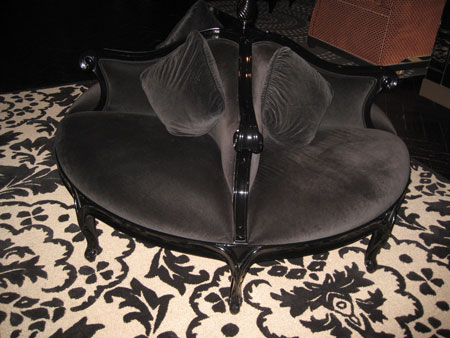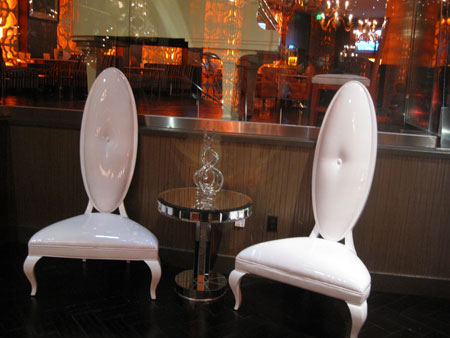 Though none as favorite as this little area that popped up a few times in the grand hallway leading to the restaurant.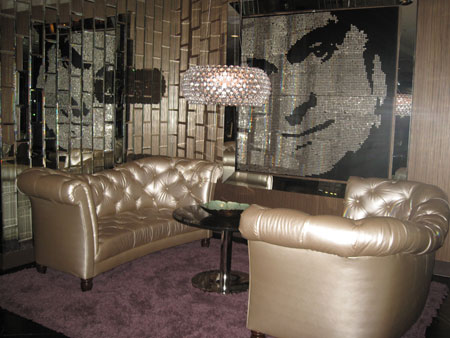 I love pearlized leather.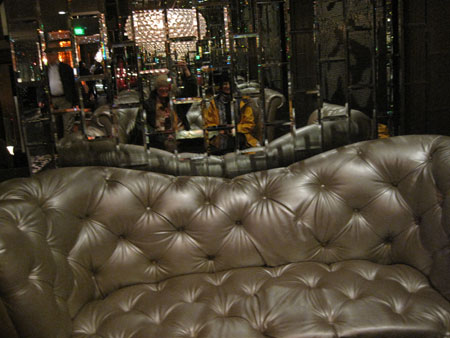 I also love the pool table right across from those couches.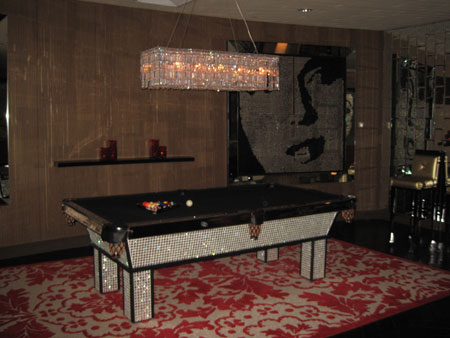 And i really go for the scale of the doors.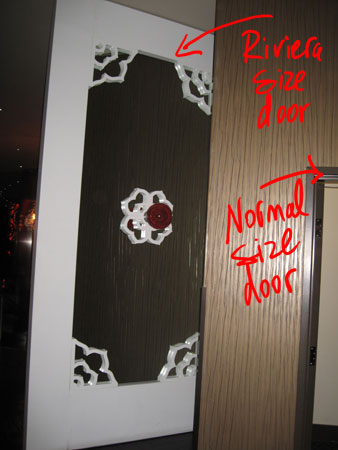 There are also great mirrors all over the place.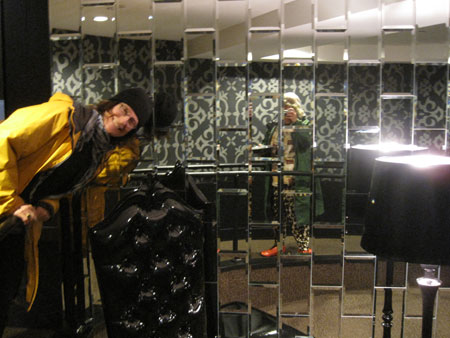 And a curved walkway to the rest rooms.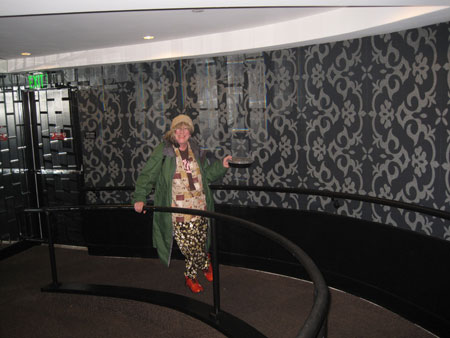 Despite a few hiccups like broccoli being undercooked despite sending it back twice and still tasting like a baseball bat and never getting any bread, the food at Circa 59 was pretty good. I totally forgot to take photos of it though so instead you can see my new little knit cap that I also bought in Beaumont as it's displayed against the high booths in the restaurant.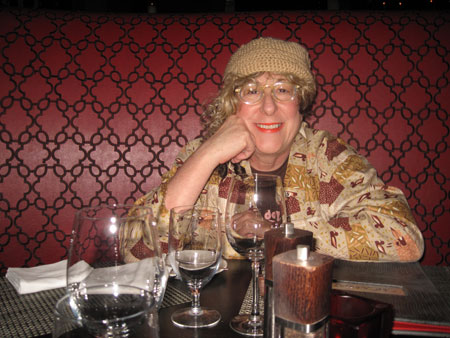 I hate how that thing is positioned on my head. It has stripes all around the top but just looks like a lumpy muffin here. Speaking of lumpy muffins, they usually go great with fried chicken. But this is the closest I got to fowl, just down the road from Two Bunch: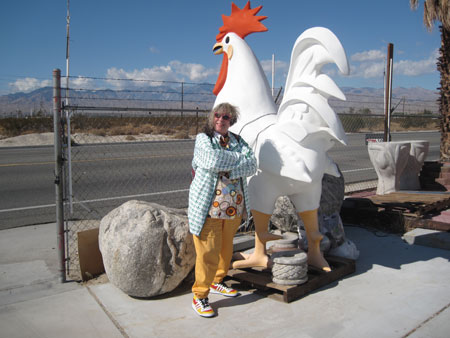 And this is the closest I got to an elephant, whizzing past this one on the 60 freeway as we headed back to LA: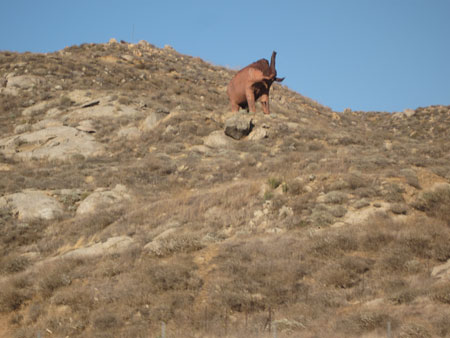 There was also a dinosaur sighting:
Though perhaps my favorite sighting in Palm Springs was this T-shirt…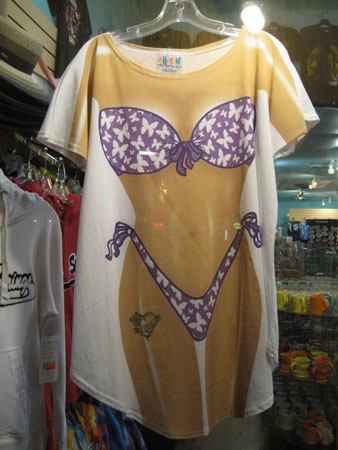 …that was across the street from these two plaster guard poodles…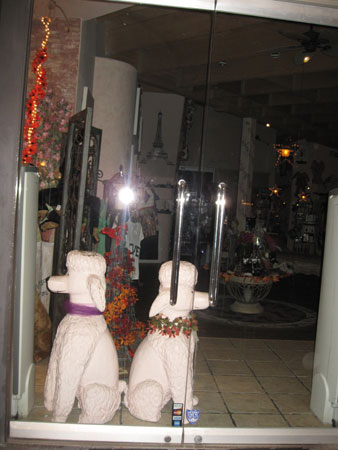 …that was down the block from where I picked up my golf ball bbq.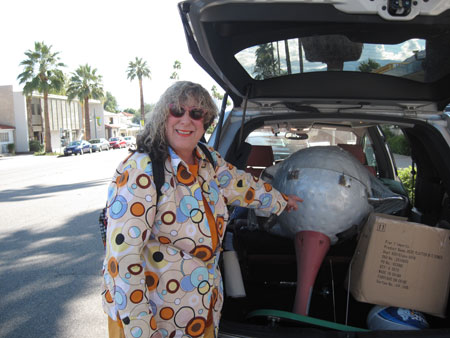 And that's what brought us here in the first place.