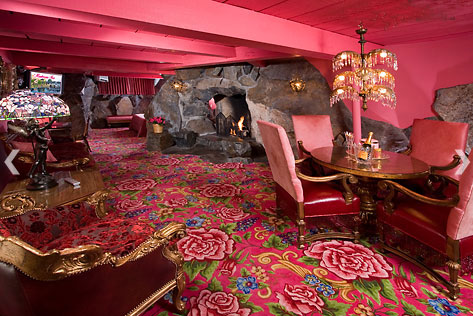 As many times as I've stopped at The Madonna Inn, I've never stayed overnight until a trip to celebrate my birthday a couple of weekends ago. I've always fantasized about staying there. How could I not with each of the 109 rooms uniquely designed and insanely themed, with names like Love Nest, Old Mill, Kona Rock, Irish Hills, Cloud Nine, Just Heaven, Hearts & Flowers, Rock Bottom, Austrian Suite, Cabin Still, Old World Suite, Caveman Room, Elegance, Daisy Mae, Safari Room, Highway Suite, Jungle Rock, American Home, Bridal Falls, and more? I picked the floral crested Madonna Suite, which was personally decorated in the late 60s by the Inn's Grand Dame, Phyllis Madonna.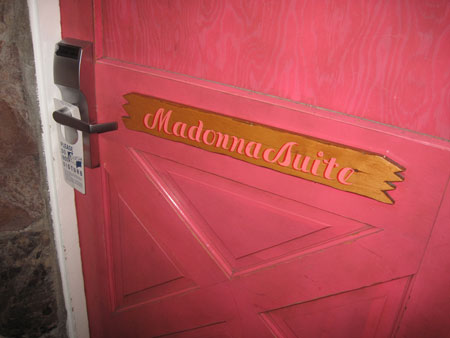 The first thing that hits you when you walk in is that signature Madonna Inn carpet: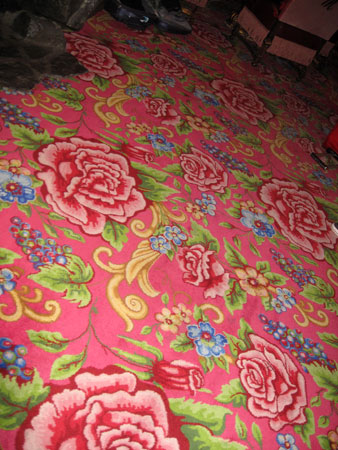 Next, the generous amount of seating choices: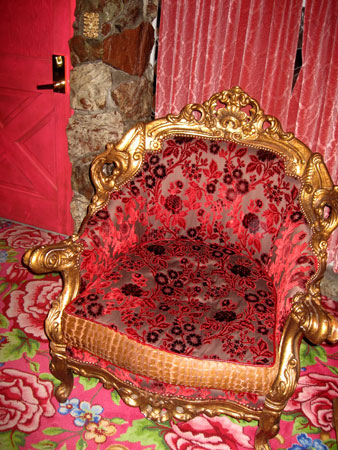 It's hard to tell from the photo but that's monogramed light pink pony skin on the chair backs: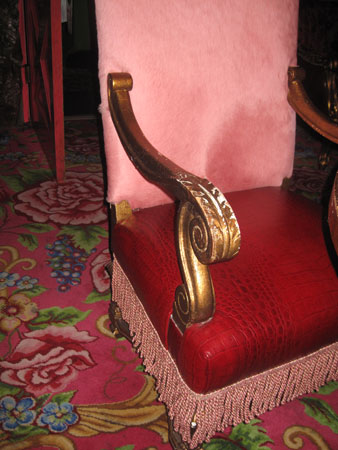 And those are rock stools in front of a working fireplace: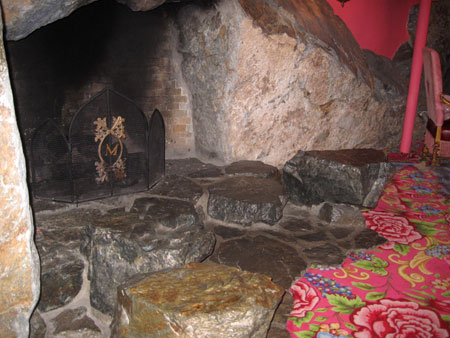 Those are right round the rock from the bed that was way too messy to shoot every time I went to take photos of it. So here's a close-up  of the bespread just to show that none of the lust for pink was lost in more subtle areas of the room.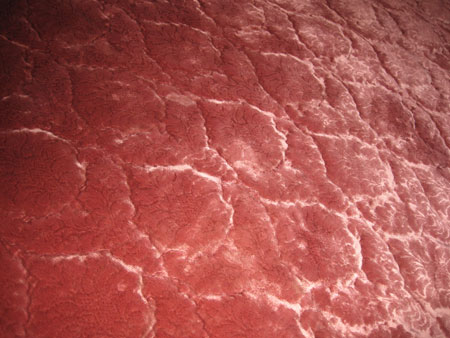 There's also a lot of mirrors.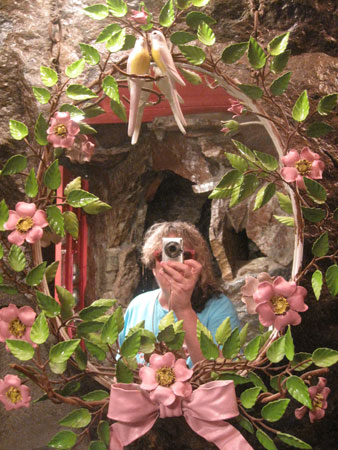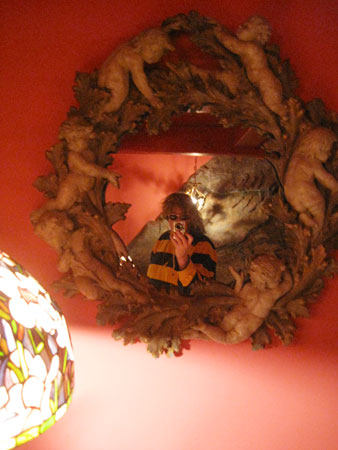 Those angels are all over the Inn. This one hangs over the bed: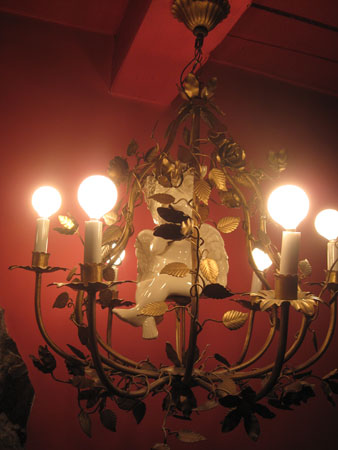 This chandelier hangs over the dining room table and pink cowhide chairs…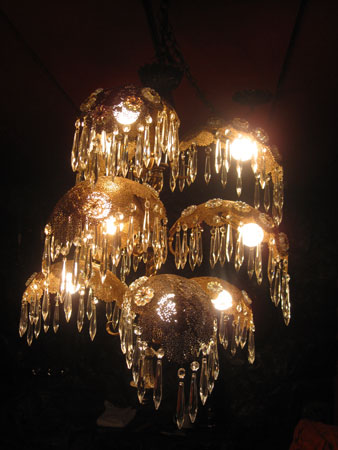 …illuminating the Madonna Inn ice bucket and branded glasses…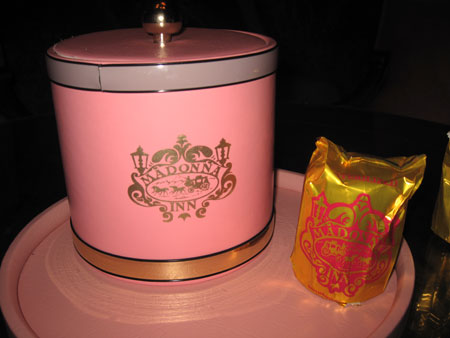 …and water.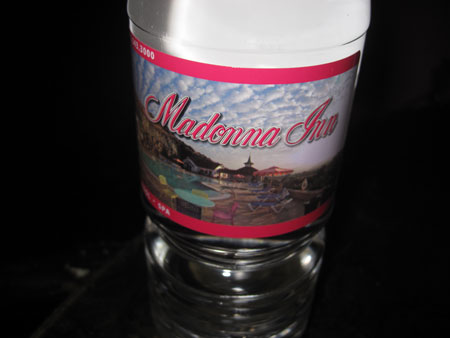 Some other water is branded as well, at least until you lift the lid: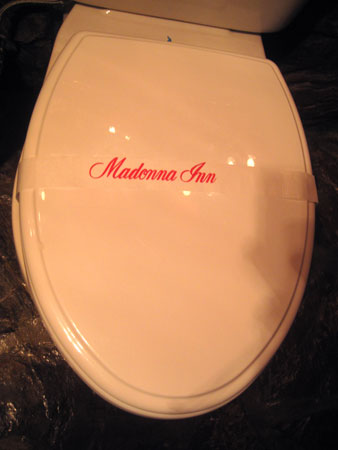 As you can see, I love pink, which reminds me of home: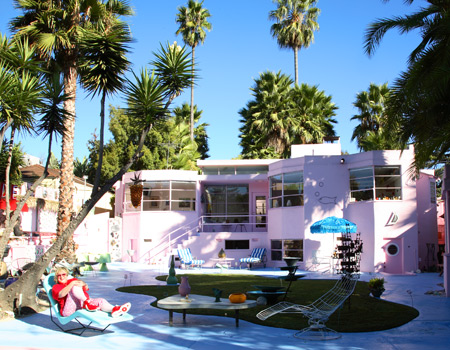 All the doors, walls and ceilings in the Madonna Suite are pink too: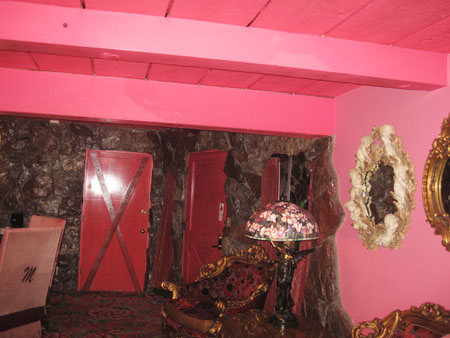 This door leads into the bathroom: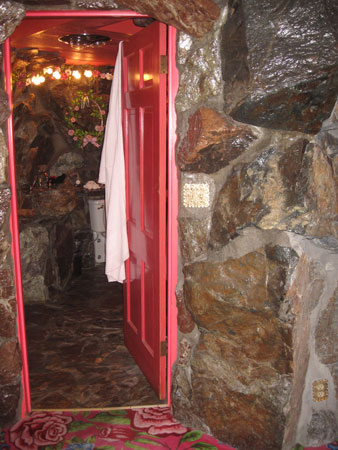 ….that's lit by nice, simple pink rose lights: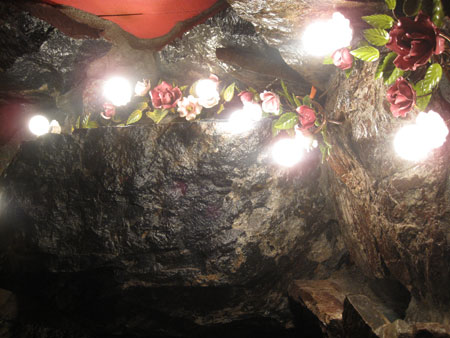 …over a nice, simple rock sink…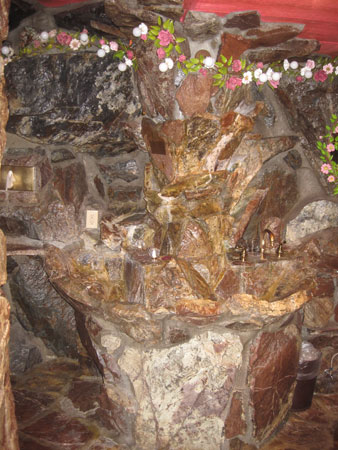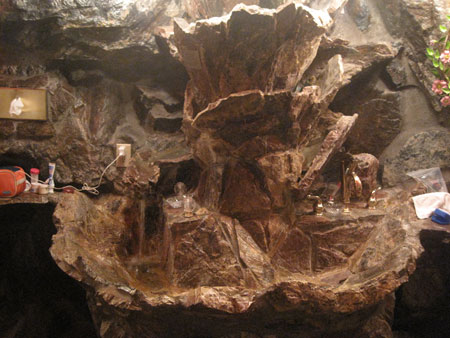 … with electrical outlets perched periouslously close to running streams of water that zip through every crevice in the rock: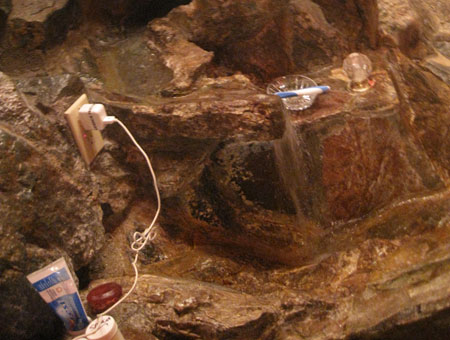 Everything is embedded into rock, including the Kleenex box…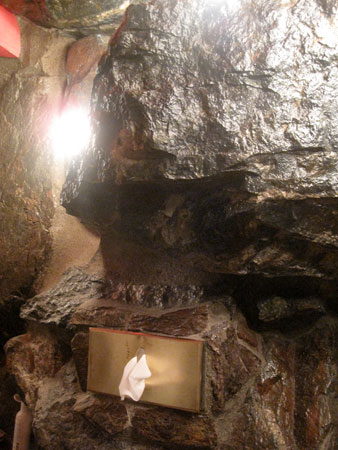 …and the light switches: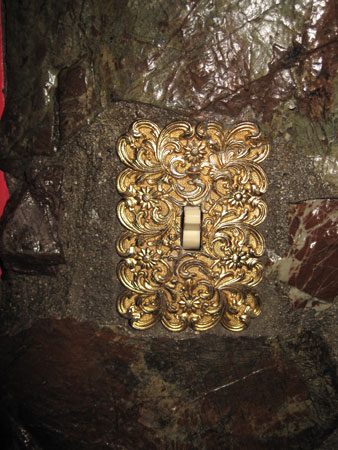 All of this is across the rock floor from a waterfall rock shower: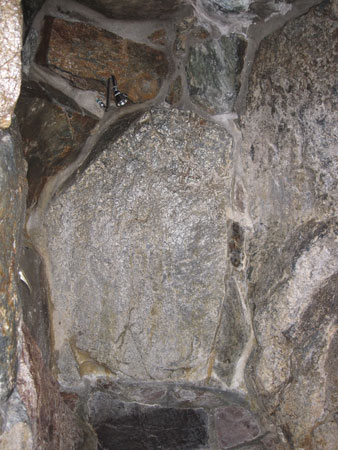 It's impossible to see detail here but right above the showerhead a waterfall splashes down from rocks that jut out above it.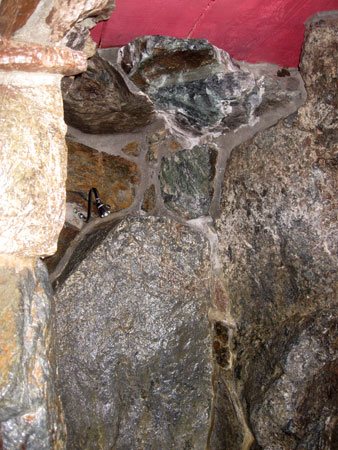 I acquired quite a stash of Madonna branded freebies…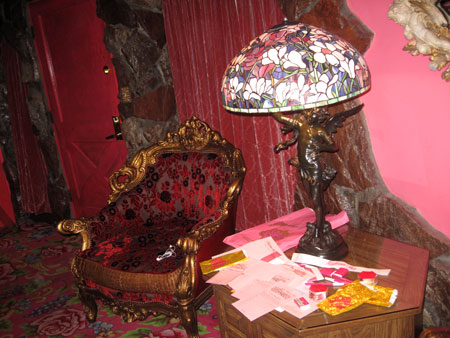 …collecting every bag, napkin, pen, soap container, toilet sanitation band, and info sheet the place had to offer.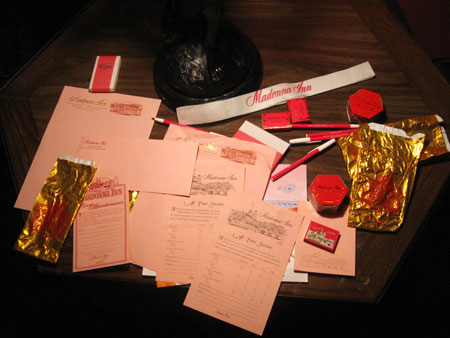 Though it still didn't stop me from going a little nuts in the gift shop: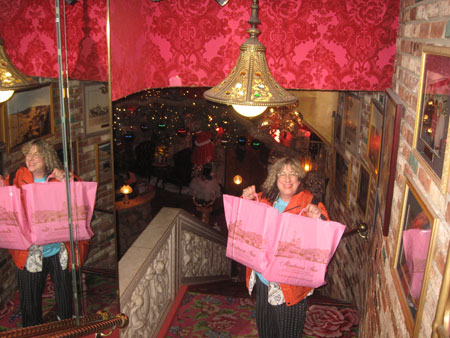 I'm very attached to The Madonna Suite so will probably end up always bunking there whenever I stay overnight, but here are a few other choices I'm toying with for next time:
Old Mill: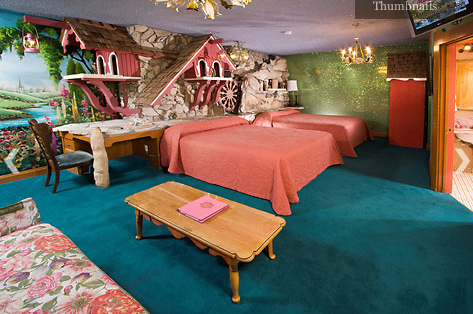 Caveman: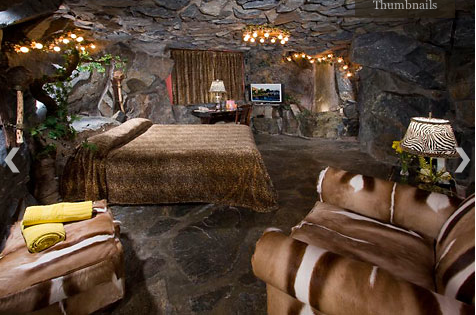 Yahoo: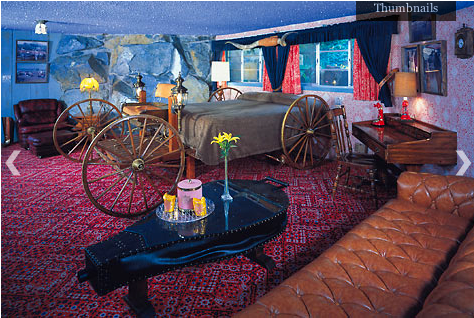 Barrel Of Fun: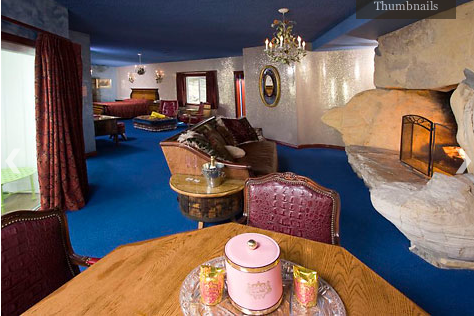 Austrian Suite: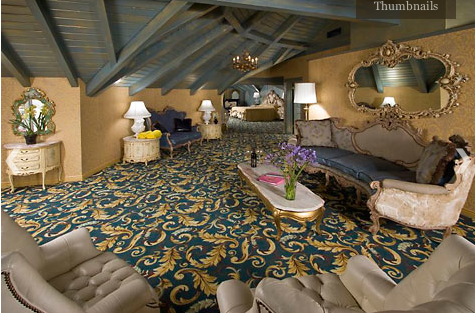 American Home: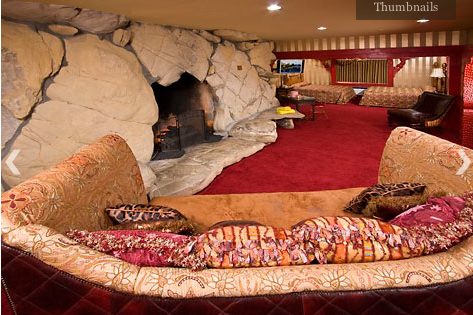 Vous: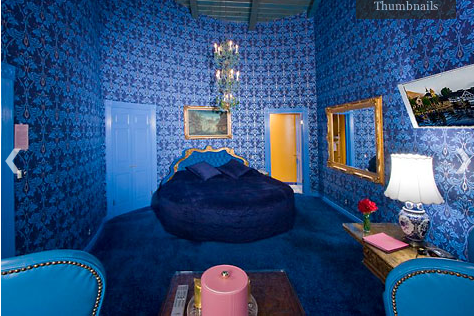 How could I go wrong in any of them?!
PART 1 here.